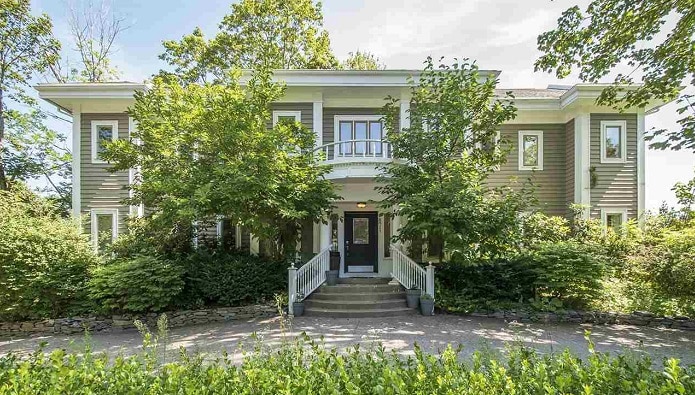 We have received a matching funds pledge of $30,000!
An Unexpected Turn of Events
By Lodro Sangpo for KCCL
16 March 2020
Before explaining this completely unexpected turn of event, we would first of all want to express our heartfelt thanks to all of our many friends for your attention and donations to our long term project of establishing a seat for Karma Changchub Ling and the Mahasangha here on the peninsula of Halifax.
Everything looked so promising until yesterday, since we had all the conditions in place for being able to purchase 871 Young Avenue property. We were therefore taken completely by surprise that an unexpected delay in our financing approval created a situation which allowed the owner of 871 Young Avenue to change his mind and to withdraw from his commitment.
Even though there is still the slight possibility that in the coming month he will change his mind again, since there is no commitment right now on his side to sell us his property, we will have to investigate other possibilities for purchasing or renting a property since our present rental agreement comes to an end on April 31.
Although sad about this turn of event, we are of course still fully committed to establish a long term seat for the Karma Kagyu and Nyingma lineages in the Halifax area.
In this context we are very encouraged that our major donors remain supportive. In fact, the $100,000 matching fund donor wants to continue his matching fund offer.
Our heads are of course understandably spinning right now due to this unexpected "switcheroo". In the coming days we will therefore first explore our options and will also consult with our spiritual advisors. To minimize email traffic, we will post our updates on our homepage: kccl.ca.
You can also reach us via: kccl.contact@gmail.com.
With the warmest wishes in these very strange times!
Lodro Sangpo,
Director and President of KCCL
Where Things Stood Before This News
A Kagyu/Nyingma Centre in Halifax
By Barbara Stewart
3 March 2020
Five years ago, a monk and three nuns left their longtime home, Gampo Abbey, to settle into a suburban house in the woodsy neighborhood of Fall River, about a half an hour from Halifax, with a new name and a big vision. The name, Karma Changchub Ling — or Karma Kagyu Enlightenment Dharma Place — had just been given to them by the 17th Karmapa, and the vision was nothing less than the preservation of the Kagyu monastic tradition as established by Trungpa Rinpoche and Thrangu Rinpoche, their former abbot.
Their spiritual advisors are the 17th Karmapa, Dzogchen Ponlop Rinpoche, and Khandro Rinpoche. Although it is quite unusual for Westerners to choose the monastic life, the creation of stable monasticism is something that Trungpa Rinpoche regarded as crucial to the planting of dharma in the West.
Now the monastics of KCCL are raising funds for another big move — this time to a large house on Young Avenue in downtown Halifax, with eight bedrooms and space for two good-sized shrine rooms. The plan is for this to be more than just a home for the monastics. This new facility will also be a place for the large Halifax lay community (especially those dedicated to Kagyu/Nyingma study and practice) to gather for feasts, dharma programs and classes.
Since moving to Fall River, KCCL has hosted prominent teachers, such as Ponlop Rinpoche and Khandro Rinpoche. They plan to continue to invite and host teachers in their new home in Halifax. The move will start in April. The cost of the Young Avenue house is $1.36 million.
The push to move from Fall River came from Khandro Rinpoche, who visited KCCL last spring and urged them to find a bigger place in town where they could serve the extended Buddhist community there. The Young Avenue house is large enough for the monastics to have the full upper story to themselves, if they so wish, to practice without interruption. At the same time, they are very much looking forward to practicing with others. Meanwhile, the house has plenty of space for group practice and classes and other programs. It also has extra bedrooms that could be rented to lay practitioners. Most importantly, it has the distinct advantage of being right in town, rather than a half-hour drive away.
Please see funding details in the sidebar. Check this space for updates.
Words of Support

I am so thrilled you are moving to Halifax in easy walking distance to so many of us!  -Linda

I think [the new property] is great- seems to have all the elements needed.  Of course, it will take a lot of work.  A lot of us are thinking that will now be our dharma centre, so it is good for everyone. -Sally

-I think your presence here a Buddhasend to this sangha, and will anchor and sustain the practice Lineage here into the future.  Gina

Thank you so much for your service to the community, your devotion to the teachings, and keeping the monastic tradition alive. We are very happy that you are making the effort to get this house in such a perfect location. -Anna

I am so happy that you have finally found a home close to the city and the clan. Be well my friends! -Coleen

Wishing you al every support in establishing KCCL as a strong inspiration for monastic life and Buddhism  in the West . -Zaida

Thank you for showing us around the house on Young Ave! It was impressive, and I could imagine this to be a good space. I am excited for you, and for the sanghas in Halifax! Truly!  -Maya