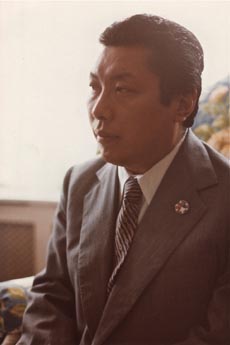 We have received a matching funds pledge of $30,000!
Before I became a Buddhist, I was a mountain climber and nature lover. The Sierra Nevada Mountains of California were my spiritual home. Living in Berkeley in the late 1960s, I was initiated into politics during the days when the student uprisings, the flower children, and the spiritual supermarket were all thriving at the same time in the San Francisco Bay Area. Like everyone else caught up in the "revolution," I felt that it was a momentous time. I also was very confused about what direction to take in my life.
In the spring of 1970 a fellow mountain climber, who had become a student of Suzuki Roshi, paid me a visit. I told him of my confusion and he said,
"Suzanne, you should sit."
There were many teachers available in the Bay Area. I had chanted with the Hindus, danced with the Sufis, and listened to the Buddhists. I was a fan of Alan Watts' radio series on religions, and had met the elderly Alan as well as students of Buddhism my own age; so I had a sense that Buddhism was my religion of choice. But I didn't know where to start.
I walked down Telegraph Avenue to the Shambhala Booksellers shop. It was hardly bigger than a closet and was lined floor to ceiling with books from every kind of spiritual and esoteric tradition. I hadn't the slightest idea what I was looking for. But somehow a slim little book with a golden cover and an intriguing title landed in my hands: Meditation in Action. The author's name was strange: Chögyam Trungpa
I didn't know where Tibet was, or what the difference was between Zen and any other kind of Buddhism. But I desperately wanted to be able to meditate, to become calm and clear. The problem was that I couldn't sit still. I was jumpy. So I bought Meditation in Action for $1.75 and thought, "Maybe I can do that!"
I took it to the mountains and spent the summer climbing, hiking, and reading. I read Meditation in Action over and over again, maybe six times. It seemed very deep and I felt very dense. So for the next four years I practiced Yoga and Tai Chi, jogged, swam, rode my bike, and became a vegetarian, all just to work with my nervous system so I could sit still. I also read Garuda and other publications that I ordered from Karma Dzong in Boulder.
In December of 1972, I learned that Chögyam Trungpa was going to give a weekend seminar in the Hall of Flowers in Golden Gate Park. When he walked in, I was very surprised. He didn't look like any kind of guru I'd ever seen. He was short, round, dark, walked with a limp, wore a dark suit and glasses, and had gaps between his teeth. Many of the people in the audience had stringy long hair, wore long white or saffron robes and acted very devotional. I wanted a teacher who could do something for the world, deal with the real problems and make the world a better place.
The seminar was on the Life and Teachings of Naropa. At the end, the Sufis were gathered reverently around the front of his chair, so I walked over to the left side and knelt next to his chair. He immediately turned and looked down at me. "Rinpoche," I said, "Isn't it a matter of karma whether one becomes a teacher—"
"Yes . . . "
"Well, these people," I said, nodding toward the Sufis, "don't seem to realize that."
"So—" was all he said.
I have no idea what made me ask that question. I'd never dreamed I would one day teach the dharma myself. I realized I'd made a fool of myself, but it didn't matter. I knew I'd found my teacher and that he could make a difference in the world.
Entering the Kingdom of Dharma
In the spring of 1974, I finally felt ready to meditate. I called Berkeley Dharmadhatu and spoke with Jerry Granelli. He told me there was a dharmadhatu close to where I lived in the Los Altos Hills. I could ride my bike to it. The first time I went, the group was doing the Sadhana of Mahamudra. It blew my mind. It actually offered hope of finding relief from the "slime and muck of the dark age" and "the thick, black fog of materialism." I'd never read anything so beautiful and so far beyond my understanding. I thought it would take years to comprehend it, but I was instantly committed to doing just that.
Things started moving fast after that. I turned 30 and went to Rocky Mountain Dharma Center for the first time. Rinpoche was giving the annual Labor Day seminar on the Four Foundations of Mindfulness. He wore a plaid flannel shirt and jeans with suspenders. He was very relaxed and warm.
Rinpoche was talking about the Kingdom of Dharma and I asked him whether students from other traditions could join. He seemed pleased by the question and said, "Yes, yes, all are welcome — as long as they sit."
Rinpoche was always kind to me, even when he teased me about being up in my head (my last name was Head at the time and he called on me as "Heady" when I asked questions after his talks), and even when he was mad at me. He did get mad at me one time when I wasn't doing my prostrations. He could tell by looking at me. I had gone to the 1976 Seminary in Land O' Lakes, Wisconsin. Now it was 1978 and I'd stalled out on the P's. I went to speak to him in a reception line for the Vajradhatu staff in the basement of Dorje Dzong. When I put my hand on his knee he felt as hard as a rock and quite cold. No hugs and kisses.
"You should practice," was all he said, quietly but fiercely, like a mountain of granite.
In the spring of 1979 I joined the staff at Karme-Choling in Vermont at the suggestion of Lady Pybus, Rinpoche's mother in law, whom I'd been consulting about my confusion over love affairs. I went to Karme Chöling in order to finish my prostrations and ended up staying for three years. In 1981 I finished ngondro, attended my first Kalapa Assembly at Lake Louise and received the Vajrayogini Abhiseka in Boulder.
The first time I had a chance to speak to Rinpoche after I'd resumed prostrations was in a reception line in the living room near the big rock. Being acutely aware of the prolonged chill between us, I was very nervous, but I had the longing of devotion in my heart. I said, "I think about you every day. I love you so much."
Rinpoche took my hand and pulled me to him. "I love you, too," he said, and kissed me. He was very tender and warm. Whew. The Big Chill was over.
One of the most important personal practice instructions he gave me occurred during the transmission for Mantra practice. I was planning to hurry through ngondro, take abhiseka and return to Boulder. Rinpoche said the most important thing was to not perform the practices mechanically. He said I shouldn't be concerned about how long it took, just be sure to do all the practices in a heartfelt way. I did, and the magic of the dharma swept all my plans away.
Offering Everything
In spring 1985, I attended the Amending and Four Karmas Fire Pujas back-to-back. It was something like 16 days of fire puja in the Dome at RMDC. Rinpoche visited us during the Four Karmas in his white uniform and likened himself to the fire in the fire puja. He also said that whenever we are near a campfire we should think of him. I'm sure he said other things, but this is what stuck with me: that he provided light and warmth and burned up what needed to be burned up.
I had an interview with him in Boulder afterwards, seemingly because I had innocently told Beverly Webster that I was interested in environmental politics. When I entered Rinpoche's office at Dorje Dzong, the first thing he said in his high, mischievous voice was, "Are you high?" I was probably quite high after all that practice. I told him about the amazing dreams I'd been having about him, which he seemed to enjoy.
Then he told me, "We need more Shambhalians, they don't have to be Buddhists." I'd been teaching a lot of Shambhala Training in New York and said I would do anything he wished.
"I'll do anything," I said.
"Jump out the window," he said, gesturing to the window to his right.
I stood up from my chair to his left and asked, "Right now, Sir?" I was thinking about what Naropa had gone through with Tilopa.*
"No, just kidding," he said. Then he gave me a very inspiring assignment whose goal was to make the world a better place: raising money to build a peace center at Lumbini, the Buddha's birthplace in Nepal. This turned out to be an impossible task for me to achieve and definitely brought me down to earth, but did so without breaking any bones.
The Vidyadhara was rainbows and hailstorms, other worldly and very earthy. But I loved him most of all for his humanness. He was the most passionate and fearless person I ever knew. He laughed, cried, celebrated and lived with all his heart. He gave everything of himself with no holding back, and I owe everything to him.
© 2004 by Suzanne Duarte
---
*Naropa was an eleventh-century Indian buddhist teacher and an important spiritual forefather of Chögyam Trungpa and the Kagyu lineage in general. His life story is often told to illustrate the level of complete surrender needed to enter into the teachings of vajrayana. Here Suzanne is referring to the time that Naropa requested the teachings and Tilopa, his guru, told him to jump from the roof of a very tall temple. Naropa did so and broke all the bones in his body. He was then healed by Tilopa's touch and received the teaching he requested.