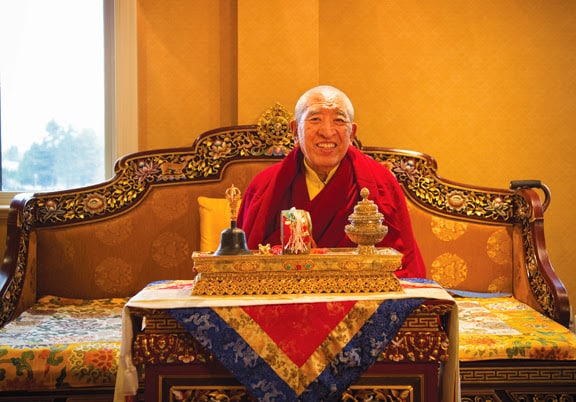 From Vajra Vidya Retreat Center:
Request for practice and prayers for 

Thrangu

 Rinpoche
Dear Vajra Vidya Family and Sangha members,
We have received word that Venerable Khenchen Thrangu Rinpoche is ill, and in the hospital. We are asking at this time for all our Vajra Vidya family and sangha to be single-focused in prayers for Thrangu Rinpoche.
If you can during this time please practice the
Guru Rinpoche Mantra recitation:
OM AH HUNG VAJRA GURU PEMA SIDDHI HUNG
We will send updates as we receive more information
on how Rinpoche is recovering.
Tashi Delek,
Khenpo Lobzang & Khenpo Jigme
---
Thrangu Monastery Canada's practice schedule will now include the following prayers for Khenchen Thrangu Rinpoche's health and longevity. Please join Thrangu Monastery in person or online for these practices. The prayers will be broadcast (Pacific time) on the Facebook page of Thrangu Monastery Canada.
Thrangu Monastery Canada's Practice Schedule
Please note: All times listed below are in PDT, which is three hours earlier than EDT
Morning 
9:00 to 10:00 Green Tara
10:30 to 11:45 Medicine Buddha
Afternoon 
1:30–3:00 Long Life Prayer
3:00 3:30 Tea Break
3:30–4:30 Green Tara
4:30 5:30 Mahakala
Evening 
7:00–8:30 Medicine Buddha followed by Long Life Prayer
---
Supplication for Khenchen Thrangu Rinpoche's Health and Longevity
By His Holiness the 17th Karmapa