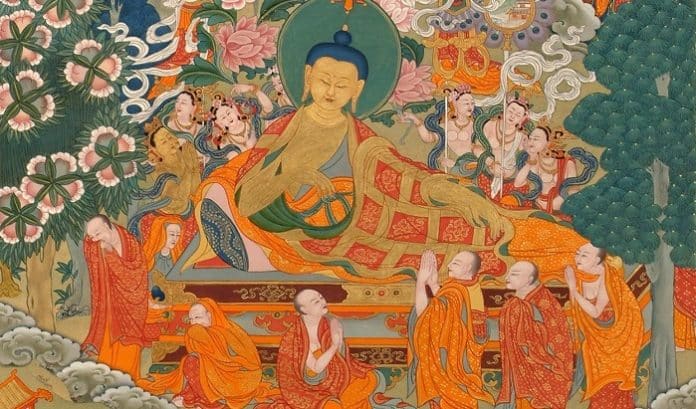 We have received a matching funds pledge of $30,000!
Vaishaka Day (also known as Saga Dawa) is the annual commemoration of the Buddha's Birth, Enlightenment, and Parinirvana celebrated by Buddhists all over the world. It falls on a full moon day, usually in May.
Starting sometime in the early 1980s, the Vajradhatu/Shambhala community started hosting a Vaishaka Day gathering at the center in Boulder. At the time, there was a sizable  community of Asian Buddhists in Boulder, perhaps Vietnamese (does anyone remember?). Each year the Vidyadhara invited them to join us in celebrating the Buddha. It was always a lovely event and it was wonderful to share our shrine room with a broader sense of sangha.
Please join us in Celebrating Vaishaka Day on Ocean
When: Friday, June 5 at 8 am PDT / 9 am MDT / 10 am CDT / 11 am EDT / 17:00 CEST
Where: The Main Ocean Shrine Room
This one hour program will include the recitation of a Praise to the Buddha, a brief recitation of the Shakyamuni mantra, a reading from a poetic life of the Buddha, and a video of a short talk on the Buddha's teaching of Sutra by Vidyadhara Chögyam Trungpa Rinpoche. Come say hello and thank you to Buddha Shakyamuni!
Open to all.
Co-sponsored by Ri-mé Society