Ari Goldfield is a Buddhist teacher and translator. He studied and practiced under the close guidance of Khenpo Tsultrim Gyamtso Rinpoche from 1995-2009, and now teaches in Rinpoche's Karma Kagyu lineage with the blessings of the head

Ari Goldfield is a contributing author of Freeing the Body, Freeing the Mind: Writings on the Connections Between Yoga and Buddhism. He has translated books, articles, and numerous songs of realization and texts on Buddhist philosophy and meditation, including Khenpo Rinpoche's books Stars of Wisdom, The Sun of Wisdom, and Rinpoche's Song of the Eight Flashing Lances teaching, which appeared in The Best Buddhist Writing 2007. He studied Buddhist texts in Tibetan and Sanskrit at Buddhist monasteries in Nepal and India, and at the Central Institute for Higher Tibetan Studies in India. From 1998 to 2006 he served as Khenpo Rinpoche's full-time secretary and translator on seven round-the-world teaching tours. He has also served as translator for H. H. the Seventeenth Gyalwang Karmapa, Tenga Rinpoche, and many other Tibetan teachers. In 2006, Khenpo Rinpoche stayed in retreat and sent Ari on his own tour to teach philosophy, meditation, and yogic exercise in Europe, North America, and Asia. In 2007, Khenpo Rinpoche appointed him president of the Marpa Foundation, a nonprofit organization that supports Buddhist translation, teaching, nunneries in Bhutan and Nepal, and other Buddhist activities. Ari holds a BA from Harvard College and a JD from Harvard Law School, both with honors.
Favorite quote from this conversation:
Making mistake after mistake
I walk the unmistaken path
Forgetting again and again
I rely on unforgetting mindfullness
Experiencing confusion after confusion
I seek out the unconfused true nature
-Khenpo Tsultrim Gyamtso Rinpoche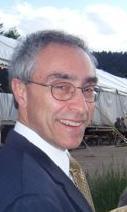 David Sable is a long-time teacher within the Shambhala Community
Thank you David, for conducting this interview with Ari.
The opening and closing drum themes for Let Loose are by Jerry Granelli, recorded on Sandhills Reunion. The closing theme is from Drala by Peter Lieberson, recorded on Raising the Gaze. Thank you to both composers for their permission to use these excerpts from their work. Thank you also to Marvin Ross for his photographs of Thrangu Rinpoche.