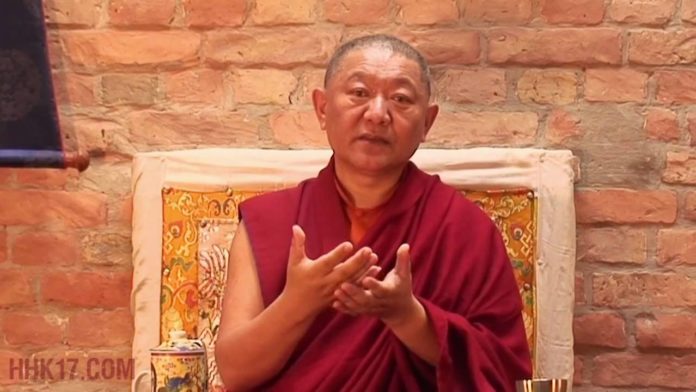 Part 1: Background


Part 2: Recollections of Chogyam Trungpa Rinpoche


Part 3: Thoughts Regarding Dharma

The Chronicles is honored to present this conversation between Ringu Tulku, John Baker, Jane Kolleeny and Derek Kolleeny recorded in Irvington, New York during Ringu Tulku's visit to the Westchester Buddhist Center in May 2013. Their conversation is presented here in three parts. In part one Ringu Tulku talks about his background in Tibet. In part two, he talks about his recollections of Trungpa Rinpoche. Part three is a discussion about dharma in the West.
Ringu Tulku Rinpoche was born in Kham Lingtsang and recognized by His Holiness the sixteenth Gyalwang Karmapa as the incarnation of one of the tulkus of Ringu monastery. He studied with many outstanding masters, including Thrangu Rinpoche, Dodrupchen Rinpoche, Dilgo Khyentse Rinpoche and the Gyalwang Karmapa. He was also a close disciple of Khenpo Tsondru. Since 1990, he has been traveling and teaching in Europe, the USA, Canada, Australia and Asia. He is the author of a number of books on Buddhism, as well as children's books in both Tibetan and European languages. Rinpoche is the founder of Bodhicharya, an international organization that coordinates his worldwide activities to preserve and transmit Buddhist teachings, and to promote intercultural dialogues as well as educational and social projects.
The Westchester Buddhist Center (now the Westchester Meditation Center), which was formed in early 2009, hosts regular sittings, talks and discussion for both new and seasoned practitioners in the Westchester area. In addition, the center has hosted a number of visiting teachers, including: Mingyur Rinpoche, Phakchok Rinpoche, Khandro Rinpoche, Shibata Sensei, Judith Lief, Lama Chonam and Sangye Khandro, Ethan Nichtern, Richard Arthure (Kunga Dawa), Reggie Ray, and others.