We have received a matching funds pledge of $30,000!
This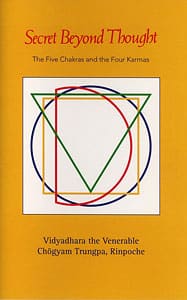 two-talk public seminar took place in Boston in February 1971. The first talk is an introduction to the tantric principles of the chakra system. Specifically, the Vidyadhara addresses how it embodies the five awakened aspects of body, speech, mind, quality, and action. The second talk offers a unique teaching on the four karmas—or enlightened activities—and how they can either conquer or be perverted by the four maras, our personal demons and habitual patterns of ego-fixation.
These talks have been edited into the book, Secret Beyond Thought, The Five Chakras and the Four Karmas, available from Kalapa Publications. Available to all, but particularly recommended for students doing the four karmas fire puja or beginning Chakrasamvara practice.