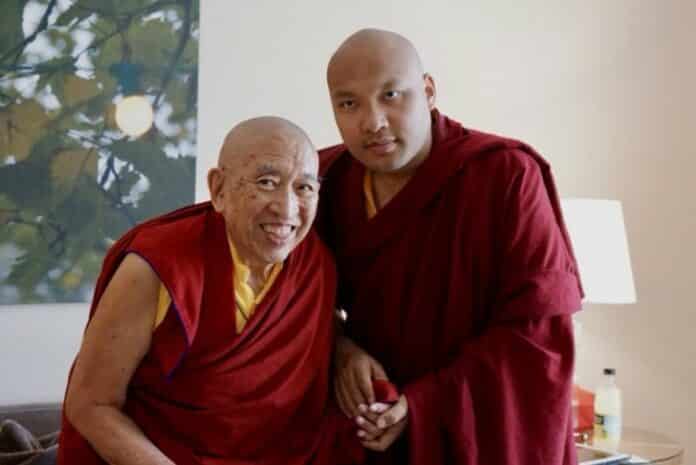 On the occasion of our great spiritual friend Kyabje Khenchen Thrangu Rinpoche turning ninety, I would like to express my prayer and aspiration that he may live a healthy life even longer than a mountain's.
There is a sutra that says, "He has built the boat of dharma, beaten the drum of dharma, blown the conch of dharma, raised the banner of dharma, blocked the seeds of samsara, taught the nature of nirvana, cut off the wrong paths, taught the correct path, reversed bad karmas, and correctly taught the fields of merit." What could these words be, I wonder, if they are not a description of Thrangu Rinpoche's great qualities?
Over the past several decades, Kyabje Rinpoche has had tens of thousands of students, and, without any bias or favoritism, he has given each of them guidance and advice appropriate to their own individual needs. He has great skill and dedication in guiding them along the path gradually. Because of this, the number of students whom he has brought to the path of ripening and liberation is beyond count. No matter what changes time has brought, no matter what has occurred, good or bad, Kyabje Rinpoche, even to this day, has disregarded fatigue and weariness to guide us with his speech and strive with his body, never flagging. Does this not show that his warmth and kindness for us are far deeper than an ocean?
How could a few short words express how great and precious Rinpoche is? To the best of our ability, we must come to understand, no matter what, how incalculably valuable Rinpoche is, how he is without rival. We must remember from the bottom of our heart that every instant we spend with such a great being as him is an extraordinarily great fortune. We should hold in our mind Rinpoche's great love in never forsaking us and the profound kindness he has shown us.
No matter how much I say, there is no way I could express in words how dedicated to him I am and how strong my faith is. Still, once again I fervently pray that he may live long in good health, continuously turn the wheel of dharma, and bring an ocean of benefit to sentient beings.
*Translated from the Tibetan by David Karma Choephel
Reposted from KCCL