In this episode, Julia talks with Kate Stein about meeting Chogyam Trungpa, studying Buddhism, Sanskrit, and Tibetan, working with Trungpa Rinpoche's ministry of External Affairs, organizing a reception for the Dalai Lama in Washington DC, organizing a congressional luncheon for His Holiness the 16th Karmapa, and the Lumbini Project. Also in this interview Kate reads a series of poems by Chogyam Trungpa, two of which are shown below. Kate was with Rinpoche when these poems where composed, and she worked with him on the translations.
Two poems written in Tibetan by Chogyam Trungpa with translation notes.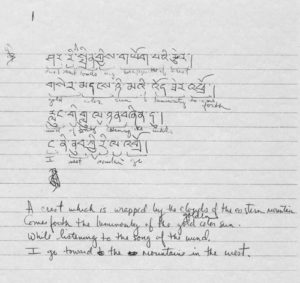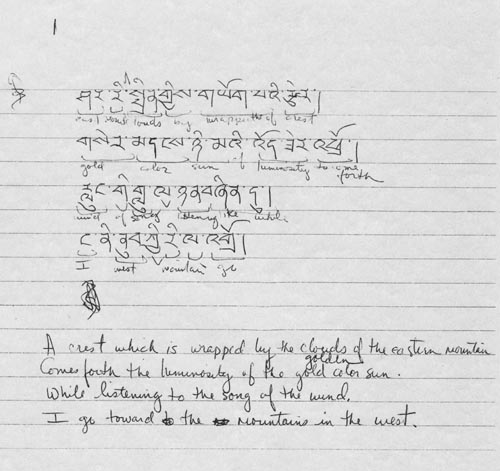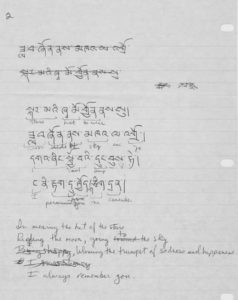 Readers' Comments
Just want to say how incredibly moving I found the Kate Stein interview. It's a real and wonderful gem. Please forward my deepest appreciation to her–
And to you,
Helen Berliner
***
I recently listened to your interview on the Chronicles and was absolutely moved by stories you told and especially the poems you read. I was wondering if you might provide me with a citation for the the first poem you read about charging the mountain. I think committing this poem to memory and reciting would be of great benefit.
I found the story of the gift of the Shambhala book to His Holiness the Dalai Lama particularly interesting. Last month, having never heard that story, I had a dream where I visited His Holiness in a shrine room, I was to sit in on a class he was conducting. I went to prostrate to him and he immediately stood up and motioned for me to turn around and prostrate to a very large Buddha statue that was over the door through which I just entered. After doing so I took a seat and one of his attendants started to hand out books, I received a copy of Shambhala Path of the Warrior from the attendant. I thought it was remarkable that this is what was being studied. The cover was different however. It was a picture of Trungpa Rinpoche on a pleasure boat of some kind, I think on a lake. The boat had about 10-20 of his students on it as well. He was at the front of the boat sitting in a chair, raising a toast and smiling at the camera. His students were all smiling at the camera too.
Anyway, thank you for your heart felt interview.
Yours in the Dharma, Geoff. Philadelphia, PA
***
Crying with Cathryn as she read the Vidyadhara's glorious poems. Thank you for this interview prompted by Julia's gentle precise questions. With all of Cathryn's wonderful accomplishments, impeccable service and golden heart devotion her gentleness, humility and humbleness is a gift and teaching for me and hopefully for everyone. Chogyam Trungpa truly lives in her heart. It sounds like she's facing that mountain. With the Great Eastern Sun arising I wish her fearlessness riding on the wind upon a great black stallion.
Love to you all with great thanks,
Hildy
ps. I think that message was for all of us, particularly at this time.