Greetings from Bhutan. I was told that some of the Vidyadhara Chogyam Trungpa Rinpoche's senior students would like to perform the parinirvana ceremony of Khyabje Dilgo Khyentse Rinpoche. So I was very, very happy to hear that. Khyabje Dilgo Khyentse Rinpoche is the mind reincarnation of Jamyang Khyentse Wangpo the Great.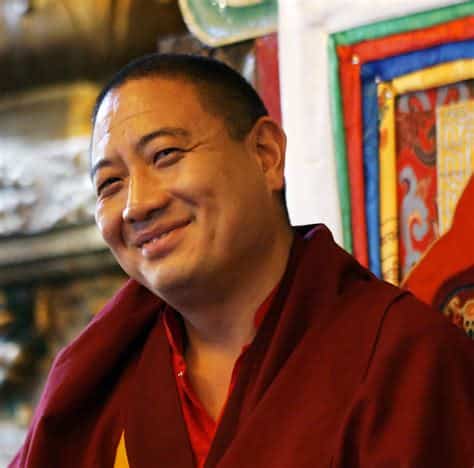 And Jamyang Khyentse Wangpo was the main founder of the Rimé or nonsectarian movement, therefore Dilgo Khyentse Rinpoche himself, even though his main practice was Nyingma, he always respected the other major schools of Tibetan Buddhism. Not only did he respect, but he received the lineages from all the four different schools. And he carried these lineages and transmitted them to his students. Therefore the Rimé respects the four major schools, as seeing four different ways to achieve nirvana. So Dilgo Khyentse Rinpoche has students and friends from all the Tibetan Buddhist schools, from the different Buddhist schools.
Khyabje Dilgo Khyentse Rinpoche and Vidyadhara Chogyam Trungpa Rinpoche's connection starts way before I was born, having started in Tibet. The Vidyadhara Chogyam Trungpa Rinpoche visited Shechen monastery; and Khyentse Rinpoche was recognized as Shechen Khyentse. From that time onwards they had a strong connection. And on top of that, as many of you might remember, at that time Vajradhatu centers had the photo of Shechen Kongtrul Rinpoche [on their shrines]. Chogyam Trungpa Rinpoche considered Shechen Kongtrul Rinpoche as one of his main teachers; and also one of his teachers was Khenpo Gangshar from Shechen. So therefore there is much connection between Shechen and Chogyam Trungpa Rinpoche.
And I think particularly the connection between Dilgo Khyentse Rinpoche and Chogyam Trungpa Rinpoche is not only a spiritual one, but also I feel that their connection is like a father-son kind of connection. I can see that from the letters they exchanged, and also the poems that Khyentse Rinpoche composed during his visit, and also at the end of some of his sadhanas he mentions Chogyam Trungpa Rinpoche.
Not only that, but I also think that when Chogyam Trungpa Rinpoche revealed his gongter, his mind terma, I remember very clearly that he first showed it to Khyentse Rinpoche and Rinpoche kept it one night with him when he was visiting Boulder. I think it was his second visit, and the next day Khyentse Rinpoche asked [Trungpa Rinpoche] to bless him with the terma, which Chogyam Trungpa Rinpoche had revealed.
Likewise, many of Khyentse Rinpoche's own termas from Tibet, some of the texts were found at Surmang monastery; some of the Surmang senior monks kept them, and then sent them to us later in Nepal. So therefore, the connection between the two great masters is not only a spiritual one, but I feel like it is a father and son kind of connection. Therefore I feel that all the people who follow Chogyam Trungpa Rinpoche's lineage, I feel that we are very, very close, because somehow in many ways we are connected. So I'd like to thank those who want to celebrate or do the practice on the day of Dilgo Khyentse Rinpoche's parinirvana. So I'd like to thank you all. Thank you very much.
Thank you to Robert Walker and Mark Nowakowski for transcribing and editing this recording.
---
Also of interest