To begin with, there was simply his size, strength and presence. Gifted with a fine body and a fine mind, as a friend once said of him, Paul Warwick was a man who gave the life of the mind itself magnetic dignity in times (the 1950s) when an intellectual was dismissed as an "egghead."
He was also slightly…ummm, goofy, playful, and innately kind, willing to go far out of his way to help others. But widely read in English, American, and world literature, an ABD (All-But-Dissertation) in the sociology of knowledge from Indiana University and, most intensely, interested in the nature of consciousness itself. Therefore, when he met the Vidyadhara, he was captured on the spot and committed for life.
I remember stories (all of his friends will now remember stories) he told of his childhood, paddling around a Marin Country marsh day after day in the early 40s while his father was away in WWII. And later in Southern California, when he was recruited to the Claremont High School football team by a coach who quickly saw his athletic potential and built a team around him. Sometimes after practice, Paul said he'd sit in the Whirlpool reading Shakespeare. He was no jock, but he could play rough and respected that when it happened. In his final year of high school, he was named an All-Southern California High School tackle, a position he went on to play at Princeton. And then, marrying Jenny in 1959, he returned to teach and coach football at the high school for a few years.
I first met Paul in August 1967 when he and I had been hired to teach English at the University of Montana in Missoula. In the forty-five years since, the Warwicks and I and my family have shared much of our lives.
So, if I may, I would like to reflect on what I think (and feel) it means for those of us in our 60s and beyond to lose another member of what has sometimes been called the Vajradhatu foundation generation, because we too are passing on faster now.
Years ago I remember reading an article in a Canadian business magazine about how the loss of one's age-peers opens a hole in one's life: They are not there anymore to write to, to phone, to shoot the breeze with around the kitchen table, to remember with, to think: Oh, she or he would really have liked that! and then say it to them.
So since I have known Paul's death was coming, I've had time to think about what I might say and I remembered a line from Donne's too-often-quoted poem "No Man Is An Island": "…a piece of the continent, a part of the main."
When those whom one grew up with die, a part of the continent of one's own life falls away, irreplaceably. There is a loss of deep context. Gone.
But before he died on February 2, I had been lucky enough to fly out to see Paul and Jenny for about four days in November, when his vitality, speech and walk were slow, but still strong.
On the plane back to Halifax, as I reflected on my days with them the phrase that occurred to me was: "the wisdom of equality." But then I thought: No, not so much the wisdom as the sense of equality, one taste.
That sense and that humility pervaded the Warwick's' home and their presence. During that long flight back I also remembered the final words of Ozu's The Burmese Harp, the Japanese movie we had watched one night while I was there: "There is no end to words of farewell."
Indeed.
Yet remembering Paul's voracious curiosity, I also recall one of his daughters reporting something he had said in the hospital earlier in the fall: "I want to go because I want to know."
So, in closing, I think of lines from T.S. Eliot's Four Quartets:
Old men ought to be explorers
Here and there does not matter
We must be still and still moving
Into another intensity…
And finally:
Not farewell,
But fare forward, voyagers.
Denault Blouin, HFX,
February 16, 2013
***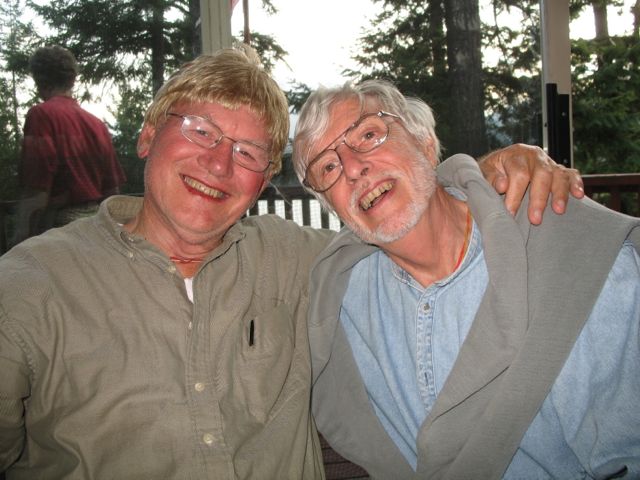 Dear Walter and the Chronicles,
Attached is a photo of Paul Warwick and Doug Rickson (my husband), taken at Sea to Sky Retreat Centre in July 2006.
Paul was playing w/ a blond wig, and wanted his picture taken…. the two guys were joking around.
This is one of the many heartwarming aspects about Paul that we remember so well – playful, bantering and so joyful.
We will miss him so much.
Fondly,
Suyin Lee
Vancouver
***
Denny's description of Paul is poetically and objectively accurate. He was a large man in so many ways, with, in his words, "a coltish grace". He was referring to his loose-limbed dancing at the Kaslo community hall , but it serves well as a metaphor for much more.
As an early resident of Kaslo, when Paul and Jenny were the heart of the Kootenay Dharmadhatu, we shared a rough and joyous innocence. In summers, Paul drove the mower on the local golf course, a dry, modest little nine-hole course with a million dollar view. Paul did have a goofy grin that masked a powerful intellect and great insight into the human condition, even in pre-Buddhist days. The round table in the Warwick kitchen anchored the hearts of friends and family. Such a precious life for us all and I am thankful to have shared bits and pieces of it with Paul Warwick, a man of immense kindness who broke trail for others to follow.
Peter Showler
***
Nancy Murphy A recollection: A really wonderful assignment (though brief), to work with the brilliant, kind and owner of the best sense of humor, a great senior teacher Paul Warwick. In 1991 Khenpo Tsultrim Gyamtso Rinpoche taught a month long Mahamudra program at then RMDC. Khenpo Tsultrim Rinpoche agreed that since a feast day was approaching we would perform the feast practices for both Vajrayogini and Chakrasamvara – which he would attend – respectively and accordingly … there was plenty of space to accommodate both. As the Feast rotas were being assigned, volunteers also were taken. Paul was the head of torma preparation and here is where Nancy Murphy and I threw up our hands for a chance to be on his team, we volunteered to roast the barley flour. A seemingly simple task promising an opportunity to learn from and enjoy the leadership of Paul, seen in our view as an enjoyment-filled simple but necessary contribution. We were rewarded with his kindness and aforementioned qualities, and thorough instructions of how not to burn/scorch the flour. He had others' work to see to and left us with the virtual understanding.
The method of roasting pounds upon pounds, and more pounds of barley in the roasters, you know the oatmeal/hot cereal gadgets in the old kitchen was anything but simple. The critical moving the volume out in time so as to prevent the burnt-ness proved a herculean task. We were both coated in flour from head to toe, aka Lucy and Ethel in the chocolate factory, flour everywhere and when Paul checked in to see how we were managing we all had an enormous laugh … his wisdom informed attitude, pure great humor, rendered our mess no problem and his approval signaled how a dark flour enriched the flavor of one-taste tormas!!
One loving memory of Paul,
Carol (Chiofolo) Stamaty
***
Dear Denault… Thank you for this beautiful tribute to Paul Warwick…Ahhhh aging… gathering light… one swell of the sea becomes another Fondly, Julia
***
Paul Warwick, Compassionate Man with a Singular Wit
I remember Paul fondly not only from the days when he, Jenny and family still lived in Berkeley, CA, but also from working closely with him for a year when I lived at Karme-Choling. He was an excellent communicator of the teachings and had such a great sense of humor. His kindness and even-tempered nature were always evident. He took the teachings closely to heart, and it showed.
Cynthia Strattan
***
I first met Paul & Jenny in the spring of '68 when he was teaching English at the University of Montana. That was when I first met Denny, as well. Basically, they were my draft counselors during a very turbulent time (both Martin Luther King and Robert Kennedy were assassinated that term), but our lives became much more closely involved than that might sound. They became my mentors and friends.
My initial impression of Paul was that he was struck from the classic mold of "athlete/scholar". Large, strong and quick, with a deep knowledge of poetry and literature, especially Blake, he was also a chip off his Welsh father's block, who was a labor organizer.
Paul reminded me (I was fresh out of the Haight-Ashbury) more than a little of author Ken Kesey. Paul was Princeton football, Kesey was Oregon wrestling, but they were both big, sharp, heart-of-gold originals. They were also both householders, married to exceptional women, and very much rooted in their families.
The Warwick's Missoula home, where they were raising three very young and very beautiful daughters, was an oasis of hospitality and a cultural nexus of the academic community. I'm sure that is one thing that never changed over the years– if you've ever sat at a Warwick table, you'll know exactly what I mean.
Life with the Warwicks was an adventure, and not always serene– revolution was in the air! Keeping a family together through the peak years of the 60s is no small accomplishment, and an eloquent testimonial to their life-long marriage.
Paul and Jenny later connected me to Vajradhatu/Boulder in the late 70s, where I met the Vidyadhara, received teachings, and was there for one of the Karmapa's visits. That was a lot of Warwick tendrel!
Therefore, I am truly grateful for the wonderful telephone conversation I had with Paul a few weeks before he died. He was a football player to the core, and a great fan of the University of Oregon Ducks (I live in Eugene, OR), so of course we talked football. But that was just for openers. It was a fun, wide-ranging conversation, as was typical with Paul. Whatever symptoms of the "painful bardo of dying" he was enduring, one would never know it from that call. Lucid, and good-humored, the man "never parted from that which cannot be meditated upon" to the very end.
It is now exactly 45 years since that spring in '68 when I first met Paul, Jenny and Denny. In all the intervening years we rarely met, but true friendship is first nature to them, so we always stayed close.
This quality is beautifully stated in a verse written by Nyogen Sensaki for the case, "Where to meet after death." With these words I'll say my "thanks for everything over all the years, and fare-forward!" to Paul:
True friendship transcends intimacy or alienation.
Between meeting and not meeting, no difference.
On the old fully-blossomed plum tree
South branch owns the whole spring,
North branch owns the whole spring."
-Michael Hennessy
***
Paul taught at my Seminary in 1988. For those of us who never met Chogyam Trungpa, Paul delivered the goods. He knew meek, humble, outrageous, inscrutable, and how never to be "predictable". Paul delighted in the play of mind, the play of appearance/emptiness. For that kind of teaching–the kind that provokes and ignites the indescribable–I am forever grateful. -Molly DeShong