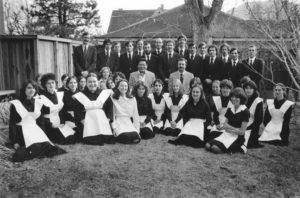 Rinpoche moved into the first Kalapa Court at 550 Mapleton Avenue, Boulder, Colorado, in the fall of 1976. The household was a whirlwind of activity, packed at all hours of the day and night with family, guests, Kasung, and household staff. It was chaos wrapped in a pervasive atmosphere of precision, joy and humor; and although it was Rinpoche's home for only a very short period of time, it was the setting for many landmark occasions.
In February 1977, Rinpoche left Boulder for Charlemont, Massachusetts, where he would be in retreat for the coming year. Shortly before his departure, he celebrated the Tibetan New Year (Losar) for the first time as "Shambhala Day." It was a full day at the Court. The sixty or so guests, who were invited for breakfast at the break of dawn, were served a rich Indian feast on banana leaves—no utensils. I remember the look of horror on Lady Pybus's* face when she realized that she was expected to eat with her fingers. I think someone did bring her a fork in the end. It was delicious and very spicy. Almost everyone enjoyed the banana-leaf plates, and afterwards the clean up was both easy and environmentally friendly.
An elaborate western banquet was served later that same day with with guests seated in every corner of the house: upstairs, downstairs, in the drawing room, dining room, and even in the hallways. Rinpoche and the Regent and their immediate families were dining in Rinpoche's sitting room on the second floor. The dinner service was very formal (think Downton Abbey) and required a great many enthusiastic, and mostly inexperienced, servers.
Serving stations had been set up at strategic locations throughout the house and stocked with condiments, bread, butter, wine, and pitchers of both water and sake. At one point, I was given the job of refilling everyone's water glass. I went from guest to guest around all of the tables with a big pitcher in my hand. Unfortunately (or fortunately as the case may be) I mistook a sake pitcher for a water pitcher, and filled up everyone's water glass with sake. From the head of the table, Rinpoche was watching.
 When all the glasses had been filled to the brim, Rinpoche called John Perks (the head butler) to his side. After a brief exchange in whispered tones, John stood straight, called for everyone's attention, and in his droll British manner announced: "Ladies and Gentlemen. It's a miracle. A miracle on Shambhala day. The water has turned to sake."
---
*Lady Elizabeth Pybus was Trungpa Rinpoche's mother-in-law. Elegant, charming, and formidable, Lady Pybus became a close confidant to Rinpoche, and a trusted friend and mentor to many of Trungpa Rinpoche's students.