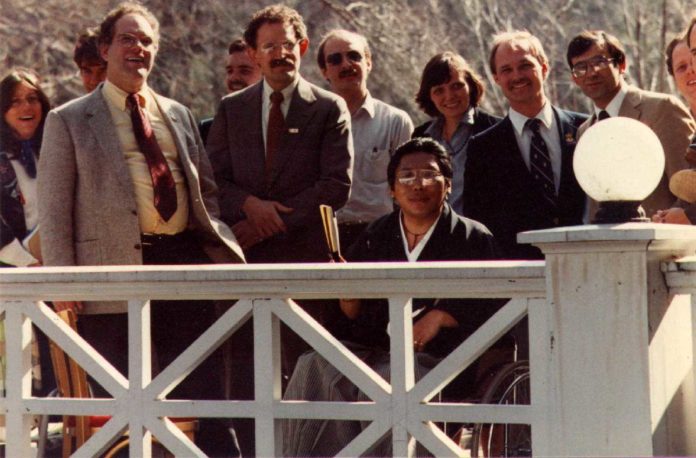 Human life is both precious and rare, and the Buddhist teachings admonish us not to waste it. The Vidyadhara, the Venerable Chögyam Trungpa Rinpoche, certainly took that to heart. His would be an example of a life with barely a second wasted, a life lived for the benefit of others, a life that changed the world.
Personally, I am grateful that he lived, very, very grateful. He changed my life. But at some level, I would have to say, "So what?" It is clear that Trungpa Rinpoche didn't come into this world and didn't sacrifice himself as he did just for those who knew him personally. His life was a gift to what surely will be millions of sentient beings who will have the opportunity to practice and study the Buddhist teachings in a genuine fashion because of the foundation that he laid.
Thus, the occasion of the twentieth anniversary of Chögyam Trungpa's Parinirvana is an opportunity to contemplate the future as well as the past. Whether we knew him "in the flesh" or not—we, his students, can make our own gift to the future. By practicing, preserving and propagating the teachings he gave, we can help to inspire people to practice and realize the buddhadharma far beyond our own lifetime. I think that's an important way that we can repay a small measure of his kindness.
We need to endow the future. We need to practice, to teach, to write, and to train others, sharing the skilful means as well as the wisdom that the Vidyadhara conveyed to us. Our grandchildren will still be discovering, editing, and publishing what the Vidyadhara said, so we need to provide the resources for future generations to continue this work. Chögyam Trungpa Rinpoche had an amazing group of students. Great teachers and great teachings undoubtedly will come from his lineage and the people he trained. I hope that our legacy will be a magnificent container for his dharma teachings, created and cared for by disciples now and for generations to come.