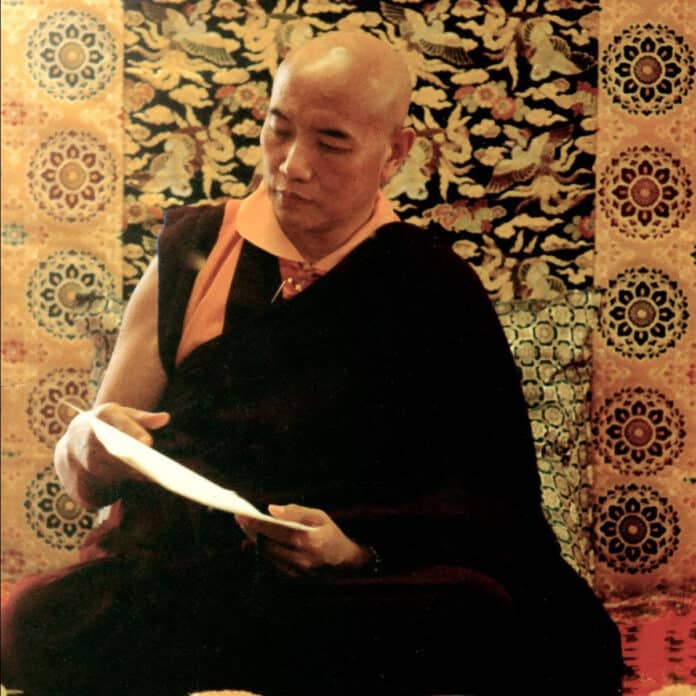 Friday, October 29 – Saturday, November 6
Join Dilyak Drupon Rinpoche, Her Eminence Mindrolling Jetsün Khandro Rinpoche, Dzigar Kongtrul Rinpoche, and Dzogchen Ponlop Rinpoche in this week-long tribute to the Karmapa. This event is hosted by Karmapa Center 16.
Friday, October 29
Dilyak Drupon Rinpoche
The Life of His Holiness the 16th Gyalwang Karmapa
Saturday, October 30
Her Eminence Mindrolling Jetsün Khandro Rinpoche
Saturday, October 30
Dzigar Kongtrul Rinpoche
Sangye, the 16th Karmapa
Saturday, November 6
Dzogchen Ponlop Rinpoche
THE LION'S ROAR: Film Screening, Panel Discussion, and Q&A
Saturday, October 30, 2021 @ 6:00 pm Eastern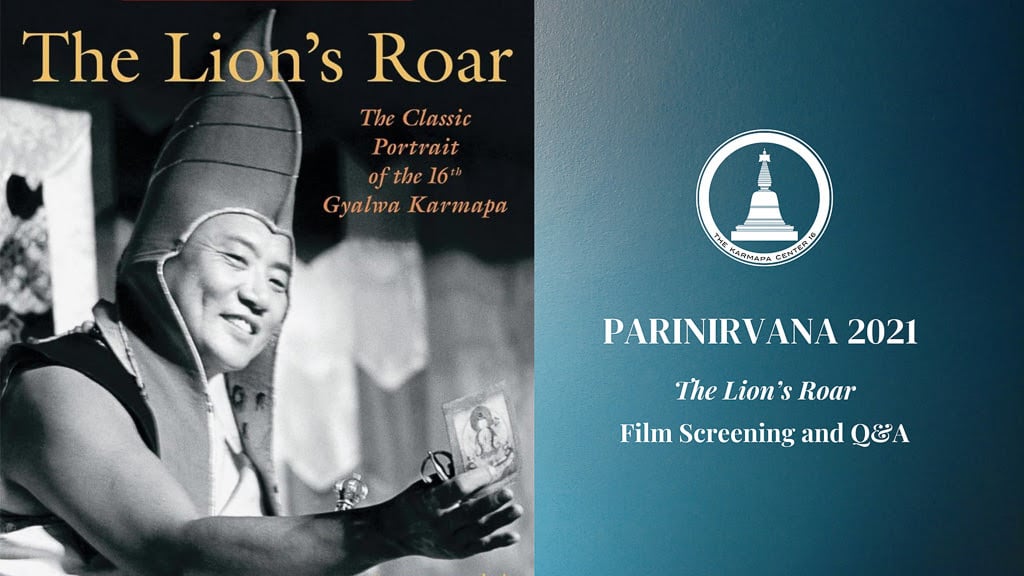 TICKETS FOR THIS LION'S ROAR SCREENING
Please join Karmapa Center 16 for a special benefit screening of The Lion's Roar, digitally remastered from the original film.
The film will be followed by a panel discussion and Q&A with Larry Mermelstein, executive director of Nalanda Translation Committee, Judy Lief, Shambhala Acharya Emeritus, and other guest panelists.
Dan Hirshberg, author of Remembering the Lotus-Born: Padmasambhava in the History of Tibet's Golden Age and founder of Soteric Contemplative Training, will moderate the discussion.
Other Events
Karmapa Center 16 is also pleased to share videos from His Eminence Tai Situ Rinpoche, His Eminence Goshir Gyaltsab Rinpoche, Ayang Rinpoche, and Tashi Densapa (Banya Rinpoche) as part of the Parinirvana memorial.
In addition to the talks, we invite you to join the lamas of Karmapa Center 16 as they practice pujas online for the 40th Parinirvana beginning Tuesday, November 2 through Friday, November 5.
Please check the website for the complete schedule and to register!