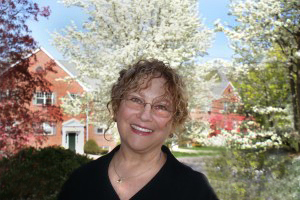 During the 1985 Seminary at RMDC, now Shambhala Mountain Center, the Vidyadhara was hosting a number of guests at Prajna for cocktails, followed by a dinner. I was on staff for the evening.
I kept in mind that proper service protocol demanded that one be as invisible as possible. I remember that I was quite sad, generally, as things were difficult in my relationship with my then-boyfriend, now husband, who was also at Seminary, and I could not think of much else.
During the meal, the Vidyadhara was seated at the head of a very full table, and at one point in the service I bent toward him to serve something from a large plate. Immediately I felt his hand go right to the place on my stocking where there was a large tear. His hand paused there, and he turned to look at me directly, saying,
"You know, happiness is not the point… it's much more interesting than that."
I was confused for a moment…aren't I invisible? Apparently not. Of course I don't remember much after that, but this pithy teaching has been a primary one for me ever since. For that, and my life, I am so grateful to him.