Orgyen Tobgyal Rinpoche has reviewed this transcript and given permission for it to be posted on the Chronicles website. Translated from Tibetan by Dzongsar Jamyang Khyentse Rinpoche (DJKR)
---
OTR: Trungpa Rinpoche — now there was a real lama. Even Kyabje Dilgo Khyentse Rinpoche was devoted to him, and there were not many living lamas to whom Kyabje Dilgo Khyentse Rinpoche had devotion — Karmapa, Dudjom Rinpoche, Penor Rinpoche, Trulshik Rinpoche, Trungpa Rinpoche, Sakya Dachen Podrang and Dolma Podrang, Tulku Ugyen, Kalu Rinpoche, later Khenpo Jigme Phuntsok.
In fact all the great lamas consider Trungpa Rinpoche as a real vidyadhara. He is very special. He is a very authentic master and great scholar. What he wrote is mind-boggling. There is a Guru Yoga of Sechen Kongtrul that is beyond words.* (Long pause)
Even now there is nobody who has really overtaken Trungpa Rinpoche as far as planting the dharma in the hearts and minds of students in the West.
One time Kyabje Dilgo Khyentse Rinpoche was giving a teaching at Dorje Dzong in Colorado. There were about a thousand people there receiving teachings, and Trungpa Rinpoche was also there right in the front seat just drinking sake and listening to the teaching.
Then suddenly Trungpa Rinpoche asked for paper and a pen and he wrote something that he sent up to Dilgo Khyentse Rinpoche who was giving the teaching. Dilgo Khyentse Rinpoche looked at the note, put it on his head, put it under the table and continued teaching.
Later I (OTR) went up just to clear Dilgo Khyentse Rinpoche's handkerchief, mala, and so on. And then I saw the note and looked at it. The note read: "Not too many words, but abundance of meaning, please." Something like that.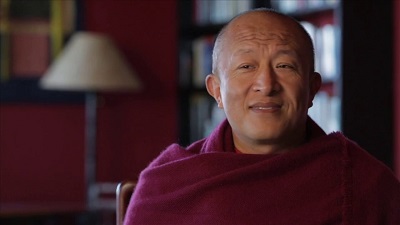 DJKR: How many family members are there in Halifax? 600, 700 — something like that? I was just saying (to OTR) how amazing it is what Trungpa Rinpoche achieved. If you hear that many Chinese received teachings from such and such a Rinpoche, that's not that surprising because China has hundreds of years of Buddhist history. America had nothing, no Buddhism at all. But then Trungpa Rinpoche says to these 600 families, 700, "Let's go to Halifax." They all went. And they're still there. They're still there!! (DJKR's tone rises in amazement).
OTR: Those who were doctors and lawyers in America went to Halifax where they even swept floors, because there was really nothing there.
DJKR: Halifax is like the Takila of Canada. There is really nothing there. Have you been? Oh, it's a terrible place. There is nothing there.
(OTR now talks in Tibetan with another Tibetan tulku who was also present during this conversation).
DJKR (to student taking nots): OTR and he are talking about Trungpa Rinpoche's lineage connections … with the Karmapa lineage, with the Shechen Kongtrul lineage, and all of that. OTR says he is sad that the Sakyong is not continuing the lineages, teachings, style, and nuances of Trungpa Rinpoche — outer and inner. It's a big loss.
DJKR (to a Chinese student present during this conversation): Trungpa Rinpoche's Sun Camp model is something that's so important. I think China must do it, gathering kids in this way.
OTR: I actually went to eat oryoki food. It's like being born in the hell realm (laughs).
DJKR: These Japanese models are actually quite good. I was just listening to Basho's poetry. There are a lot of things to learn from that.
OTR: Trungpa Rinpoche did so many things that are quite important — like even just small gatherings for afternoon tea or a party with just a few people. But the banners still had to be hoisted, everybody had to dress properly. I think those things are really important.
DJKR: Especially for younger people, this is really good. When people do tsok (ritual feast) they should do that.
OTR: Kyabje Dilgo Khyentse Rinpoche also considered Trungpa Rinpoche a very great scholar, and he proudly claimed Trungpa Rinpoche being so learned was due to Shechen Kongtrul Rinpoche.
There is a book written by Jamgon Kongtrul Lodro Thaye, The Encyclopedia of Knowledge that was three volumes in Tibetan and has now been translated into English. Kyabje Dilgo Khyentse Rinpoche told me that Trungpa Rinpoche received this from Sechen Kongtrul Rinpoche, that Trungpa Rinpoche read this book so thoroughly, and that it transformed him.
After Jamyang Khyentse Wangpo requested Jamgon Kongtrul Rinpoche to write a curriculum for the Dzongsar Shedra, the contents of this work just appeared in Jamgon Kongtrul Rinpoche's mind. And Jamyang Khyentse Wangpo said this work had to be one of the main Five Treasures of Jamgon Kongtrul Rinpoche.
In his biography Jamgon Kongtrul Rinpoche later wrote that this work would never have happened if not for Jamyang Khyentse Wangpo's blessings because he never really wrote it. It just happened: As he wrote one sentence, the next sentence just appeared in his head.
DJKR: Jamgon Kongtrul Rinpoche is very special. I realize that more and more with the Rinchen Terdzod. So special. Very, very special.
OTR: The story of these two (Jamyang Khyentse Wangpo and Jamgon Kongtrul Lodro Thaye) is unbelievable. You would think it's a fabrication. But if you really know how to think about it properly: Even though there are big shots and really big guns like Longchenpa, Sakya Pandita and others, as far as sheer productivity goes, none of them can beat these two guys.
DJKR: That is true. Because the others all did bits and pieces, but these two really put it together. I mean the Rinchen Terdzod alone … And the Dam Ngak Dzo … (Sigh) … It almost can't be true, almost …
OTR: And what they did is not like a Ph.D research. They received the texts, practiced then, made careful notes of the guru lineages of each. Completely authentic. If there was even a little bit of doubt, they didn't include those texts.
DJKR: Ah … these two … They have done so much.

---
*The Guru Yoga of Sechen Kongtrul that OTR is referring to is The Sun of Wisdom.
Readers' Comments

Reading this wonderful conversation between Orgyen Tobgyal Rinpoche (OTR) and Khyentse Rinpoche (DJKR), this comment from OTR hit me between the eyes.

DJKR: "OTR and he are talking about Trungpa Rinpoche's lineage connections — with the Karmapa lineage, with the Sechen Kongtrul lineage, and all of that. OTR says he is sad that the Sakyong is not continuing the lineages, teachings, style, and nuances of Trungpa Rinpoche — outer and inner. It's a big loss."

Reading this was like finding an oasis after spending many years in a barren desert. The desert is the heavy lid (sorry, another analogy…) that has been imposed on students of Trungpa Rinpoche by Sakyong Mipham Rinpoche (SMR) and those who are close to him not to talk publicly about how the Sakyong has undermined the teachings of his father and of the Karmapa lineage. So many of us have chosen to leave our "home," formerly known as Vajradhatu. Some of us have chosen other teachers; all of us continue to see CTR as our root guru. We talk to each other, and increasingly we have been teaching CTR's dharma without asking permission from Shambhala International. And the past several years a few groups have formed for practice and study. We do not want CTR's dharma to be lost.

But as for speaking publicly about how SMR has undermined his father's teachings and, in general, the teachings of the Karma Kagyu, we have not spoken. We have been muzzled, and we have muzzled ourselves. It is unspeakably sad. I thank you, Orgyen Tobgyal Rinpoche and Dzongsar Khyentse Rinpoche, for speaking the truth so publicly.

When I came to the end of reading this transcript, I thought I would find at least a few comments, but there was not a single one! Why? Are we still afraid to speak out? What are we afraid of? Please, fellow sangha members, speak up, and continue to speak up. What do we have to lose?

-Barbara Blouin

***

When a great teacher teaches his students he teaches them collectively and individually, depending on their karma, abilities, and innate natures. When the guru disembodies, each of his students have to continue on their own path. We cannot blame our own dissatisfaction on other people's paths. As the buddha said, we have to seek our own path to realization. I personally have no idea what Sakyong Mipham Rinpoche is doing. But I do know that he has devotion to his father and to the lineages. And although the form is different we should not become attached to the spiritual materialism of lineages but rather to the heart devotion that we all share with the gurus because that is how teachings manifest—not by ideas and concepts but by devotion. Seonaidh of the Celts

***

I had the pleasure of serving Orgyen Tobgyal Rinpoche during his visit of the Sakyong empowerment. Perhaps Rinpoche needs to examine his energies of happy and sad as to teachings of lineages and buddhas, which are empty in nature.

-Seonaidh

***

I don't know who Seonaidh of the Celts is but Michael of the Jews thinks that to try to undermine people's discussions of their experience and of skillful means with the "its all empty" argument is both to confuse the two truths and to disrespect human experience.

***