24 September 2015
Selda Chender, Robert and Michael's mother; Amy and Julie's mother-in-law; Claudia, Lauren, Julian, Evan and Isabel's grandmother, and a friend and confidante to many in the sangha, died a year ago September 14th at the age of 91. A holocaust refugee from Poland via Trieste (Italy) who came alone to the US at 16 on one of the last boats out of Europe, she reinvented herself many times throughout her life with courage, determination and goodness. She met Trungpa Rinpoche along with her husband Yuli, in 1973. While Yuli and Rinpoche had an obvious and strong connection, Selda's wasn't as evident until she decided to "take some classes" at Naropa while in Boulder for a few weeks after her first grandchild was born in 1976. To her family's surprise she took them quite personally indeed, and eventually became a tantrika and a lodge member. Her love for Trungpa Rinpoche was unwavering.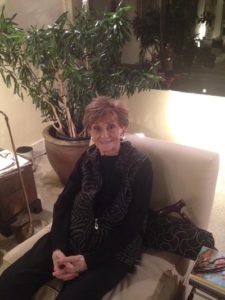 After Yuli's death Selda became an interior decorator; her ability to create beautiful environments with a few simple strokes benefitted the New York Dharmadhatu as well as the homes of many of her friends. In the many messages the family received right after she died, the words that most frequently occurred were "elegant," "gracious," "kind" and "fun." She was highly inquisitive and strikingly non-judgemental, which made her a great listener for many. Despite referring to herself in later years as a "little old lady from the shtetl," she was quite beautiful, and would dress elegantly even if it was just to sit at home and read. She knew the secrets of how to fully show up. In her 60s she developed osteoporosis; she subsequently fell and broke bones fifteen times. Each time she went to the hospital and to rehab the family expected her to come back seriously aged; until the last year, she never did. And she never complained. When you asked her how she was, her standard reply, when you knew she was hurting, was "trucking along." And her sense of humor improved with age. (Surrounded much of her life by a bunch of wise-cracking men, she regarded this as the greatest compliment).
As she battled a common infection and her vital signs remained strong, her children began to discuss amongst themselves how to handle what seemed likely to be a long slow decline. Unbeknownst to her family she told a friend that she was dying; two weeks later her heart, always strong, suddenly gave out and she was gone. She left elegantly, as she had lived.
-Michael and Robert Chender