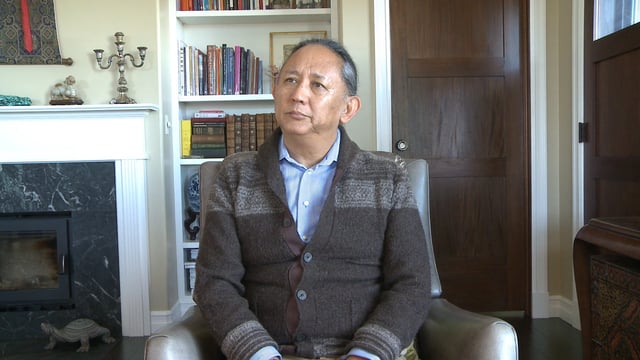 We would like to express our deep gratitude to Kongtrul Rinpoche for this insightful and inspiring interview regarding Trungpa Rinpoche's teachings and influences. -The Chronicles
Outtakes
On his compassion

Call to the West

Trust in students

Passion for life and dharma art

Offering of dharma

Mind boggling

Dzigar Kongtrul Rinpoche
was born into a prominent Nyingma family in Northern India in 1964, and trained from an early age to carry on the Longchen Nyingtik and Khyen-Kong Chok-Sum lineages by his root guru Dilgo Khyentse Rinpoche.
Much like Trungpa Rinpoche, he has settled in North America and devoted his teaching career to working with his Western students. Arriving in the States in the late 1980s, he began a five-year tenure as professor of Buddhist philosophy at Naropa in 1990. During that time Rinpoche founded Mangala Shri Bhuti and a retreat center in Crestone, Colorado where he now spends much of his time in retreat and guiding students in long-term retreat practice.
Dzigar Kongtrul Rinpoche is also an abstract expressionist painter and, in his own words, views creativity as "something very large – the essence of everything." Have a look at some of his work.
Mark Elliott was an early student of Trungpa Rinpoche. He has been making films about Buddhism for 40 years, ever since he walked into Dharamsala, India, with a primitive video camera and made a film on Tibetans in exile at the invitation of the Dalai Lama. His documentaries are simple, straightforward chronicles, whether they tell the story of a person or a place. Underneath their ordinary exterior, these films contain a wealth of information about the transition of Buddhism from Eastern to Western hands.
Thank you to Mark Elliott and his crew: David Elliott (Videographer), Kim Roberts (Audio Recording), Doug Beechwood (Technical Mastering).
Thank you to Martin Evans for selecting the video outtakes, and to Alicia Fordham for video editing. Originally posted on April 15, 2017.