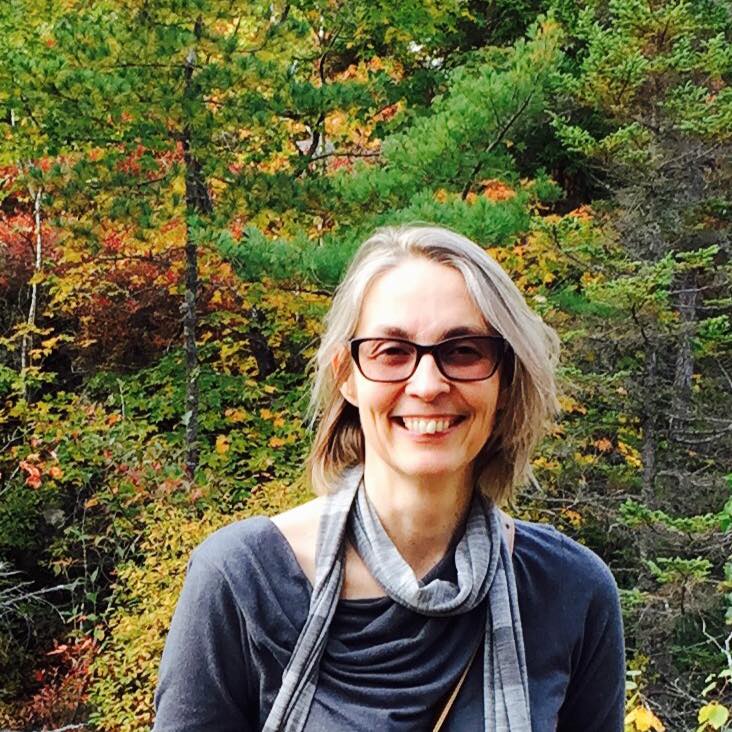 Our beloved friend and dharma sister, Françoise Guyaux, died yesterday morning, October 29, 2023. Her passing came after eight months and many ups and downs of cancer treatment. Françoise, the consummate dharma practitioner, was ready at every turn for whatever came next. When it was clear that her life was ending soon, she made the decision to leave the hospital and take her final breaths in the comfort of her home, by the hearth fire, in the company and care of her husband, Brad Hoffman.
Françoise possessed an unusual combination of skills. She held a master's degree in Computer Science and Art from the University of Montreal, and a Ph.D. in multimedia from the University of British Columbia. She was also an accomplished artist. For a period of time in her youth, she made a living as a professional artist. She was highly logical and deeply intuitive. She had the rare ability to focus on minute details, while never losing sight of the big picture. This mental agility guided her dharma practice, her artistic endeavors, and her professional life as an entrepreneur and technical expert.
Born and raised in a closely-knit Francophone household in Montreal, Françoise was the youngest and only girl of four siblings. She is survived by her Mother, Marie-Eliane, and her brothers Vincent, Benoit, and Jean-Marie. She worked closely with her brother Vincent and his wife Pamela in navigating her way through the maze of options and decisions, often very emotional, that face a cancer patient.
She connected to the dharma in her 30s and met Brad in Crestone during a teaching program of her root guru, Thrangu Rinpoche. Their relationship has always been centered around dharma. They are both devoted students of Trungpa Rinpoche and Thrangu Rinpoche.
On a personal note: Françoise designed and developed the current version of the Chronicles, and was key to the development and ongoing maintenance of Ocean. Because she was both artist and technician, Françoise was the ideal web developer. Thank you, Françoise! There has been great benefit from your support and guidance over the years. 
But Chronicles/Ocean are just two among many sites she created through her company which she named "Elephant" based on her love of the animal. See some of her elephant and other paintings on this page. With her passing, Elephant will be in the capable hands of her nephew, Didier Guyaux.
But Françoise was much more than a web developer. When she was forced into early retirement by cancer, she and her brother Vincent were creating Buckler, which is well on its way to becoming one of the world's foremost services in cyber security compliance.
Please make use of the tribute interface below to share more about Françoise Guyaux.
Please note: New tributes do not appear immediately. Your tribute will be posted soon.
Carolyn Gimian
3 weeks ago
It was a shock to hear the news of Francoise's passing. She was so full of life – joie de vivre – that I couldn't imagine her leaving us so soon. But as she and her husband Brad clearly knew, life truly is a lesson in impermanence. She was so connected to life and yet so prepared to let go.
I met Francoise when Walter Fordham recommended her as a web designer. We worked together on several different sites. I felt so lucky, actually blessed, to be working with someone so talented and committed to her work. She was both an artist and also talented in the technical side of creating a website. Her sense of design was awesome. She was meticulous. She was demanding of herself and also somewhat demanding of her clients—she didn't hesitate to give honest feedback, yet she was also so appreciative. She had a great sense of humour. Those of us who were lucky enough to have her as our web designer KNEW that we were very fortunate. We didn't need a secret handshake. We just used her name. Francoise. When you say it with feeling, it says it all!
Such a devoted practitioner. Her love for Thrangu Rinpoche was so genuine and without bounds. May this connection carry into the future!
And her love for Brad was so apparent and so genuine. I liked the way she said "Brad." Actually, I liked the way she talked altogether!
If you worked with her, it was not unusual to be invited to share a café—in a café or in her home. She knew how to celebrate life in the ordinary, small moments. Once, after we had been working together for about a year, we had a holiday dinner together, to celebrate the work and the year end. We went to a good restaurant, got carried away and drank too much wine and stayed out rather late, for older ladies. It was a lot of fun and I think it freaked Brad out, but he forgave us, I think.
She loved her family, without a doubt. She spoke often of her mother and her siblings. It was a pleasure to get to know her cousin, Didier, and now he will carry on her website work, we hope. I just read about the plan that Brad and Francoise had for a retirement home, with her brother, Vincent's, contribution. It seems so fitting that, even in her last days, Francoise was thinking of others, and that this is what brought her joy. Perhaps, somehow she is also giving a gift to Brad – something that he can do to honour her.
Adieu, Francoise, and merci beaucoups. May you travel well.
Dear friends, in addition to what I wrote below, I would like to add the following. Many of us in the buddhist world tend to spend our time, focusing on what matters most, the practice of meditation. This is not an activity that generates a lot of income, needless to say.
Although some of us are fortunate that we have financial freedom from our work and family, many of us do not. On the other hand, many of us do not have family to support us and help us in our old age and when we get sick.
Therefore it is my pleasure to announce that with the aid of her brother Vincent, I will create a foundation in my wife's name that will build a retirement home for sangha members in the last phases of their lives.
Françoise and I talked about this a lot in the last weeks before she left us. When she was in intensive care last April, she was in a room with three other very ill people. Either Vincent or I was at her side 24 hours per day, and we noticed that no one ever came to visit these other people. That was a heartbreaking realization. All of the nurses and doctors are very compassionate and loving, it's not the same as having a family member.
Where will the money for this project come from?
A few years ago, Francoise and Vincent created a web application in the brand-new area of cybersecurity compliance verification. In short, companies that hold the personal data of customers have to follow laws to protect that data. They not only need to protect personal data but also to legally prove that they are protecting it. The application known as Buckler (buckler.app) is the only one of its kind to fill such a niche.
Big corporations such as banks have their own compliance verification, and they pay a lot of money for someone to do that for them. Small and mid-size companies have to do it themselves, and for a reasonable monthly fee, Buckler is doing this for them.
It's already well underway, and at some point, Vincent will arrange for Buckler to be acquired. There are already many possibilities, and we expect there to be a significant windfall. This is the money that Françoise would like to use to help others.
Isn't this wonderful? Let's rejoice in her merit!
To begin, we are starting a mailing list for people who are interested in knowing what's going on, and interested in helping to build such a thing. You can email me or just click "Contact Us" on the Ocean website  (ocean.chronicleproject.com) and mention that you'd like to be on the list.
Some of you know that my intention in moving to Canada was to become established here and then create a nonprofit organization to provide free retreat time for serious meditation practitioners. This is something that Françoise and I asked our teacher, Khenchen Thrangu Rinpoche to help us create. He named the project Champa Ling, "Loving-kindness Place". We translated that with him as the Benevolence Retreat Center. In 2014 we did establish a nonprofit corporation, but due to my inability to raise funds, (which was my shyness to ask for money), the project never took off, and the retreat center was never created.
But now that retreat center work can be the groundwork for a future retirement home. So we will refer to this project as the Benevolence Project.
The money is still a few years away, and if I'm still alive, I will make it my life's sole purpose.
Francoise and I felt great joy as we discussed this project in the final weeks and months of her life and now we invite you to please come along!
My favorite story about Francoise is how we pranked her and Brad one Christmas Eve. We play the Yankee Trader game (not sure what she called it, but that's what we call it) where everyone brings a $10 gift to trade. She brought that game to our family, and we play it every year. It's a lot of fun to steal a package someone really wants. Ha, ha.
That year, I went to the Dollar Store and bought nine beanies, some dark blue, some gray, each with a snowflake on the front. They were pretty chintzy. All of the gifts were beanies except for the two that Francoise and Brad brought. One by one, someone opened a beanie. She may have even gotten the first one, I believe.
As each new person got a beanie, everyone with one posed for a picture until nine people were wearing cheap snowflake beanies. After a few beanies, Francoise and Brad had figured out the joke, and they were good sports about it. Somewhere we have a photo of nine of us wearing beanies. We played the game again with our real gifts.
The best part, though, was at the end, Francoise said, you know, I thought those were really kind of cheap, even for a $10 gift. We all had a good laugh about it. She was so gracious about it, and I hope she knew getting pranked in this family means we love you.
Francoise was so kind and gracious and gentle, and she will be greatly missed.
Walter Fordham
4 weeks ago
We were so lucky to have you as our web developer and much  more than that. You will always be our dharma sister and friend. We miss you Francoise.
As a child, I looked up to Françoise, my cool aunt. From my young eyes: a great artist who lived in the big city, and who knew how to do impressive stuff on the computer!
As an adult, I had the opportunity to work for her. Now living in that city while she was a thousand kilometres away. But,the true privilege, beyond our mentor/colleague relationship, was the opportunity to truly get to know her: to witness the warmth of her kindness and her sense of humour, although we were so far away.
Now, I still look up to Françoise, the way she showed me the invaluable example of a life lived in balance. She reminds me of the beauty of living authentically, the importance of nurturing one's talents, and the joy of connecting with others - Masterfully blended. The way great artists do on their canvases.
Merci, ma chère tante.
Laura Chenoweth
4 weeks ago
So sad to hear of Francoise's passing.
Francoise was such a bright light.
She and I always enjoyed discussing handprinted fabrics and textile design.
You were always full of laughter Francoise.
May your journey be of peace and grace.
Laura XO
Marjolaine Robert
4 weeks ago
I am very sad that Françoise passed away. I wish her a beautiful rebirth.
I was at her Sukhavati just now and I thank you for this moving ceremony lead by the Dorje Loppon. If possible, I would like it if Brad Hoffman could send me a protection cord. I also had a strong connection with Thrangu Rinpoche. I will send you my address when you answer this message.
I always find that hearing funny and happy stories make me feel better, so we wanted to share a few of our fondest memories of Francoise.
I'll never forget how genuinely happy Francoise was when I'd send her photos and videos of Uncle Brad doing even the most mundane or silly things in Florida. She'd always respond so giddily to videos of Uncle Brad unpacking his underwear from his traveling guitar, as if she hadn't seen him leave Halifax with a guitar full of clothes.
And it was always so endearing how genuinely happy Francoise was to see us when we'd walk into Maw Maw and Paw Paw's house for Thanksgiving or Christmas. Or sitting through all those FaceTime calls for Thanksgiving and Christmas and playing along with all our family's shenanigans. If it were anyone else, I'd be skeptical that someone would be so merry to spend time with this family, but not Francoise. She was patient beyond belief and showed genuine interest in our lives.
Selene also reminded me of the time the truck broke down while we were in Montreal and how Francoise helped us find a mechanic and offered us to stay with her friends. She always treated us like family, and we'll never forget her kind gestures like these.
Francoise was exceedingly nice, patient, and gentle, and it was truly a pleasure to have her as our Aunt. We're truly sorry for your loss.
Love,
Max and Selene
Francoise,
you are an inspiration to all of us, always were. Know that your deep devotion to practice and to our beloved teacher Thrangu Rinpoche will carry you well throughout the journey of passing from this life and that he will be there for you embracing you with a big hug and that amazingly loving smile.
Brad, you are an inspiration - your love and devotion to Francoise touches us all deeply.
What a wonderful love you have for each other.
Still sad not to see Francoise again in this life.
Very saddened to hear this. Although I never met Françoise in person, I came to appreciate her superb talents and lovely personality when she created a website for me a number of years ago. My heart is with all of you, family and friends.
Françoise...
Trente années d'amitié profonde.
Mon guide, mon roc, mon coeur, ma meilleure amie, mon âme soeur de pureté.
Je n'ai jamais autant aimé une amie et n'ai jamais ressenti un amour inconditionnel aussi fort que le tien.
Tu es la marraine de mon plus jeune fils, Édouard, qui t'envoie tout son amour.
Tu m'as peinte plusieurs fois et j'ai le bonheur de vivre entourée de dizaines de tes toiles.
Tu as illustré mon deuxième disque, tu as écrit des chansons avec moi, que je chante depuis trente ans.
Tu as été ma gérante, ma directrice de tournée.
Mais surtout, plus d'une fois, tu m'as sauvé la vie, parce que ma maladie m'emmenait vers des noirceurs infinie, tu as été la voix, la main, et surtout le coeur qui me ramenait à la surface.
Je me sentais si loin, depuis quelques mois, mais si proche aussi parce qu'on s'écrivait plusieurs fois par jour.
Comme on s'aimait, oh.... on s'aimait tellement.
Mon amie, merci.
On a eu un coup de foudre amical il y a trente ans et jamais nos coeurs se sont éloignés.
Je te porterai en moi pour toujours, de plus en plus fort tu vibreras en dedans.
Et au delà.
Je t'aime.
---
Françoise...

Thirty years of deep friendship.
My guide, my rock, my heart, my best friend, my soul mate of purity.

I have never loved a friend so much and never felt unconditional love as strong as yours.

You are the godmother of my youngest son, Édouard, who sends you all his love.

You have painted me several times and I have the pleasure of living surrounded by dozens of your paintings.
You illustrated my second album, you wrote songs with me, which I have been singing for thirty years.
You were my manager, my tour director.

But above all, more than once, you saved my life, because my illness took me towards infinite darkness, you were the voice, the hand, and above all the heart which brought me back to the surface.
I felt so far away for several months, but also so close because we wrote to each other several times a day.

How we loved each other, oh... we loved each other so much.

My friend, thank you.
We fell in love at first sight with friends thirty years ago and our hearts have never been apart.
I will carry you inside me forever, stronger and stronger you will vibrate within.
And beyond.

I love you.
Vincent Guyaux
1 month ago
She was like a twin sister to me.
We shared bedrooms when we were young.
We shared friends and passions as we grew.
We got closer over the years and became best friends.
And then business partners.
What else can I ask from a sister?
Merci Fuine
Francoise,
To my sister-in-law that I treasure, may you journey well and know how much you are loved along the way.
Your sisterhood was bright
A beacon, a guiding light
We went deep and far
Leaving no rock unturned.
We laughed, we cried, we smiled
All left in memory, filed
For days when we talk, never alone
In the air, you're there, known.
Go forth knowing life's fullness
Wishes met and hopes of stillness
Your practice fulfilled, shared
Your love with a man that cared.
So deeply, so deeply with joyful souls
Do we watch your spirit rise with goals
This transient life doesn't slip away
It is just beginning in a new way.
With love and thankfulness,
Pamela

I thought I knew what love was before I met my beautiful wife. But I did not know anything. She taught me everything. I cannot express the loss.
Please practice the dharma. Please don't waste a minute. Please consider the next life to be more important than this life.
Most of all, love everyone.
This is what I have been taught.