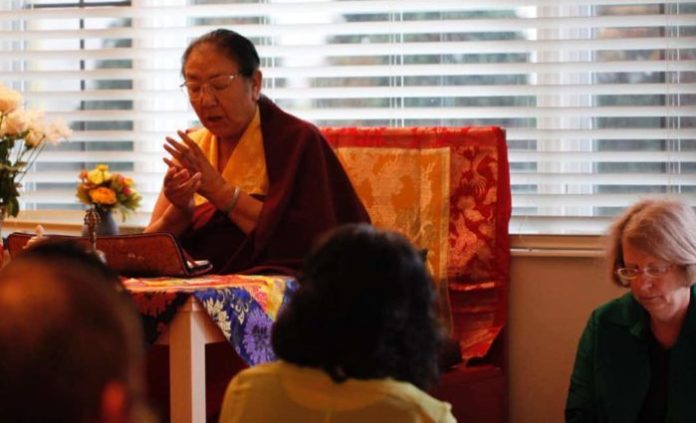 https://media.s3bubble.com/embed/aprogressive/id/sXaX95556
Please note: We will post a transcript of this interview as soon as it is ready.
Born 1938 into a prominent family of the Sakya Lineage, Jetsün Kushok started her training at six, began teaching at eleven, and became a fully empowered Sakya lineage holder at eighteen. After escaping from Tibet in 1959, she emigrated with her family to Canada in 1971 and now lives in Richmond, British Columbia. Until 1998, Jetsün Kushok worked full-time as a weaver and part-time as a housekeeper, while also raising four boys, running dharma centers, and practicing—often through the night. She is now a full-time dharma teacher and the founder of Sakya Thubten Tsechen Ling dharma center in Vancouver, and Sakya Dechen Ling in Oakland, California.
In this interview Jetsün Kushok talks about the Sakya Lineage, her early life in Tibet, raising children, and maintaining a life dedicated to practice and the welfare of others. Thank you to Juanita Evans for organizing and conducting this interview.
For more information about Jetsün Kushok, please explore these links: