Here is Matthieu Ricard talking about his teacher, Dilgo Khyentse Rinpoche. This video message marks the anniversary of Dilgo Khyentse Rinpoches's passing. Thank you to Matthieu Ricard for sharing these inspiring comments.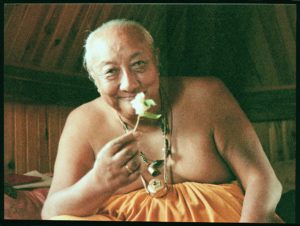 Dilgo Khyentse Rinpoche—mahaguru, archetypal spiritual guide, and a close teacher and friend to Trungpa Rinpoche—was born in 1910 in Eastern Tibet and recognized as a tulku while still in his mother's womb by Mipham Rinpoche. He died on September 28, 1991. The Tibetan communities mark this date by the lunar calendar. This year his anniversary falls on October 13, 2022.
Shechen Rabjam Rinpoche on Dilgo Khyentse
Jamyang Khyentse Wangpo was the main founder of the Rimé or nonsectarian movement, therefore Dilgo Khyentse Rinpoche himself, even though his main practice was Nyingma, he always respected the other major schools of Tibetan Buddhism. Not only did he respect, but he received the lineages from all the four different schools. And he carried these lineages and transmitted them to his students. Therefore the Rimé respects the four major schools, as seeing four different ways to achieve nirvana. So Dilgo Khyentse Rinpoche has students and friends from all the Tibetan Buddhist schools, from the different Buddhist schools.
Khyabje Dilgo Khyentse Rinpoche and Vidyadhara Chogyam Trungpa Rinpoche's connection starts way before I was born, having started in Tibet. The Vidyadhara Chogyam Trungpa Rinpoche visited Shechen monastery; and Khyentse Rinpoche was recognized as Shechen Khyentse. From that time onwards they had a strong connection. And on top of that, as many of you might remember, at that time Vajradhatu centers had the photo of Shechen Kongtrul Rinpoche [on their shrines]. Chogyam Trungpa Rinpoche considered Shechen Kongtrul Rinpoche as one of his main teachers; and also one of his teachers was Khenpo Gangshar from Shechen. So therefore there is much connection between Shechen and Chogyam Trungpa Rinpoche.
And I think particularly the connection between Dilgo Khyentse Rinpoche and Chogyam Trungpa Rinpoche is not only a spiritual one, but also I feel that their connection is like a father-son kind of connection. I can see that from the letters they exchanged, and also the poems that Khyentse Rinpoche composed during his visit, and also at the end of some of his sadhanas he mentions Chogyam Trungpa Rinpoche.
Not only that, but I also think that when Chogyam Trungpa Rinpoche revealed his gongter, his mind terma, I remember very clearly that he first showed it to Khyentse Rinpoche and Rinpoche kept it one night with him when he was visiting Boulder. I think it was his second visit, and the next day Khyentse Rinpoche asked [Trungpa Rinpoche] to bless him with the terma, which Chogyam Trungpa Rinpoche had revealed.
Likewise, many of Khyentse Rinpoche's own termas from Tibet, some of the texts were found at Surmang monastery; some of the Surmang senior monks kept them, and then sent them to us later in Nepal. So therefore, the connection between the two great masters is not only a spiritual one, but I feel like it is a father and son kind of connection. Therefore I feel that all the people who follow Chogyam Trungpa Rinpoche's lineage, I feel that we are very, very close, because somehow in many ways we are connected. So I'd like to thank those who want to celebrate or do the practice on the day of Dilgo Khyentse Rinpoche's parinirvana. So I'd like to thank you all. Thank you very much.
-From Shechen Rabjam Rinpoche Talks About Our Connections
On Dilgo Khyentse Rinpoche's connections to our communities
His Holiness Dilgo Khyentse Rinpoche was a revered Nyingma scholar and teacher, and a highly accomplished dzogchen master in the 20th century. He first came to the U.S. in 1976, as a guest of the Vidyadhara. Through His Holiness, the sangha was introduced to the Nyingma side of the family. Khyentse Rinpoche was a very special and close teacher, friend and mentor for the Vidyadhara. He was also a renowned teacher for a generation of young Tibetan tulkus, and gave teachings to many senior teachers of all lineages and schools, including His Holiness the Dalai Lama. After the Vidyadhara's parinirvana in 1987, Khyentse Rinpoche presided over the six weeks of ceremonies and practices, culminating in the cremation of the Vidyadhara.
Today, some of the close students of H.H. Dilgo Khyentse Rinpoche continue to carry on his legacy. H.E. Shechen Rabjam Rinpoche, Dilgo Khyentse Rinpoche's grandson, has spent the past fifteen years taking responsibility for training and teaching Khyentse Yangsi Rinpoche, the incarnation of His Holiness. The Yangsi is currently visiting the West for the first time, with programs scheduled in Europe and North America. Dzongsar Khyentse Rinpoche and the Venerable Dzigar Kongtrul Rinpoche are widely revered and accomplished teachers who have fulfilled the wishes and vision of H.H. Dilgo Khyentse Rinpoche, and who have taught extensively in the West.
___
Matthieu Ricard is a French Buddhist monk who lives at Shechen Tennyi Dargyeling Monastery in Nepal. He has been living and practicing in the Himalayas for over 50 years and has written a number of books on Buddhism including, Happiness: A Guide to Developing Life's Most Important Skill, The Monk and the Philosopher, and The Quantum and the Lotus. As a PhD in molecular genetics, Ricard has also endeavoured to find resonance between the sciences and buddhism. Matthieu Ricard has worked closely with the Dalai Lama since 1989 as his French interpreter.