Home
Tags
Sadhana of Mahamudra
Tag: Sadhana of Mahamudra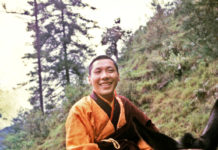 There was tremendous corruption, confusion, lack of faith, and lack of practice in Tibet.
This footage is from a three-hour interview Cathy Hubiak and Bill Scheffel conducted with Kunga Dawa, Richard Arthure, earlier this year.
In this slideshow, Chögyam Trungpa talks about receiving the Sadhana of Mahamudra at Taktsang in 1968. Commentary and readings by Carolyn Rose Gimian. In 1968, Trungpa Rinpoche left the United Kingdom for the...
Richard Arthure on meeting Chogyam Trungpa. Video by Bill Scheffel.