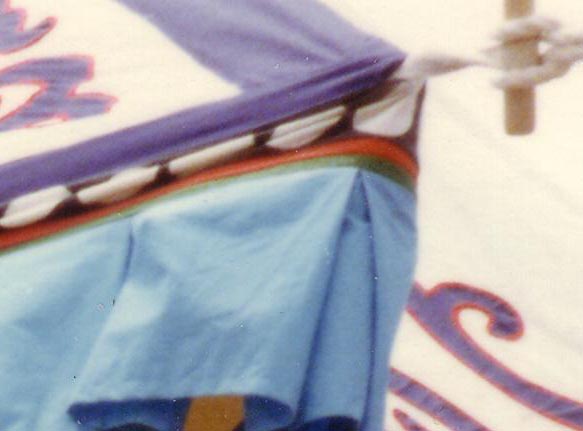 In 1980, Richard Rice, Bernd Ladendorff and myself decided that the Vidyadhara should have a Tibetan-style tent in which to host His Holiness the Sixteenth Karmapa at the upcoming Midsummer's Day celebration. The decision was made only two weeks before the event so this meant working round the clock everyday to finish on time.
With time already short, I decided to order the canvas, thread, and fabrics and raise the money later. When the $1,500 order arrived C.O.D., the Karma Dzong directors were not amused. In the end, the very generous Mr. Roger Randolph paid the bill and Bernd paid for the huge silkscreens of the four dignities on the outer walls.
We wanted the tent to be a surprise, but some technical questions arose and Rinpoche was the only one who could answer them. Before going to meet with him, Bernd made a beautiful one-foot long model of the tent so that I could easily point out the problem areas. When I arrived for the meeting, Rinpoche suggested we sit on the front lawn at Kalapa Court — a bit odd but it was a beautiful sunny afternoon and perhaps he wanted to sit on the earth as he told me about how much he loved Tibetan tents.
Rinpoche said that before he left Tibet he often traveled to isolated communities with several attendants who could put such tents up in twenty minutes. He remembered every detail of these tents, especially the interiors, and answered all my questions. He also told me that he had an uncle who was a well-known tent maker.
As our meeting was coming to an end, I gratefully thanked Rinpoche and told him I was sure we'd have the tent ready on time, but was disappointed more people had not come to help out. Then he said: "How do you think I feel when all I ask of my students is that they sit?" I was overwhelmed in that moment, feeling a sense of his loneliness or sadness or something that I don't have words for. All I could do was cry.
The next day almost 30 people arrived at the studio. Rinpoche had called them between two and three in the morning and suggested they come to help. Some of the people who contributed a lot of volunteer time were Phyllis Segura, Nick Sbrocca, and Tom Hast.
As the tent grew in size and weight it took three strong assistants to help guide it through the sewing machine. Bernd hand-stitched leather reinforcements on the corners of the tent, which meant he was sewing through 20 layers of canvas and leather. Rinpoche was very excited about the tent and arrived unannounced a few times—once dressed in his white uniform — to inspect our progress. The ropes, thread, and fabric had to be 100% cotton. He said that this was the beginning of Shambhala tent culture.
At about 1:00 A.M. on Midsummer's Day morning, we received a call from the kasung saying that Rinpoche was waiting at the site, south of Boulder, where the celebration was to take place and "Were we ready?" We weren't! But Bob King came to the rescue with some very heavy-duty glue and we managed to finish the few remaining details.
When we arrived at the Midsummer's Day site with a very heavy sixty-by-forty-foot canvas tent, it was like walking onto a film set. High-powered lighting had been set up and 20 or so people were on hand to help, as Rinpoche began to guide us through a lesson in how to raise a Tibetan tent in twenty minutes. On hand to help, among others, were Blake Thompson, Richard Rice, Nick Wright, Bob King, and and a few members of the Nalanda Translation Committee along with Larry Mermelstein who was very helpful throughout the entire project.
After an hour or so, it was clear that there was a problem: the support poles were too long. Everything had to be taken down and someone ran off to find a chain saw. After the poles had been re-cut, the crew — now more knowledgeable — began again to raise the tent. But people were just too eager or too tired, and the tent would still not go up as it should.
Finally Rinpoche called out, "Bring on the Germans!" Bernd and his brother Dierk, reappeared, and somehow knew exactly what to do. By sunrise, the tent was up, reflecting the gold and peach tones of the rising sun. Rinpoche, smiling radiantly, was still with us. We sang the Shambhala anthem and went home for a few hours sleep before a truly memorable Midsummer's Day.
I don't know where the tent is now or what condition it is in, but there will never be another quite like it. It really was a labor of love.
Sewing Instructions
I was asked to frame the large Vajradhara thangka that now hangs in the main shrine room of the Boulder Shambhala Center. The shrine room was the ideal place to work. Rinpoche's office was just downstairs and he would sometimes come in to see how we were doing. Nick Sbrocca was my very skilled assistant.
One day Rinpoche was standing right next to me, watching very closely as I was hand stitching the thangka into the brocade frame. Suddenly he said, "No, don't use that stitch". He then described the stitch he preferred — which did the same as the one I'd been using, just a different stitch. I then mentioned that I was having trouble getting the seams to lay flat. He exclaimed, "Use spray starch." Of course, the perfect solution!
Would you like some…?
I was helping to serve hors d'oeuvres to Rinpoche and several guests in the living room of his small house near Karme Chöling. As Rinpoche was seated, I bent over slightly to offer him some cheese and crackers and began to ask, "Would you like some…?" Before I could finish my sentence everything on the tray had slid off into Rinpoche's lap. With a huge smile he calmly said: "Don't mind if I do."
© 2002 by Judith Gostick