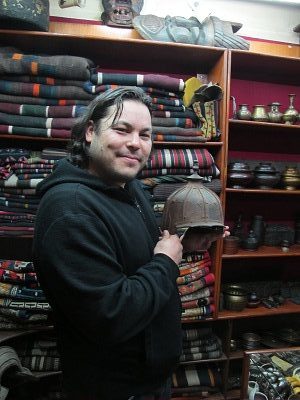 Qatar Airlines surprised us at the gate with first-class seats. So we arrived in style: row 1, seats A, B and C. Then the wild cab ride to Boudhanath (Boudha)— although Gesar said the traffic was light for Kathmandu. We had a little trouble finding the guest house—the cabbie charged up and down the narrow lanes until Gesar spotted the landmark we were looking for, and the cab took a sharp right. At the same moment, Grant looked left and spotted Yönten buying some vegetables from a street vendor. "There's Yönten!" But there was no time to stop and say hello. The cabbie was on a mission.
Boudhanath is an amazing display of the Tibetan world in exile, mingled with Western practitioners and spiritual tourists all going round and round the ancient stupa. It's wonderful to be in a place where so much practice is taking place. From early in the morning to late in the evening, you can hear damarus, ghantas, gongs and chanting. Some of this is for tourists I'm sure, but most is coming from real gompas with real monks and nuns and lamas. All around, in every nook and cranny, butter lamps and incense are burning, prayer wheels are spinning, malas are clicking, lips are mumbling, and centuries of adhisthana mingle with the worst air pollution on the planet. You really have to wear a face mask when you're outside, even many of the locals do.
We (Gesar Mukpo, Grant MacLean, and myself) are here to talk with Yönten—Trungpa Rinpoche's attendant and devoted student from an early age. He is now 83—clear minded and cheerful. Each afternoon he walks about 100 meters from his monastery to our guest house, with our interpreter, Ani Jinpa. For the first few days, we sat outside and got to know each other over tea. Yönten's uncle was the general secretary of Surmang Dutsi Til, and Yönten came to work for his uncle when Trungpa Rinpoche was just a baby and Yönten about 13. Gradually, he began to serve the young tulku and when Rinpoche went to Shechen for the first time to study with Kongtrul Rinpoche (circa 1950 or 51), Yönten went along as his attendant.
By the way, I'm writing this in an outdoor cafe (with good wifi) within the Shechen Monastery grounds. A hundred yards from here, or less, is the current-day Shechen Shedra (University)—the same institution (albeit in a different country) where Trungpa Rinpoche received much of his training.
Sometime around 1956 or 57, Yönten left Surmang and Trungpa Rinpoche for two years to attend Shechen Kongtrul on a round-about journey to Central Tibet. So he has a very strong connection with both Trungpa Rinpoche and Shechen Kongtrul. As you might imagine, Yönten is very happy to see Gesar. The energy between them is very tender and sweet. Often at the end of the session, Gesar walks Yönten back to his gompa.
The main focus of our conversations is the escape. We're showing him Touch and Go … frame by frame, stopping every few seconds for translation and discussion. This has proven to be a remarkable memory tool for Yönten. When I complimented him on his memory, he said, "I don't have a good memory, but seeing this brings it all back." I told Grant that if he only made Touch and Go for Yönten, it would have been worth it.
This afternoon will be our 7th 2-hour session, inching our way through the movie. Each day and each turn in the road, brings new information and rich new details. At the end of one session, everyone looked tired and Grant asked Yönten if he was enjoying this process. Yönten said: "We are talking about my guru's biography, and your guru too. This is joyous activity."
More to follow,
-Walter Fordham
---
Comments
Thanks so much for sending us updates from your journey. I am so happy you have been able to take it. Grant has talked for so long about this aspiration. To get a flavor of your experience and the encounters with Yönten really fills me (I bet many of us) with tender hearted joy.
How fortunate we are to have met our guru Trungpa Rinpoche in this life time, in whatever way we managed to meet his mind. I love the video which Gesar posted on facebook the other day. I can only imagine how much more important work will come out of this experience.
Thank you and keep up the updates, please.
– Ilona Anderson
---
Thank you for the moving and evocative words and images of this important journey. So grateful that it is actually happening. I look forward to learning more from Yönten and Ani Jinpa.
Ruth N
---
Outstanding Adventure,into Love and Devotion,Kudos to all members,thank you for your efforts,cheering us up for the next 100 years,rain of blessings upon you…with love the Celtic Buddhists