Kyabgon Tsikey Chokling Rinpoche entered parinirvana on Saturday, Dec.18, 2020 in Singapore after a prolonged period of illness resulting from complications from a stroke. Chokling Rinpoche was the fourth incarnation of the great 19th Century Terton (spiritual treasure revealer) Chokgyur Lingpa and the holder of the Chokling Tersar, the corpus of those spiritual treasure teachings and practices.
Tsikey Chokling Rinpoche was the son of the great Dzogchen master Tulku Ugyen Rinpoche. He was the brother of Chokyi Nyima Rinpoche, Tsoknyi Rinpoche and Mingyur Rinpoche. He and his wife, Sangyum Dechen Paldon were the parents of four children: Phakchok Rinpoche, Mingyur Paldron, Kelsang Bhuti and Khyentse Yangsi Rinpoche.
The first Chokgyur Lingpa, of whom Tsikey Chokling was a rebirth, was one of a triad of famous Tibetan Buddhist teachers in the 19th Century, who were not only highly realized and learned individuals, but who also had a powerful and enduring influence on all of Tibetan Buddhism as the founders of the Ri-mé (non-sectarian) movement. The other two in the triad were Jamgon Kongtrul the Great (often referred to as Lodro Thaye), and Jamyang Khyentse Wangpo, the first Khyentse Rinpoche. It was during these incredibly vital times that Chokgyur Lingpa Rinpoche made his discoveries of hidden dharma treasures, all stemming from Padmasambhava in the Eighth Century. Jamgon Kongtrul and Jamyang Khyentse Wangpo were vital in the introduction of these spiritual treasures to the world, along with their own extensive terma and writings. The three worked tirelessly together, and because of them, there was a renewed flourishing of dharma practice in Tibet, a revival of older teachings which had almost been lost, and an introduction of powerful and brilliant new teachings and writings. These teachings and teachers have extended through the successive rebirths of these great teachers, valiantly continuing in Tibet, moving into exile from Tibet, and spreading throughout the world as Tibetan Buddhism becomes Global Buddhism.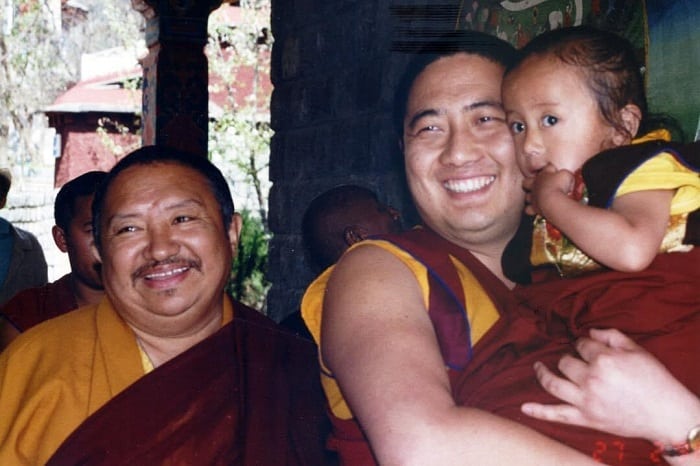 Tsikey Chokling Rinpoche is in one of two streams of rebirth of Chokgyur Lingpa, the other being Neten Chokling Rinpoche. Both streams continue strongly the teachings and practices of the Chokling Tersar.
Tsikey Chokling Rinpoche, born in 1953, was recognized as a tulku of Chokgyur Lingpa by His Holiness the 16th Karmapa Rigpe Dorje, and was educated at The Young Lama's School in Dalhousie, India, then Rumtek Monastery in Sikkim. He studied extensively with the major teachers of the Kagyu and Nyingma Lineages, including His Holiness Karmapa Rigpe Dorje, Thrangu Rinpoche, Tenga Rinpoche, Kalu Rinpoche, Dilgo Khyentse Rinpoche, Dudjom Rinpoche, and his own father, Tulku Ugyen Rinpoche. Later, the Karmapa requested his father, Tulku Ugyen Rinpoche, to build a monastery at the Great Stupa of Boudhanath in Kathmandu, Nepal, which the family accomplished together. The monastery, Ka-Nying Shedrup, named after the Kagyu and Nyingma lineages that this illustrious family holds, became the home of Tsikey Chokling Rinpoche and his familly, where he served as the Master of Vajrayana Ceremonies.  He also oversaw monasteries, nunneries, and practice centers in Tibet, India, Bhutan, and Sikkim. He published two books. In addition, he established The Chokgyur Lingpa Foundation, which supports many different religious, humanitarian, and educational projects.
Chokling Rinpoche was a distinct presence and personality in an illustrious family of renowned incarnations. As translator Erik Pema Kunzang wrote about him, "The Chokling Rinpoche of Tsikey is a truly unique person. He is not a man one can ignore: beautiful with a face like Padmasambhava, a fine little mustache and eyes rolling like a half-wrathful half-passionate god, look into endless inner skies. When he sits on the vajra throne most people feel as if a buddha is sitting in their presence. His serenity and authority are complete. He doesn't smile a lot, but when he does, every heart melts in devotion."
From my own years in Kathmandu, I remember my first sighting of Chokling Rinpoche before I knew who he was, in 1994. A robust man with a strong gait was walking along a path outside Ka-Nying Monastery. He was immediately magnetizing to me, appearing like a combination of a carefree yet somewhat fierce Zen master and a Sumo wrestler, and reminding me a bit of the character Oddjob in the James Bond movie Goldfinger.  I vowed on the spot to find out who he was, and when I did, over time was able to receive teachings from him. He was always an impressive presence, even when just sitting in his apartment in the monastery with his children running about. On the empowerment throne, his voice boomed out with a thunderous resonance that filled the huge shrine hall with the liturgy he was imparting, like a Tibetan rendition of a Pavarotti opera performance. The empowerment penetrated straight to the bones! When he masterfully performed the Black Hat Dance each year just before Losar (Tibetan New Year), he would reach the crescendo of expelling the negativities of the prior year with a flourish of ceremonial wrath that struck to one's heart like the arrow he shot at the obstacle-bearing images before him. Later, when it was revealed that his infant son had been recognized as the rebirth of Dilgo Khyentse Rinpoche, it made complete sense. Not only had Tsikey Chokling Rinpoche been very close with Dilgo Khyentse, but Chokling Rinpoche was exactly the kind of powerhouse of dharma that one would expect the rebirth of Khyentse Rinpoche to arise from.
A biographical sketch of Tsikey Chokling Rinpoche's life, from which some of this article was drawn, can be found here.
May the rebirth of Tsikey Chokling Rinpoche quickly appear, and may his Buddha Activity continue until Samsara is exhausted, and even after that!