We have received a matching funds pledge of $30,000!
Just One Day Left!

$9,748 was raised and matched in the past two days!
Help us reach our goal of $4,000 in new donations by midnight tonight.

Make a one-time or monthly donation, or help spread the word!
Thank You for your Support!


2018 Chronicles Funding Drive
ALL DONATIONS DOUBLED
$61,016
Donated
$80,000
Goal
The Chronicles brings you teachings, tributes and a place to study and practice
Keep Us Chronicling!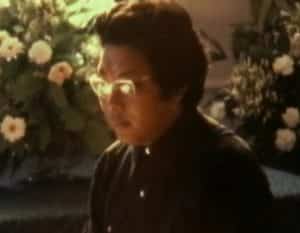 Thank you to the Pema Chodron Foundation and other supporters for providing matching funds. All donations will be doubled.
Funds raised during this campaign will support the work of the Chronicles and Ocean. The Chronicles brings you teachings, stories, tributes and news. Ocean is a place to study and practice.
Our support comes only from you, our readers and listeners
Please tune in to this delightful episode of Dispatches recorded before a live audience at Marpa House. Intrepid travelers Bob and Lindy King talk about their journey through Kham as correspondents for the Chronicles of CTR during the summer of 2005. They talk about visiting Sechen monastery where Trungpa Rinpoche once studied, traveling cross country on the backs of motorcycles, meeting and interviewing Chime Palmo (Khenpo Gangshar's consort), circumambulating the mountain where Trungpa Rinpoche received terma, and their chance encounter with Trungpa Rinpoche's sister.
By the way, please excuse the poor sound quality during the first minute and a half of the interview. It seems that Julia's microphone was inadvertently turned off.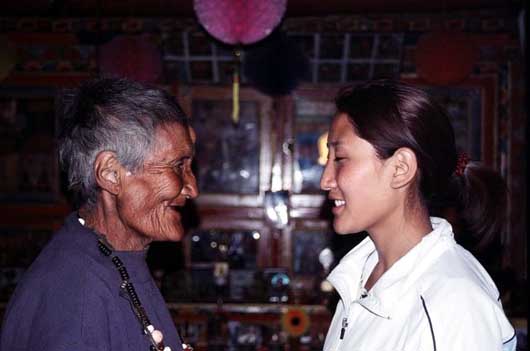 Chime Palmo and her granddaughter, Tso Lha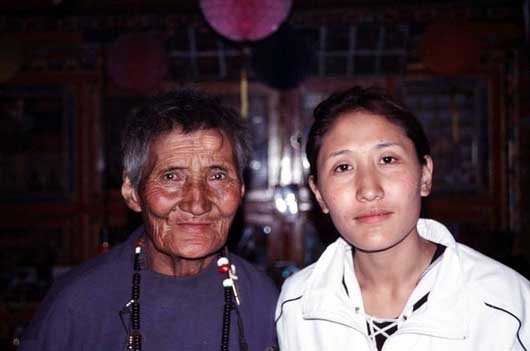 Chime Palmo is Khenpo Gangshar's widow; Tso Lha is serving as the Kings' interpreter.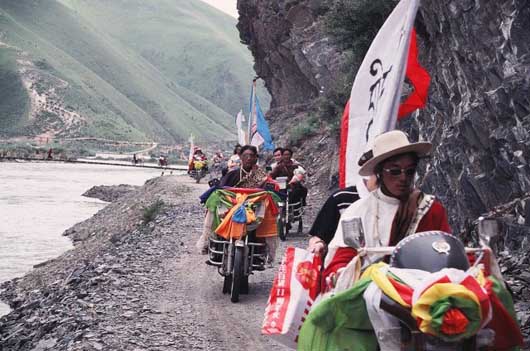 The caravan of motorcycles that take Bob and Lindy to Chime Palmo's valley.
Listeners' Comments
Dear All – Julia, Bob and Lindy,
I enjoyed this beyond words. A beautiful, humorous, profound bridge of two of the three times, past and present. Perhaps the future as well; as a reminder that the Vidyadhara's journey from Tibet was vast and profound grounded in fierce devotion and compassion,gracefully and simply placing one foot in front of the other each day. He loved us all. Bob and Lindy expressed their deep love for him. In that they conveyed his deep love for us.
Thank You is not enough. Love, as the Vidyadhara said so often.
Journey on,
Hildy Maze
* * *
When I first witnessed how Bob and Lindy were working on the Great Stupa some time in 1989 I believe, I felt that Bob should have been made the Minister of Earth . . . At the least, he could be Sir Robert and she Lady Linda! Both of them are two of the most profoundly decent and virtuous members of our community, along with having mastered the art of living in the world fully and with accomplished freedom, so I very much look forward to hearing this interview.
A.H.
Cape Breton Island