Originally posted: 1 December 2004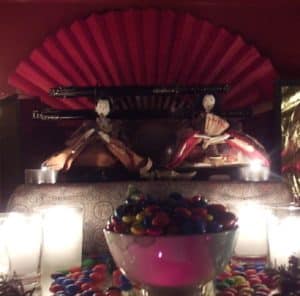 On the first several Children's Days in Boulder, all the sangha children were invited to the Court in the afternoon. The children, dressed in suits and dresses, were greeted at the front door and ushered into the drawing room where they received an abundance of candy and blessings from the Vidyadhara and Lady Diana.
The Vidyadhara spent Children's Day Eve setting up the children's shrine, using the same artistry and care he applied to flower arranging. He supervised as the Court staff moved a large red satin shrine box into the drawing room, covered it with a brilliant multi-colored Japanese brocade, and trimmed it, first with Christmas tree lights and then with boughs of evergreen.
The shrine had two levels: a top level for the King and Queen and a second level for everything else, including toy soldiers (who he referred to as members of the royal guard), lions, tigers, candles, fans, evergreen boughs, and more that has faded from memory. These first children's shrines were magnificent, sodden with richness and magnetizing anyone (child or adult) who came within range of their ratna power.
The Vidyadhara's children's shrines did not include the five sense offerings that have since been added to the tradition, but they did have candy, all sorts of candy. In particular, I remember M&Ms. The Vidyadhara would take handfuls of M&Ms from a large serving bowl held by his attendant and slowly pour them into a series of smaller bowls on the shrine, as if making a mandala offering. When the bowls were filled to the top, he continued to pour until they overflowed and M&Ms spreads out in all directions on the shrine.
Unfortunately, there do not seem to be any photographs of these early Children's Day shrines. Or are there? How about it … does anybody out there in the Kingdom of Shambhala have a photograph of one of the Vidyadhara's Children's Day shrines? If you do, please get it scanned and send it in!
Does anybody else have a Kalapa Court Children's Day story to share? How about any of you (now middle-aged) dharma brats? Do you remember getting dressed up and going to the Kalapa Court on Children's Day? We'd love to hear from you.
Wishing all a most cheerful Children's Day!