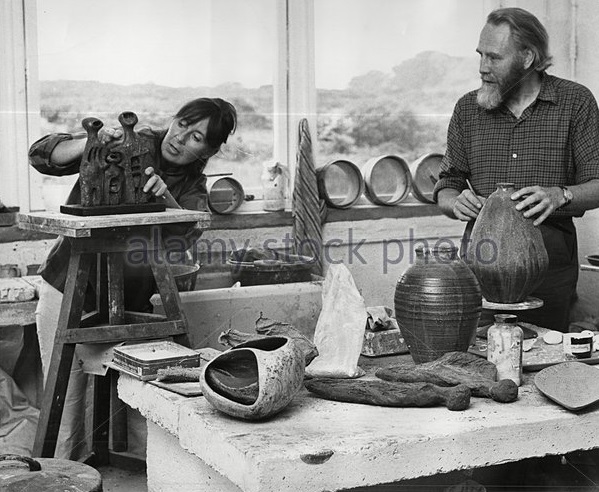 Chogyam Trungpa in Mousehole
The west Cornish potter and teacher Bill Picard, died aged 92 in 2007. He was a cultured and charismatic buddhist. In the early 1960s, having been taught by Bernard Leach the world renowned potter, he and his wife Biddy set up their own pottery studio in Mousehole, a fishing village in West Cornwall, three miles west of Penzance.
Bill enjoyed a lifestyle and philosophy that were as profound as they were seemingly simple. A year before he died I recorded a conversation with him. Among other things, he gave me a six inch high statuette of a brass Buddha, which he said had been blessed and presented to him by Chogyam Trungpa [shown in sidebar]. This was during one of his two undocumented visits to Cornwall with Akong Tulku whilst they were in England 1963-1967, and looking for a suitable place to set up a meditation centre pre-Samye Ling.
In Bill Picard's own words:
During the mid-1960s, I was instrumental in bringing Chogyam Trungpa and Akong Tulku to Cornwall from Oxford where they had both been living a very hand to mouth existence. I was approached by a lady who used to live in Mousehole in pre-war years and who had become a Buddhist nun and was living in India.* She knew that I had founded a meditation group and wrote to enquire if I would be prepared to accommodate Trungpa and Akong and help arrange for them to stay in Mousehole for their vacation.

They both still wore robes at that time and lived like simple monks, so the first time a woman had ever cut their hair they giggled and thought it was funny when Biddy, my wife, cut it for them. They used to eat with us but slept at various friends' houses as we hadn't enough room to put them up. During two of their holiday periods they came to stay here and were often seen walking around Mousehole and Penzance in their robes. Trungpa wanted to start a meditation centre in Cornwall but couldn't find a suitable property and then they were offered the place which became Samye Ling in Dumfriesshire.

Trungpa was a fascinating and very sensitive character with a great sense of humour. I remember once when he and Akong were eating with us at home. It was when the kids were small and they had two Belgium hares as pets which wandered around freely in the house, and they used to burrow into the monks robes who thought it was a huge joke. Trungpa would look at the kids all goggle eyed and laughing. Oh we really enjoyed having them stay with us.
Originally posted on the Chronicles May 29, 2016
---
*Ani Palmo [aka: Frida Bedi]. Read James George's remarks on Ani Palmo