Fabrice talks with Julia about his writings on the life of Chogyam Trungpa Rinpoche, and his recent decision to leave Shambhala International.
Books by Fabrice Midal in English:
Chogyam Trungpa, His Life and Vision
Recalling Chogyam Trungpa
Fabrice has also written several books about Trungpa Rinpoche that are currently only available in French, including the Spirit of Chivalry shown below.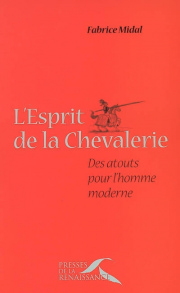 Listeners' Comments
Julia,
Many, many thanks. Thanks for providing this vehicle, which if nothing else, proves beyond doubt –we are not a faith-based tradition!!
Thanks for showing enduring awareness and kindness to ask tough questions. But even more helpful, thanks for treating your interviewees above all as dharma practitioners and students! Each still treading a path, with more to go!
Thanks for avoiding the trap of being too definitive, while always probing for truth. Thanks for helping this exercise–and our lives-not become a mere eulogy. It would be sadly missing whole point.
Last but not least, thanks for trying to make this a unifying rather than divisive exercise! Thanks for acting in best, thankless, bodhisattva tradition, of building bridges, rather than articulation of problems alone. The suffering in the world is too horrible for us to be deluded into splitting hairs or factions. Your bravery to wish Fabrice genuine good luck in his solitary exploration, neither condoning nor avoiding his feelings was very, very helpful.
Now matter how far we thought we had come, former barbarians, and how amazing it all seemed, and how hard, and ceaseless… CTR was always blunt, saying "we need to go further!"
Best,
John Odenthal
Halifax
* * *
Dear Dispatches,
Thank you so much for Julia's very touching and illuminating interview with Fabrice Midal. His personal and professional path with Trungpa Rinpoche is fascinating and inspiring. I think Rinpoche would truly have loved Fabrice! Needless to say, I appreciate very much the delicate, diplomatic way in which he articulated his perception that Sakyong Mipham's kingdom is a different kingdom than Trungpa Rinpoche's kingdom, and that the latter's vision is the most accurate for our time. It is so moving to hear Fabrice talk about how he came to his decision to leave Shambhala Intl. in order to preserve and propagate Trungpa Rinpoche's unique vision and find students who want to change the world and contribute to something vast, something to benefit the future. Fabrice and Robin Kornman (possibly Ken Green) are the only students of Trungpa Rinpoche who I've heard speak of Rinpoche's commitment to the future, which is a prominent feature of the transmission I received from Rinpoche and the Rimé tradition myself. So, altogether, I rejoice in hearing this interview. As I have with several other interviews, I listened twice to make sure I got what was being said.
I am deeply grateful to Walter, Joanne, Julia and the others at the Chronicles for bringing us these authentic voices. I wish I could send you a chunk of money, but all I have is my sincere appreciation.
Much love,
Suzanne Duarte,
Amsterdam