1981-83: Prehistory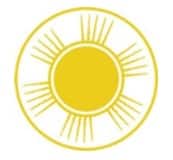 We should call them the Shambhala Sun.
         —Rinpoche to Ken Friedman at The Kalapa Court, Boulder, Colorado, circa 1981
During the 1981 Vajradhatu Buddhist Seminary held at Chateau Lake Louise in Alberta, Canada, Rinpoche asked senior student Ken Friedman to spend some time with Rinpoche's son Gesar every two weeks or so. Friedman, an experienced youth basketball coach, began working with Gesar at this seminary, and subsequently back home in Boulder. They were joined by some of Gesar's friends, mostly Buddhist teenagers.
Friedman's responsibilities carried over into a Buddhist teen program at the Rocky Mountain Dharma Center (RMDC), now Shambhala Mountain Center (SMC). SMC is in Red Feather Lakes, Colorado, about two hours north of Boulder. At that program, Friedman told stories of Tibetan yogi Milarepa and taught meditation to a dozen or so young people, while their parents attended adult programs. In addition to three hours of meditation, the program included instruction in Japanese arts, including flower arranging (ikebana), dancing (bugaku) taught by Sarah Cox, and martial archery (kyudo) instruction.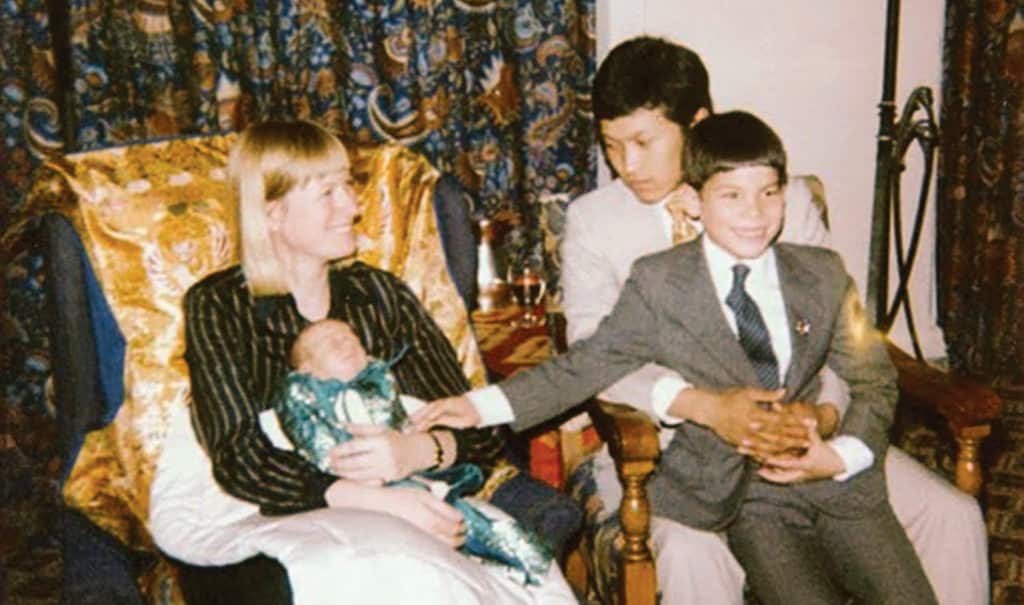 1984: First Official Sun Camp
Q: How do you tame a unique rabbit?
A: You nique up on it.
Q: How do you tame a tame rabbit?
A: Tame way. You nique up on it.
—Will Ryken, SMC 1984
The first official Shambhala Sun Camp was held at RMDC (now SMC) in 1984 with 15 teenagers participating. It was staffed by Jim Lowrey, Will Ryken, and Matt Nowakowski. They arranged for outhouses to be delivered, food ordered (hot dogs and hamburgers, especially) and set up a large white tent as a shrine room.
Ryken said this about the process of developing the camp program:
"Lowrey and I were sitting around one evening before the campers and staff arrived. We had a nice fire and were relaxing with a glass of sake. At this time Lowrey had been reaching out to the Kasung command looking for some guidance, and nothing was coming to us. We decided that when we started the Shambhala Sun Camp that they handed us a rope and said 'Put this rope around your necks and take off running with this camp. The rope is tied to a tree and when you get to the end of your rope, you'll know it!'"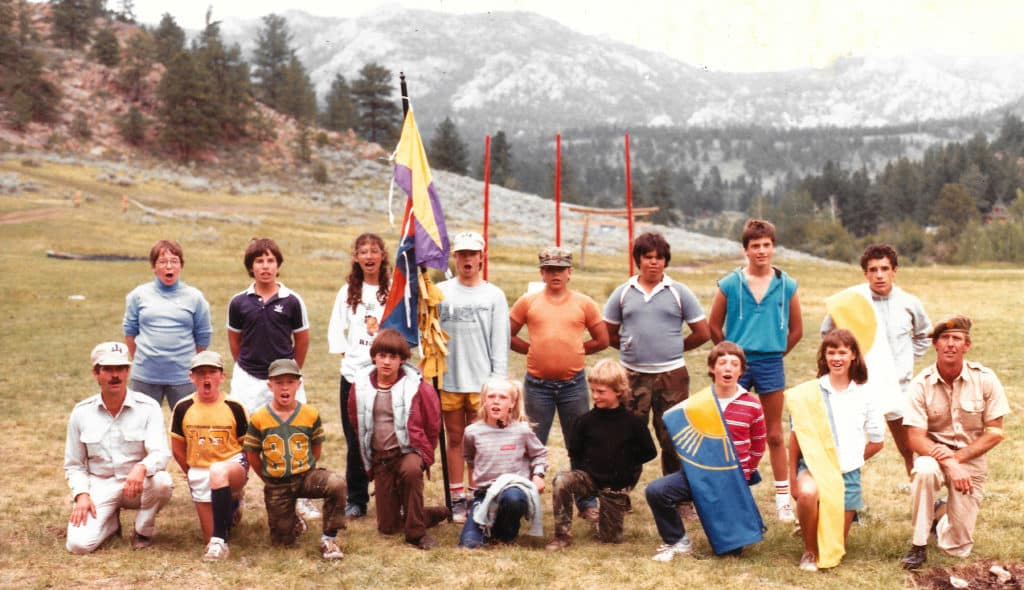 1985: Live and Learn
Your journey through life will be like climbing a mountain, requiring effort and discipline, often painful. —from Rinpoche's closing remarks at Sun Camp, August 1985
In 1985, around 55 young people showed up for the second year. Ryken and Lowrey had learned a lot the first year and had a larger staff, including Alma Carpenter, Liz Craig, Paul Songer, and Heidi Mecklenburg, in addition to Matt Nowakowski.
In Boulder, during their preparations for camp, James Gimian, apparently relaying a message from Rinpoche, told Ryken and Lowrey to just keep it simple and not have too much ambition, to just convey a sense of good head and shoulders. That helped them realize that they were planting some kind of homing signal that in the future, when they might get caught by setting sun darkness, would remind the warriors of home. So the staff's job was simply to create an environment where they all felt at home. And as it has turned out, that seemed to work.
The camp and the young warriors developed their own acceptance of each other no matter what their background. The Punks, Jocks and Nerds, and the Cool, Bad and Rebels all found a home at Sun Camp.
Sometimes Ryken put trouble-makers or the lazy in a command position in order to tame and/or wake them up. That worked for the most part, but of course there were exceptions.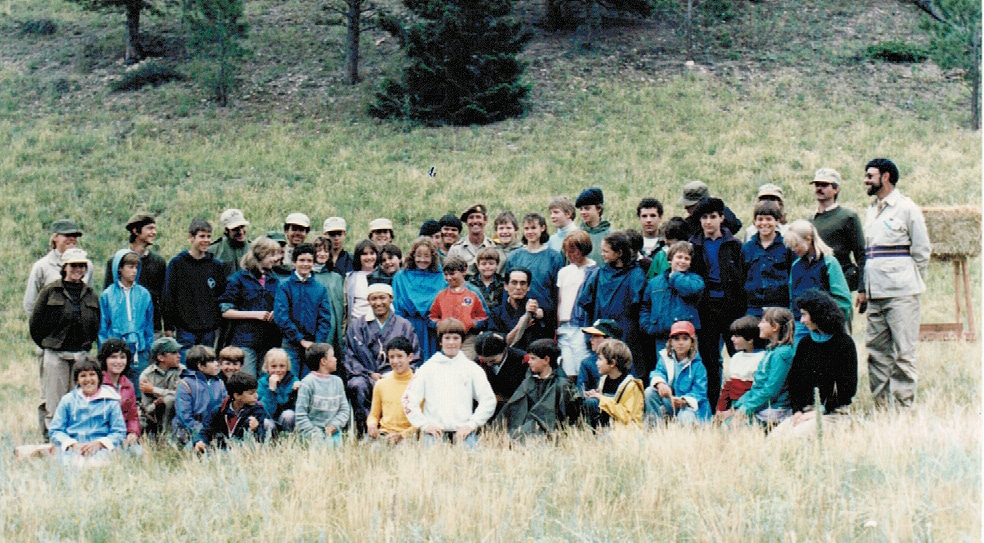 1986: What is Mandala?
If you lose your mind, come back.
And when you're back you're here.
And when you're here
You're out there.
(So come back again.)
—Will Ryken, 1980s
By 1986, the Sun Camp staff had learned that much advance planning was required, and as the applications for the 1986 camp poured in, they made sure that sufficient tents, food, outhouses, and so on would be there by the start of camp. Preparations continued up until the last minute. Driving to SMC from Boulder, Lowrey stopped at the Army Surplus Store in Fort Collins to buy kitchen supplies and more fire extinguishers.
In fact, 120 young people arrived for the camp. Ryken and Lowrey realized that they had their hands full. They also needed to organize the campers into manageable groups. Following up on their experience from the previous year, but mostly from the MPE model, they set up a container comprising a strong schedule and a clear chain of command — with some significant differences. . . .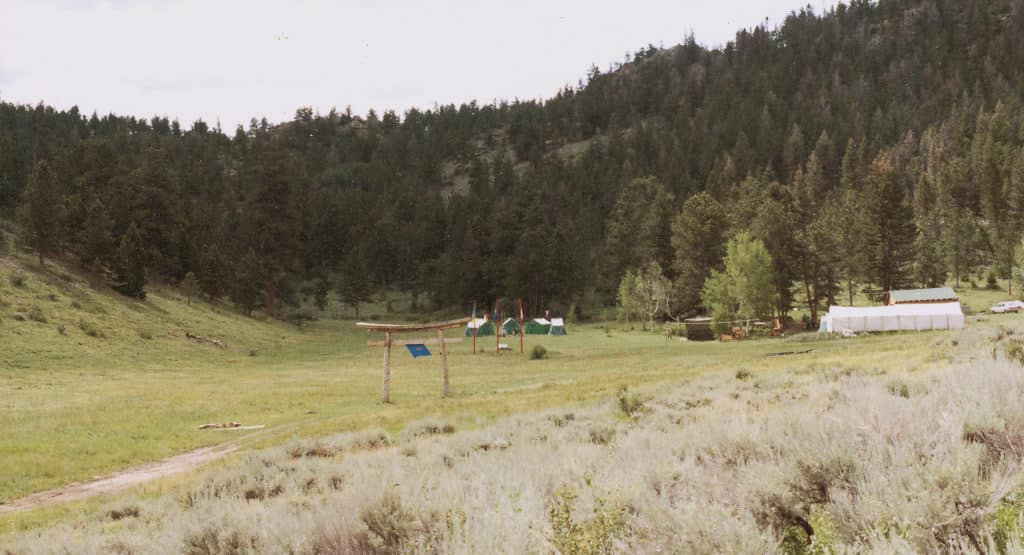 1986: First Karme Chöling Sun Camp
In 1986, Liz Craig was living at the Karme Chöling meditation center (KCL) in Vermont. From 1980 to 1986, Roger Guest served as Executive Director of the center. In 1985, Jenny Warwick was asked to be a Director of KCL, and so Jenny and her husband Paul moved there with their daughter, Katie, to begin the transition of leadership. Jenny and Roger contacted Ryken and invited him to direct the center's youth program, and he agreed. Later, Jenny called Ryken and told him that they wanted the camp to be less military there. Ryken agreed and said, "We always do it less militarily."
After they hung up, Jenny turned to Liz and said, "He's going to do whatever he wants, isn't he?" And Liz said, "Yes he is."
That camp was highlighted by the campers approaching Ryken on the first day, saying that they did not want to follow along with the drill. They just wanted to hang out and play cards and Dungeons and Dragons. He told them fine! But they would have to help with cooking and cleaning. They went back to their tents and the staff relaxed in the command area. A few hours later, their representative, led by Andrew Sacamano, came back and said they would try the program out after all. Soon they discovered that they loved it.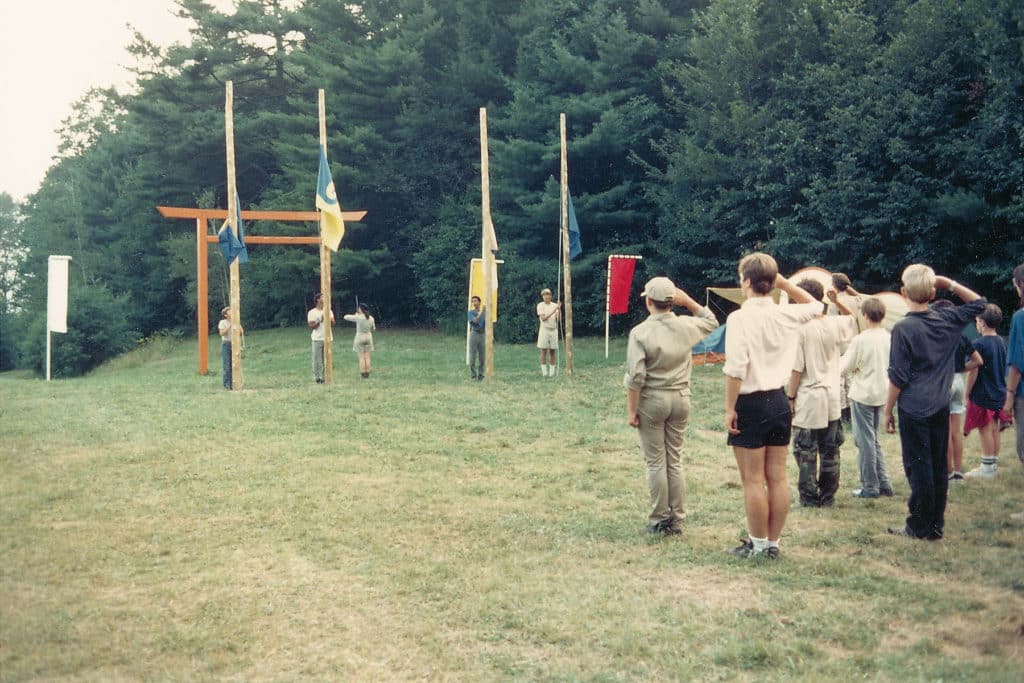 ---
SMILE IF YOU HAVE TO is available from