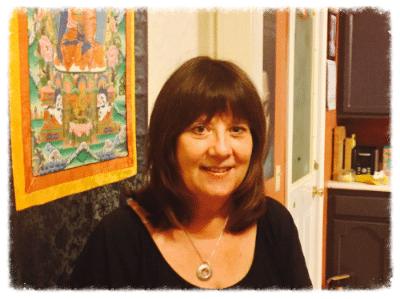 Please join KCCL for Karen's Sukhavati and help us celebrate her wisdom and life,
in-person and on Zoom
Saturday, March 25
1:00 pm EASTERN
2:00 pm ATLANTIC
KCCL in the Mahasangha Shrine room at 871 Young Ave, Halifax. The Sukhavati will be followed by a reception. If you plan to join in person, please let KCCL know.
Please note: This Sukhavati is being hosted, in-person and on Zoom, by KCCL. Any questions should be addressed to kccl.contact@gmail.com; 902-454-5335
Our dharma sister, Karen Ritchie (Jigme Datron), passed away peacefully at home in Santa Fe on Monday, March 13. Her death came six months after her diagnosis of  gallbladder cancer. Karen was a student of Chogyam Trungpa Rinpoche, who affectionately called her "Dixie Dayton," and in recent years, a student of Dzongsar Khyentse Rinpoche. She was a healer with a huge heart and was full of love and compassion. Karen leaves behind her loving family: husband Steve, daughter Hillary & son-in-law Chris and three grandchildren, Sophia, Jeremy and Nicola, along with all her sisters and many friends.
Her transition over several days was calm, even occasionally humorous, until she stopped being able to talk. Her wish was to stay relaxed and to let go in a calm way. She said "I lived a good life and have no regrets!" She transitioned peacefully with Hillary and Steve by her side. Please hold her in your heart and mind in a way that supports her journey.
Please note: New tributes do not appear immediately. Your tribute will be posted soon.
Elizabeth Hurst
6 months ago
I knew Karen for many years. She was like a sister the first time I met her and it remained that way throughout the years. We ended up practicing in the same building and I got to see her fairly regularily. She was such a kind and wise soul. I will be forever grateful to have known her. Until we meet again my friend. Much love. xoxo
I met Karen and Steve in 2016 @ Karma Ling Retreat Center in Delhi, NY where a number of us, students of VCTR gathered to receive the Chakrasamvara abhisheika, at that time we had also had a group audience with Khenpo Karthar, auspiciously Tai Situ Rinpoche also came to give a blessing to those entering the 3 yr Retreat and those of us receiving the Cs empowerment . It was certainly a Kagyu download. I felt very close to them, both very kind , generous and certainly devoted to our lineage. They both were so gracious to invite me, if ever in Halifax I would be welcome to stay with them. I was happy to see they moved west, but when Steve posted something regarding Karen's diagnosis, my heart sank. I was glad to hear her transition was gentle and with family. Love to Steve and family.
Mary Jane MacKay
7 months ago
I loved you like a sister. You are missed. For the family - may sorrow pass quickly, but the memories remain forever. MJM
I knew Dixie from the 70's - she was beautiful and naturally kind - We did not know each other well but there was a mutual feeling of connection. It is surprising to me after so many years I have so much love coming up - she was a gem and VACT knew it - Wonderful that she had Dzongsar as her last guru
Grant MacLean
7 months ago
Such a loving and loyal friend through the years, such rollickingly fine times together -- with shining eyes periodically reminding us all of her Rinpoche-given name, Dixie Dayton -- her kindly, earthy, playful spirit so strong that even though we haven't seen each other for some time, her passing was as if a live-in friend had gone. Go well, dear Dixie.
I got to know Karen in '92 when her and Steve would host torma making parties for feasts every two weeks
She kept our whole family healthy for the last 12 years and was such a beautiful combination both grounded and kooky.
And also much love to Steve and the rest of the family
Although we did not spend a great deal of time together, I consider you my Vajra sister. So playful, sharp and down to earth, May your journey be joyous. I will look for you. Until we meet again……
Thanks for knowing you Karen, warm and friendly indeed
Wishing strength for your family and Steve
We've met at the CS abisheka 2016 and later in 2018 in Tatamagouche
Karen had a huge capacity for love and a ready twinkle in her eye. I'll miss her kindness and love of life. My deepest condolences to Steve and family.
Not having a sister, Karen helped fill that gap many times over the years; just being who she was; an open, caring, spunkily playful friend with an awesome family- may her journey be free of obstacles
Karen was the manifestation of kindness and humour. May she have an auspicious rebirth.
I knew Karen in Boulder many moons ago, but very recently her name would pop up on my Facebook -- it's a good distance between New Mexico and Newfoundland. It was always a delight to see our senses of humour align and to see her cheery comment. So it was that a friendship that had been long dormant came to life. Karen always had a wonderful joie de vivre and way of lighting up a room. May she similarly grace the next world.
Since leaving Boulder, or the US, we've been strangers. That never changed our connection as dharma family. I am sure that Rinpoche has already found you. See you soon but I have a little work to do first.
Lee
Lee Weingrad
Beijing, China
Layth Matthews
7 months ago
Warm and friendly
Smart and sharp and devoted,
I still remember your playful laugh.
It was a pleasure knowing you Karen.
I look forward to meeting again.
I knew Steve and Karen years ago in Boulder. Lovely people. Devoted and down to earth. My best to the family.