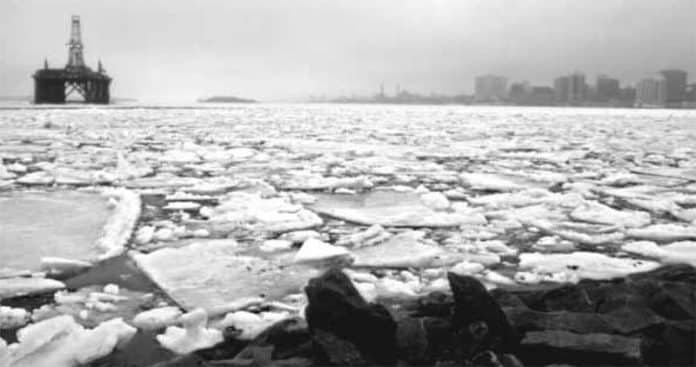 About 10 days before Rinpoche's  passing on April 4, 1987, Halifax harbour began filling up with ice from the Gulf of Saint Lawrence. The ice flowed southwest along the coast of Nova Scotia, and into Halifax Harbour where it was held in place by prevailing winds.
By March 28th, the harbour was completely clogged by ice that was 2 to 2.5 meters thick. Ferries stopped running, commerical shipping came to a standstill, and groups of people could be seen walking out onto the harbour.
On April 4th, the day Rinpoche died, the winds shifted and the ice began to dissipate. By April 6th, the harbour was once again free of ice.
Had it ever happened before?
How unusual were these ice conditions? Several of the newspaper clippings (see below), say it was the first time in 27 years that ice filled the harbour. To find out what happened 27 years earlier (1960), we talked to retired harbour pilot, Don MacAlpine.
Don told us that the conditions in 1960 were almost certainly due to local freezing, which was fairly common in the early to mid-1900s, before recent warming trends. But this locally frozen ice was never very thick and never posed any serious challenges to harbour traffic.
The arctic ice floe that clogged the harbour in 1987, was a very different kind of phenomena. As far as Don MacAlpine knows, it had never happened prior to 1987; and we know for certain that it has not happened since.
Local News March 28-April 6, 1987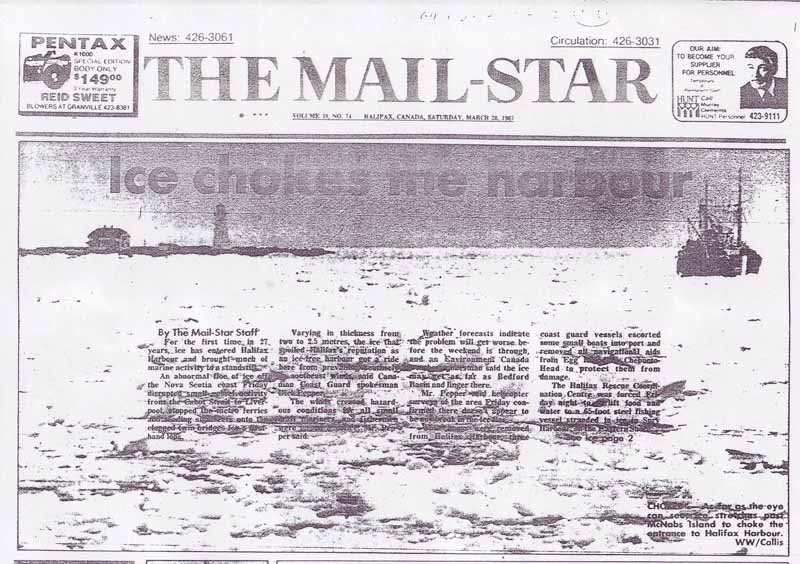 For the first time in 27 years, ice has entered Halifax Harour and brought much of marine activity to a still.
An abnormal floe of ice off the Nova Scotia Coast Friday disrupted small vessal activity from the Cabot Straight to Liverpool, stopped the metro ferries and sent sightseers onto the clogged twin bridges for a first hand look.
Varying in thickness from two to 2.5 metres, the ice that spoiled Halifax's reputaion as an ice free harbour got a ride here from prevailing southerly and southeast winds, said Canadian Coast Guard spokesman Dick Pepper.
Weather forecasts indicate the problem will get worse before the weekend is through and an Environment Canada spokesman said the ice may get as far as Bedford Basin and linger there.
Mr. Pepper said helicopter surveys of the area Friday confirmed there doesn't appear to be any break in the ice floe. Coast guard vessels escorted some small boats into port and removed all navigational aids from Egg Island to Chebucto Head to protect them from damage.
The Halifax Rescue Coordination Centre was forced Friday night to airlift food and water to a 65 foot steel fishing vessel stranded in ice. (See ice, pg. 2)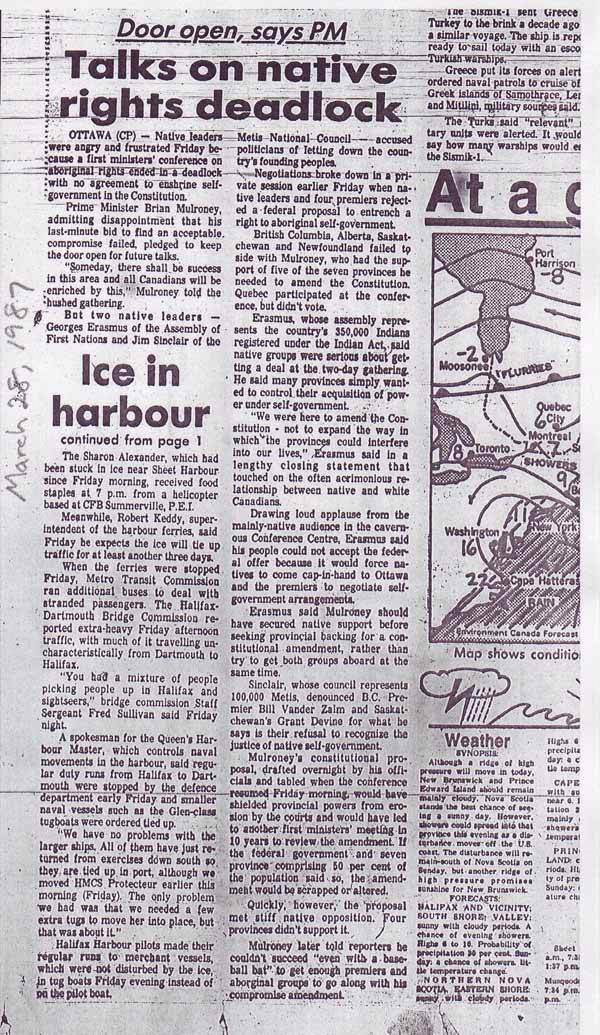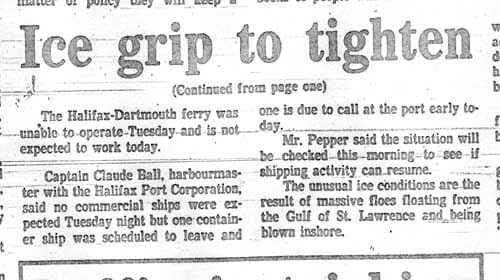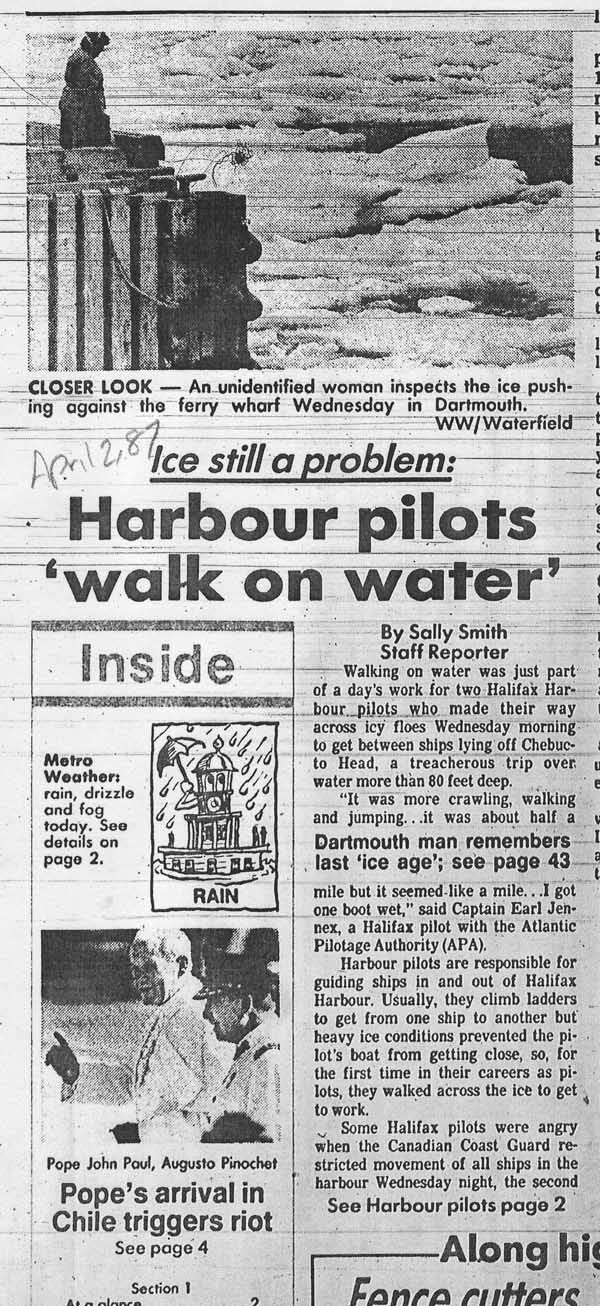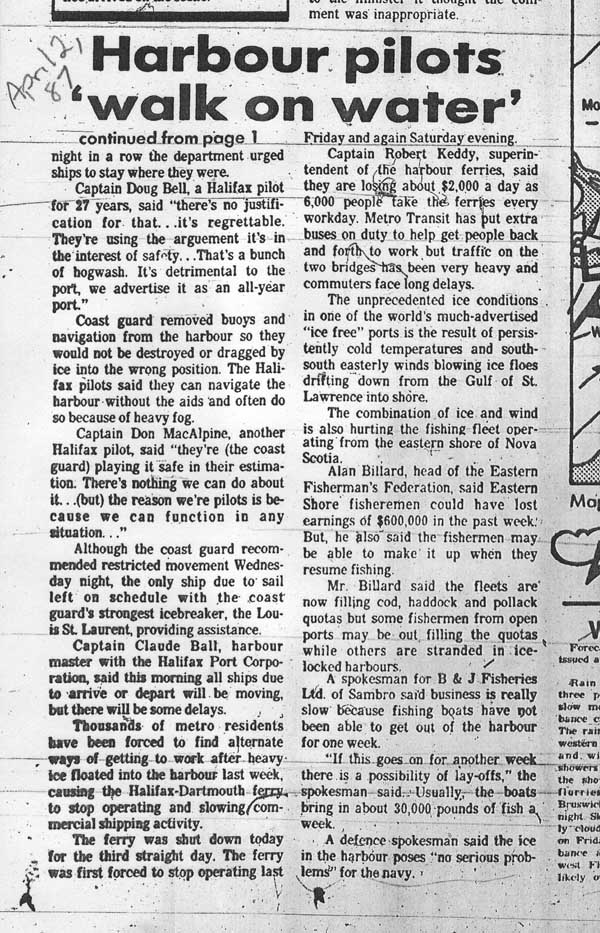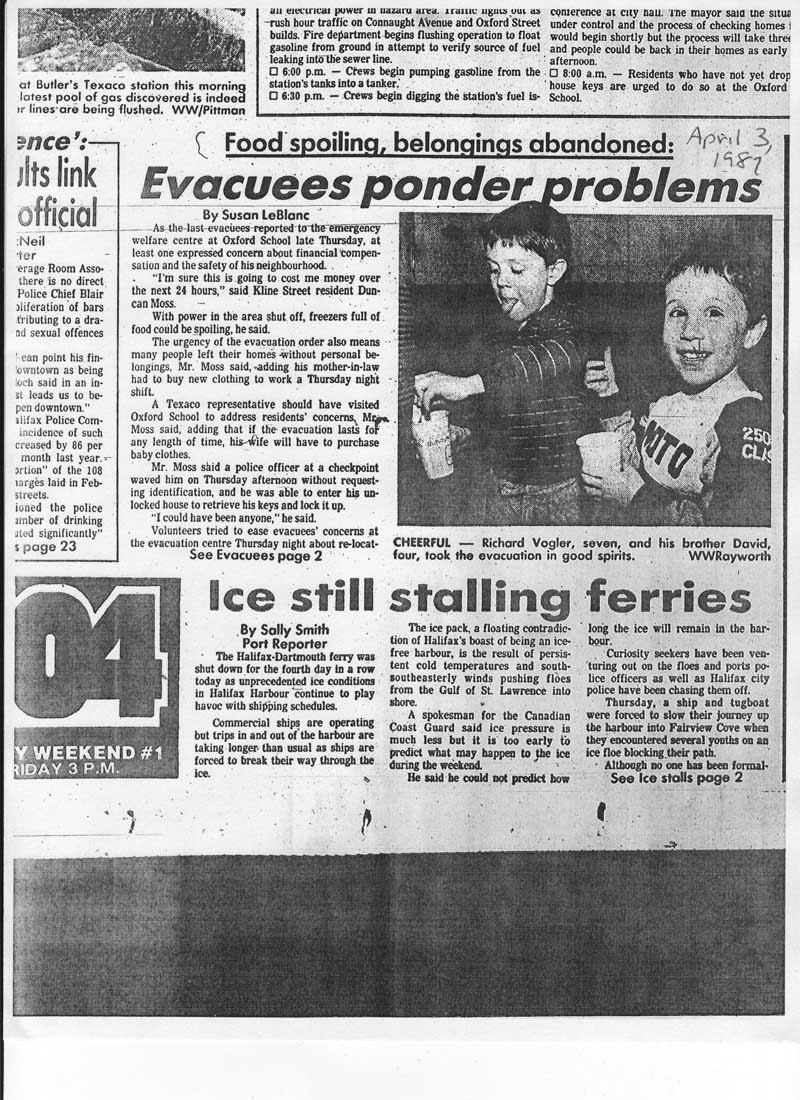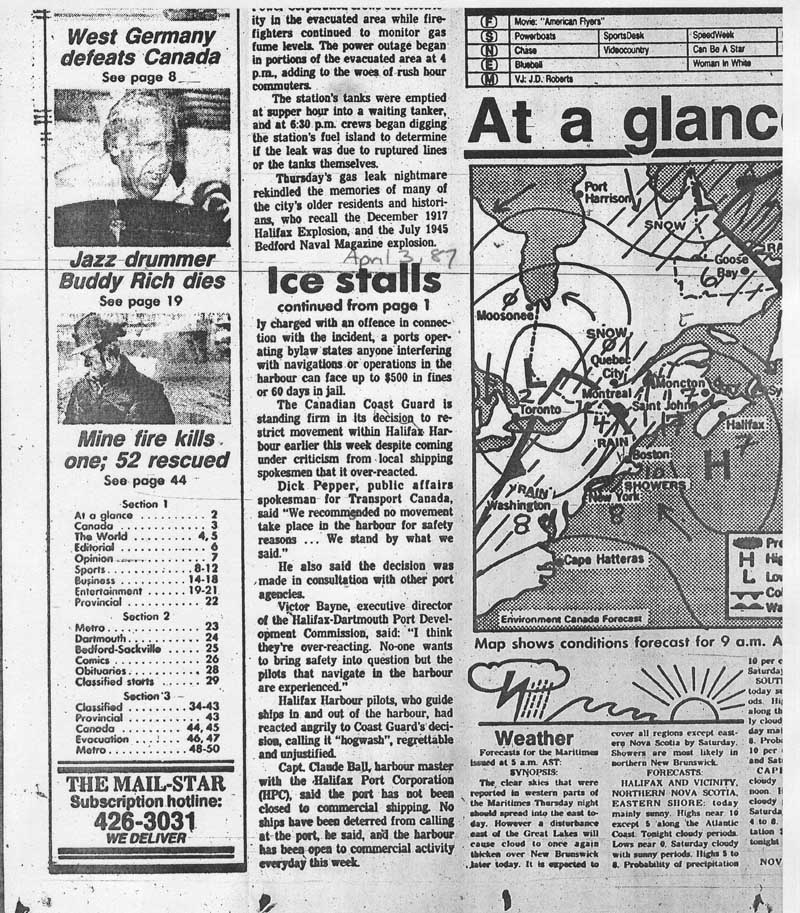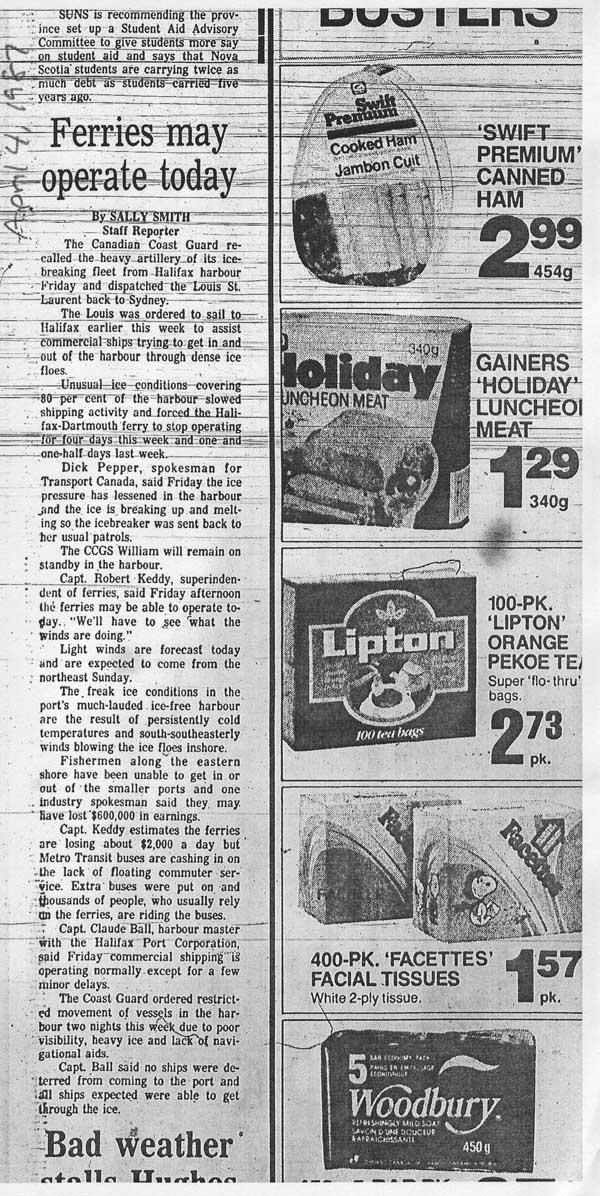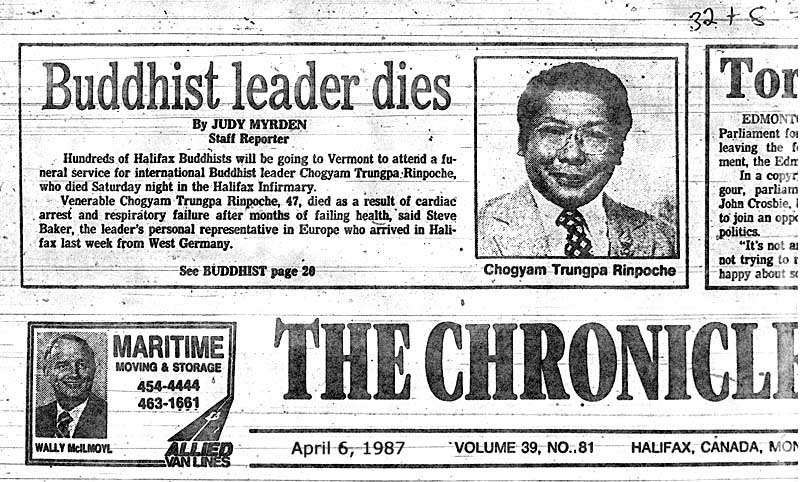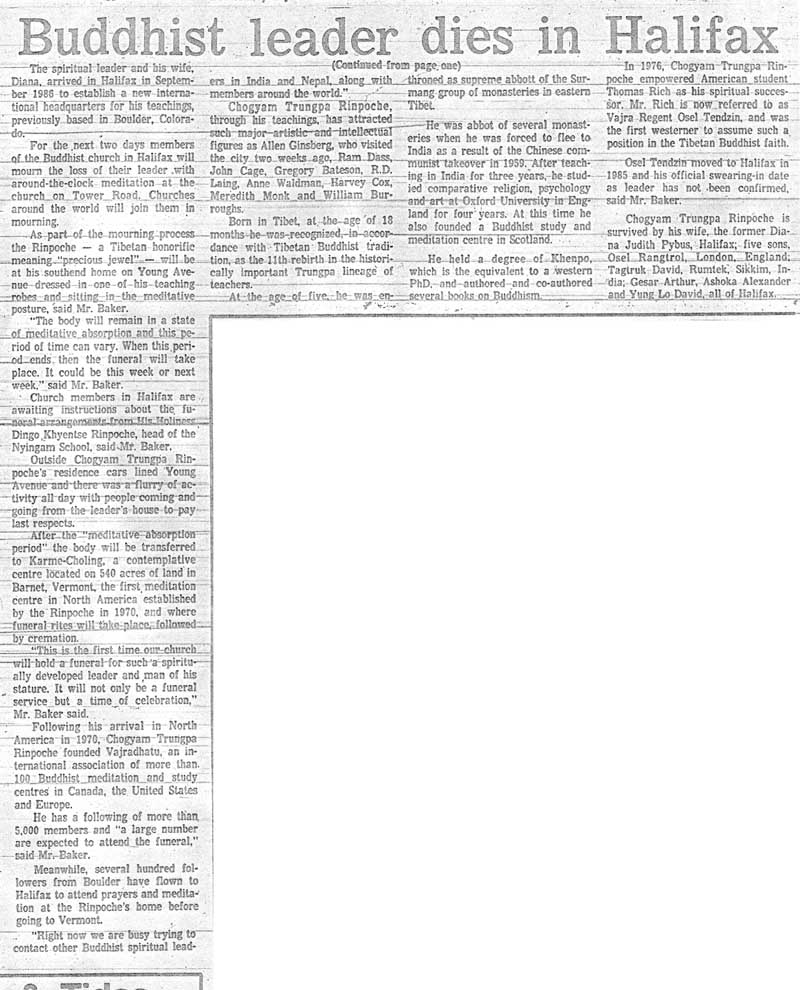 Originally posted 4 April 2007
Thank you to Ken Wallace
for bringing this story to our attention.
Thank you to Mark Szpakowski for the CTV news segment.