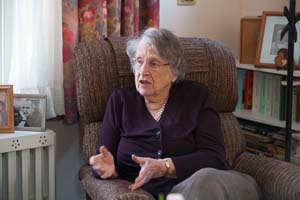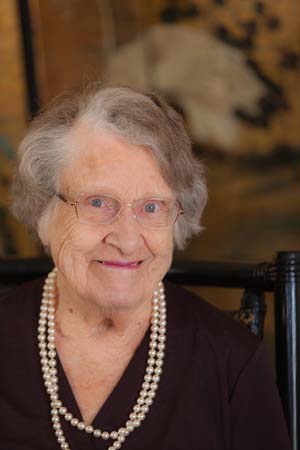 Virginia Hilliker, Photo by Marvin Moore
February 21, 1915 to April 11, 2013
Please send your tributes and recollections to be posted on this page to ]]>
The first time I saw Virginia I didn't know who she was. It was at a nyinthun at the San Francisco Dharmadhatu in 1973. A tall older woman walked into the shrine room with a much younger man. I just assumed that they had driven together from Berkeley. Then I saw the pair again at another nyinthun and became curious. I asked someone who they were: "Oh, that's Virginia and Bob [Krupnick]." I learned that they lived together. Virginia was fifty-eight and Bob [now Robert] was in his twenties. Virginia never let conventions about "proper" relationships between men and women get in her way. When I asked Robert how long he and Virginia lived together, he replied: "Many lifetimes, absolutely! Relatively, around three years."
When I think of how to describe Virginia to those who never met her, several words come to mind: brilliantly empathic—especially her ability to "read" what was going on in the minds and hearts of others. Much laughter—she found life funny where many people would find it sad or discouraging. Unfailingly kind and compassionate. At the same time, she could be fierce. I can't count how many times she yelled at me because of something I innocently (or ignorantly) said, though we always managed to make up. One person who spoke at the sukhavati described a moment during a therapy session when "practically shrieking," Virginia said, 'There's nothing wrong with you!'"
Audio Excerpts from Memorial Service in Halifax
Update Required To play the media you will need to either update your browser to a recent version or update your Flash plugin.
Someone else said, after she had been going to Virginia for a while, "Once I said to her that I had found a psychologist, and I'm gonna go there and find out what's wrong with me, and get a diagnosis, and get all sane, and stuff. And she laughed hard and threw back her head. She said, 'Ha ha! I hope they don't fix you.' It was one of those moments when you realize you really are OK. And she was OK."
"There's nothing wrong with you." That was the key. Her confidence in everyone's basic goodness was powerful and constant—even when she was angry with them.
As incredible as it may seem, Virginia was still working with individuals until a few weeks before her death.
Virginia had a passion for working with children. Besides raising her own sons she did graduate work in child psychology at Syracuse University, and later worked in a pre-school in Syracuse. Then she moved to California to begin a PhD program at the University of California at Berkeley. But she gave it up after she met Chögyam Trungpa Rinpoche in 1973. Trungpa Rinpoche's teachings became her other passion (besides working with parents and children) and the two (Buddhism and children) were closely entwined in her heart.
Virginia Hilliker was born in the small town of Bradford, PA in 1915. She was fourteen when the Great Depression struck in 1929. Virginia, her two siblings, her schoolteacher mother, and salesman father, who lost his job, weathered the hardship by cultivating their garden, raising chickens and cows, and learning about self-sufficiency. Virginia told me many stories about this period of her life: it made her strong—a survivor.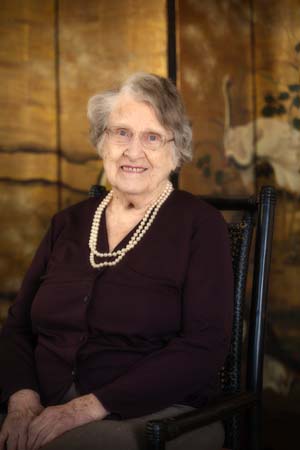 Virginia Hilliker, Photo by Marvin Moore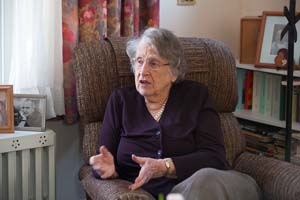 Virginia in the chair where she talked to clients, Photo by Marvin Moore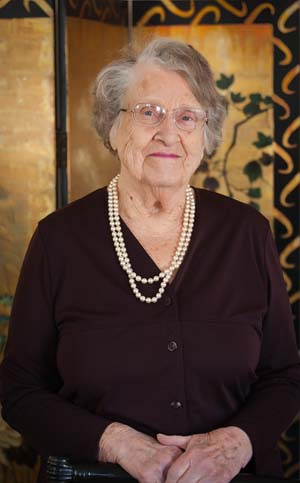 Virginia Hilliker, Photo by Marvin Moore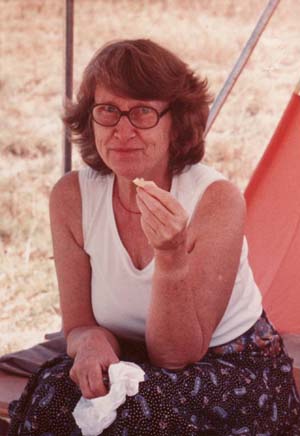 Napa Valley, California, Autumn 1977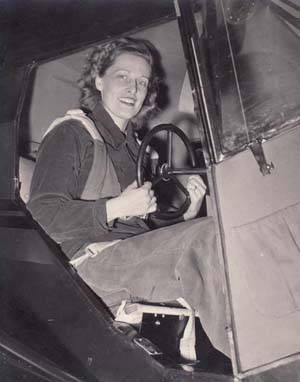 Virginia during a flight training program in the 1940s or 50s
Virginia died in an intensive-care unit in Halifax on April 11, surrounded by her son Michael and a small group of friends. Carolyn Gimian, who was sitting next to Virginia and holding her hand, spoke softly into her ear: "Virginia, you are dying now. It's time to let go." Carolyn seemed like a skillful midwife, guiding Virginia toward her death. At some point we didn't know whether she was still breathing. Eventually a nurse came in and said, "She's gone. You can stay as long as you like."
Virginia died the way she lived—fiercely, with intense passion and determination. Her love for life kept her alive for ninety-eight years. For many years she suffered from a painfully arthritic knee but was too old for surgery. She survived several life-threatening events in her later years: cancer surgery and a major fall in December 2011: she broke her neck, but that didn't stop her either. She also lost her oldest son, Bob, in 1993 after an accident.
Virginia met Eric Berne, founder of Transactional Analysis (TA), when she was living in Syracuse, and they became friends. She went on to study with him in California, and TA became her therapy of choice. From then on she was continually working with individuals—children, adults (many of them parents), couples. She also taught child development at Naropa Institute in Boulder, CO. In the late 1980's, after Trungpa Rinpoche's death, Virginia was part of a team of people who developed the eight year-old coming-of-age ceremony that continues to be celebrated each year in many Shambhala Centres around the world. [If anyone knows more about how this ceremony was developed and who else was involved, please let us know at ]]>. Ed]
Virginia wanted to leave behind a legacy.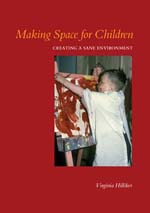 When she was in her eighties she began to sift through her many boxes of notes from years of counseling, and put together a small, pithy book about how she worked with children and parents. With a little help from her friends (including Molly Nudell, who designed a beautiful, vivid cover) Making Space for Children: Creating a Sane Environment was published in 2003, (available from Shambhala Media.) Its inspiration comes from Chögyam Trungpa's teachings on basic goodnessalways her reference point.
No account of Virginia's life would be complete without at least one martini story. Virginia had two martinis—sometimes more—every evening, for years and years. This was the time of day when it was most enjoyable to drop by for a visit. At the sukhavati, acupuncturist Kermit Stick described the first time he went to see Virginia after she had broken her neck in 2011. He told us, "I asked her to turn her head both ways. When she turned it to the left I heard a loud clunk, and she said, 'Sometimes I turn my head and I can't turn it back,' and she started laughing. And so we had a couple of martinis."
The last offering at the sukhavati was a poem by Virginia's lifelong friend Robert Krupnick, entitled "The Great State of Virginia."
The Great State of Virginia
Not for the faint of heart,
Easier to live in a blizzard.
Penetrating aloneness.
Big laugh.
Pearls and Judge Judy.
That chair, and the green car that wouldn't let go.
Monolithic stubbornness as maitri — how is that possible, sweetheart—
Saying "No," with a hint of glee if you were looking.
We should be so kind!
Therapy without formula.
In love with Chökyi and Thrangu.
Annoyed with the Eleventh Trungpa on the occasion of introducing her son—
the Vidyadhara gave him a lecture on what a wonderful mother he has.
Endless generosity as tough love—
Telling a family having difficulty letting go of their grown up son,
"It's not his transition, it's yours. Find something else to do. Get a hobby!"
The awareness, born from a genuine life, to live with all her marbles even as they began
to roll unpredictably.
May we emulate your bountiful gifts,
May your continuing journey be swift and fruitful,
Miss you,
Love you,
Thank you from all your vajra family
R. Krupnick
***
"Virginia came into my life when I was a newly transplanted 19 year old – landing in California, because it was as far away from New York as I could get. I was looking for a therapist, and had read I'm OK, You're OK before moving. So, on landing, I called the International Transactional Analysis Association, and asked for a list of referals to local thearpists. Virginia was the 5th one on my list. The other 4 quickly failed my tough criteria by not answering their phones, having "funny" voices, asking me the wrong questions, or just not clicking in an instant. She did – being friendly and open, she immediately set up a time for me to see her. Sitting down in her living room on 63rd Street in Oakland, I opened the session by threatening her, saying, "You had better not say anything that sounds like my mother, or I'll get up and leave!" (my mother was a therapist at the time). Virginia howled with delight, and answered, "Well I can't promise that because I don't know what your mother sounds like!" I was hooked. For several years, I was in group with her, and did at least one "marathon", eventually training with her to lead groups myself.
During one of the first few group sessions I went to, I looked at her at the end of group and shyly asked, "What is it about you— You aren't like anyone I've ever met—" She held my gaze, smiled and said, "Well, I'm Buddhist. Maybe that's it." I had gone to the Soto Zen center in New York City one time, had read some Zen books in High School, and this comment from her knocked my socks off. I knew I was in the right place, with the right person. I trusted her. The next group meeting, she brought me a copy of Cutting Through.
Not long after, Trungpa Rinpoche came to Berkeley, and she let me know about it, and I went. Best invitation I ever got. I started practicing with him within the next year or so, as I finished college in Santa Cruz.
So, I credit Virginia as being one of the most authentic humans I've ever met. She penetrated my late adolescent despair, and helped plant the seed of dharma in my life, by being an excellent example. She was one of the kindest people, and we stayed in touch after she moved to Boulder. I eventually moved there too to be near CTR, and go to Naropa summer courses. When my daughter Annie was born, I took great pleasure in introducing her to Virginia, feeling that she was meeting a true and good grandmother, a true human being.
We fell out of touch when she moved to Halifax and the last time I called was many years ago. I called to ask her if she knew whether Jaquie Schiff (All My Children author and therapist) still ran group homes. I was trying to find a resource for my nephew, who needed support. We enjoyed the conversation, but I could tell she did not really remember me clearly. Deeply touched again by her voice and sincerity, it did not matter. She had profoundly changed my life — even saved my life, in some sense — and for that I am forever grateful." -Sarah Woodard
***
Since moving from Halifax almost five years ago, I had the opportunity to visit with Virginia a couple of times in her home. Her groundedness, humour, and acuity were amazing.
Twenty-three years ago, Virginia helped me tremendously, in just two or three sessions. I was at an all-time low point, but through some good fortune, I found my way to her apartment. She had the uncanny ability to be fully present and listen. At a certain point, like the finger pointing to the moon, she would say just a few words or ask a simple but direct question. In that space, things that had been stuck could begin to move. Just two or three visits is all it took. I bet there are lots of stories like this are out there. -Andrew Safer
***
I went to see Virginia when I was in my early thirties. I had just lost a baby and my sadness overwhelmed me. Virginia folded me into her arms in a huge hug and I immediately felt safe, lighter and able to move. She helped me understand that I was not being punished (for what I had no idea but it was my greatest fear.) She led me to the realization that what I was feeling was normal. That life and nature is both beautiful and painful. I was in the path of pain and I saw pain all around me but I would soon again see the beauty. She was right. I eventually adopted 3 beautiful children and saw all the beauty of life. Virginia helped me with the strength to keep going. I have always carried her in my heart. -Carol Cohen
***
When Virginia moved to Boulder we were part of a group of lady friends–and we did laugh together–lots! At one point I was a single parent and was having a hard time with my teenage son. I asked if she would meet with me separately and so we did. My son had grown quite big in a short period of time and had become quite surly. I was afraid of his person and our relationship was scary but I was determined not to separate from him. When Virginia and I spoke she asked if I thought he would hit me. I said I was actually afraid of that and didn't know what the result might be. Then she asked, "Do you deserve that—" My immediate response was, "NO!" She replied, "Then there is no worry!" Her question and response was so skillful and direct. It gave me such confidence that I was able to be a parent once again. My fears disappeared and we didn't have further meetings.
My son was and is a fine person. He now has two children of his own. A legacy such as Virginia's stretches across generations. She understood basic goodness, ordinary cause and result, and the dharma in a real way. So many thanks go to this great lady. Thanks for her long life and clarity and for being a friend and helper to so many! -Marcia Usow
***
Please send your tributes and recollections to be posted on this page to ]]>
---
By Barbara Blouin with Robert Krupnick