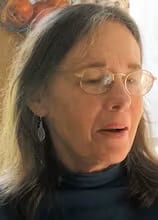 As dictated by herself to her husband who wrote down this obituary:
Nancy Louise Castlebury left this world on such-and-such a date [July 25, 2023], after a brief but spirited skirmish with the evil-doer Maya (that is, illusion.) She was the last surviving member of her birth family: her father, James Crain Jr., and her mother, Loualice Elizabeth Georges, and brothers Thomas Joel and Stephan Georges. She was proud of her mixed heritage, which included immigrant Norwegians and Persians of Azerbaijan.
She was a devout Buddhist since her late-20s when she converted in reaction to her personal puzzlement about death, and the deaths of so many loved ones. With appreciation for all religious traditions, she found her spiritual home in Buddhism. And she studied with many great masters of Tibetan and Chinese Mahayana.
Eventually the dashing John Castlebury swept her off her feet and they remained a couple for forty-one years. The fruit of this union was a boy, now forty years of age, and a perfect gentleman, Richard James.
Nancy had many interests, including a life-long interest in reading, non-fiction preferred. She was a strong proponent of the Oxford comma (look it up.)
Please note: New tributes do not appear immediately. Your tribute will be posted soon.
I will miss Nancy. She loved her family and we shared our loved of grandchildren.
We also shared an interesting 25 minutes driving through what the Vidyadhara called dead zones, wondering who or what we would encounter. She was a dear friend of mine
When she last emailed me I detected something was wrong... If we can say that. I sent her my love... Then heard she passed. With love and devotion for my vajra sister.
May she have an excellent birth
Ani Cho