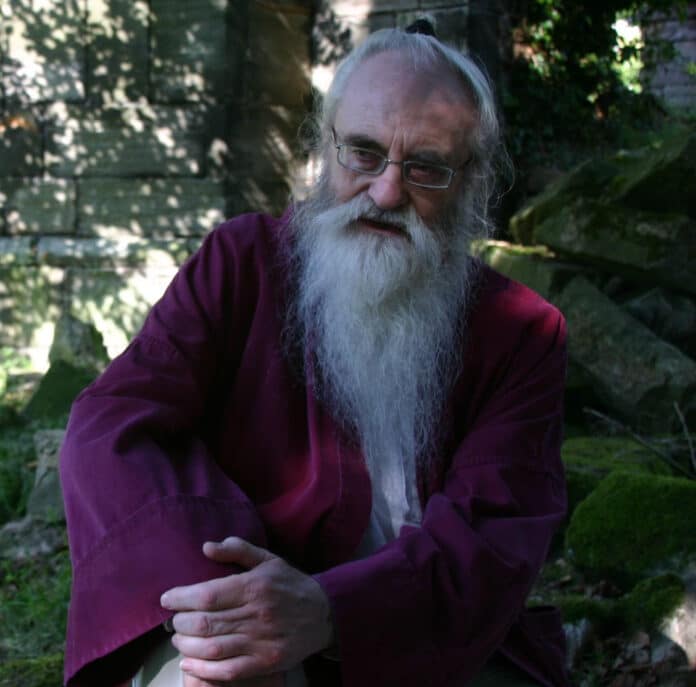 With the greatest sorrow we share the news that Rigdzin Shikpo Rinpoche, the lineage holder of the Longchen Foundation, demonstrated the truth of impermanence and passed away on the evening of 28 April. He worked tirelessly for the good of others and, with enormous care, painstakingly crafted a system of teachings and practices unique to the Longchen Foundation yet authentically rooted in the great Tibetan lineages he received from his many teachers.
Rigdzin Shikpo was appointed as the director and teacher of the Longchen Foundation when it was established in 1975 by Chogyam Trungpa Rinpoche and Dilgo Khyentse Rinpoche.
In 1993, after completing a three year retreat under the guidance of Khenpo Tsultrim Gyamtso Rinpoche, he was given the title 'Rigdzin Shikpo' in recognition of his realisation. 'Rigdzin' (in Sanskrit, Vidyādhara) means 'awareness holder' and 'Shikpo' means 'beyond concepts'.
Rigdzin Shikpo Rinpoche cared deeply for his students and never doubted that we all would attain awakening. He always emphasised the importance of the community of practitioners, bound together through the energy of wisdom and compassion. Rigdzin Shikpo will continue to manifest his qualities and action in this Mandala as we support each other through this difficult period and into the future.
We will provide more information as soon as we can.
-Longchen Foundation
4/29/2023
Please note: New tributes do not appear immediately. Your tribute will be posted soon.
I am deeply saddened by Rinpoche's passing and, listened to a teaching very recently, that was put online for us.
He talked about , "... concentration and openness..." a profound instruction...in all we do.
He so embodied the Vidyadhara's mind and elegance in expressing how to be awake.
May he, if he has a bardo experience,...be filled with the same gentle and vast confidence he expressed. May he return to teach and guide students for life-times to comes.
Ani Chodron
Philip Richman
3 weeks ago
Michael Hookham happened to sit next to me in May, 1987 during teachings given by Dilgo Khentse Rinpoche at the time of Chogyam Trungpa Rinpoche's cremation in Vermont. At that point I had just been instructed by Khentse Rinpoche to practice Nyingma Ngondro. I was impressed by his clear dedication to Trungpa Rinpoche, who was my teacher, and also Michael Hookham's deep understanding of Trungpa's early teaching in the West. His words and accounts of Trungpa's statements are with me to this day. He described how with long effort he and Trungpa came up with "nowness" for the translation of the "Great Vajradhara.." supplication to the Kagyu. He expressed puzzlement over why it had been changed to "freshness." He relayed Trungpa's comment that in Nyingma you dissolve into the guru, as opposed to the other way around. (Still an issue, but there it was). He said Trungpa had translated the Kun Chog Chidu ngondro, but did not want it published. Later another lama published the translation without authorization and Michael Hookham went to every bookstore in London to buy up all extant copies so that his teacher's wishes would be preserved. He said there is a copy in the NTC files. For two years, until I met Dodrupchen and Tulku Thondup in 1989, Michael's instructions remained important guidance at a difficult time. I wrote to Michael after meeting Dodrupchen. He was happy for me and shared some of his own encounters with my new teacher. Beyond that I had no further contact, but I was happy to hear of Rigdzin Shikpo's further progress on the path of learning, wisdom and accomplishment. I'm sure his students are grieving for his loss, but Michael proved to me that with wisdom mind even great loss precedes further benefit. Thank you Michael Hookham/Rigdzin Shikpo for a life worthy for us all of living.
So sad to learn of his passing. before The Longchen Foundation was established, Jack Ireland, Alf Vial and I spent many an evening with Mike, (as we then knew him), discussing Buddhism and exploring what we thought we knew and what we didn't. We seemed to always attend meetings, lectures and ceremonies together, at a time when authentic teachers were thin on the ground. Our times together were always laced with laughter, mostly at directed at ourselves and our misunderstandings. I remember those days with affection, and will treasure my memories of his boundless kindness, humour and understanding. Eh Ma Ho.
Shambhala Publications
1 month ago
I had the great good fortune to meet Rigdzin Shikpo in the 1970's, teaching then as Michael Hookham, at the Buddhist Society in London.
From the way of Maha Ati,
"All phenomena are completely new and fresh, absolutely unique at the instant of their appearance and entirely free from all concepts of past, present and future, as if experienced in another dimension of time".
Thank you, Sir.
Hellen Newland Koerber
1 month ago
A friend so wise and full. Big glasses and sharp intellect with kind heart. Sending love and blessings.
The Way of Maha Ati, composed by the Vidyadhara and Rigdzin Shikpo in 1968, has been my go-to text on meditation practice for close to 50 years. So concise, so beautifully succinct and elegant, it sums up the Vidyadhara's teachings in a few pages. I never had the opportunity to meet him, something that I now regret.
Usanee Nuchanong
1 month ago
To rest in the boundless sphere where thoughts appear and disappear like babbles - that's very fine:
To have sharp and vivid awareness free from self-reference - that's very fine:
To have a heart melting with compassion free from other reference - that's very fine:
The mind that knows all this - that's the tight grip of ego.
Rigdzin Shikpo
I would like to pay tribute to Rigdzin Shikpo Rinpoche by posting this written by him. It was on the first page of his book entitled Openness Clarity Sensitivity, which shakes something in me when I read it. May you continue to be the light leading us out of our confused mind.
Gerard Phillips
1 month ago
A tireless master and holder of vast wisdom, your words have always enlightened me. May you liberate countless beings from the bardo.
"In my new robes
this morning,
someone else."
Basho.
Thank you, Master.
You will be missed. So beloved by many. 🙏❤️
I began properly practicing the Dharma due to Trungpa Rinpoche's immense skill and compassion and through this, explored other dharma teachers both East and West. I knew of Rigdzin Shikpo by reputation but it took a long while before my good fortune led me to his mandala. As an extremely mature Western practitioner teaching subtle Tibetan Dharma with complete confidence, profound wisdom and compassion, he woke me up in a completely fresh way . The gentle ease and humorous clarity with which he pointed out our situations was profoundly inspirational and his spontaneous kindness brought nothing but insight, gratitude and respect. May he be reborn soon and continue his remarkable loving journey. Sarva mangalam!
Phyllis Segura
1 month ago
Sorry to hear of his passing. He took it seriously and well and with great kindness and intellect. I met him at 1980 seminary before he became an important teacher and had a name and status change. He was very helpful in explaining just about everything to me. A British woman, Louise, and I became friends and he was in love with her and wanted to marry her. The three of us spent a good deal of study time together. Louise got a diagnoses of lung Cancer while at seminary. She was an artist of Chinese lacquer and died not long after. I will always remember him (and her) fondly and with gratitude.
With profound appreciation for the one who met CTR before I did, and for the one who profoundly presented the teachings he had received. May more and many more receive these teachings, and may they hold them close to their hearts, and release them freely into the world around them. Thank you, and thank you to all who follow in your footsteps.