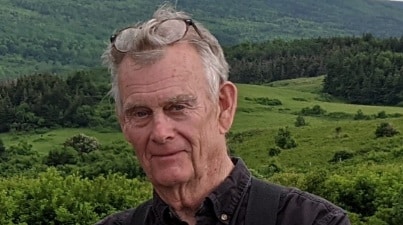 Please note: New tributes do not appear immediately. Your tribute will be posted soon.
A long time ago, in a galaxy far, far away, it was a beautiful day on Cape Breton Island. Our dear friend, Buz Watkins, took a few of us to explore Big Intervale in Margaree Valley, a lovely and magical place that also has 10 million mosquitoes in the summertime. I remember Don and Marilyn Beamish were there, Buz, me and Cliff. Near the end of a very long dirt road, we stopped to visit a crazy local character name of Calvin Drake. Now Calvin, who was maybe in his sixties at the time, had obviously been drinking and smoking dope. We found him out back, clambering over a huge pile of firewood, with a 40-ouncer of rum in one hand and a running chain saw in the other. Insanely dangerous. He staggered down to greet us, and somehow got us all in a line. Like a mad general inspecting the troops, Calvin greeted each of us in turn. Demented as he was, he had this way of staring right into your soul, naked, it was scary (remind you of anyone?). With each one, he stopped and then said something like "Um hmm" and moved on.
Cliff was last. Calvin looked right into his eyes, one foot away, for a very long moment, and then exclaimed, really loud, something like, "That guy is OK!!!"
That was Cliff. I'll miss you, my friend.
Cliff and I were co-owners of a sailboat in St. Margaret's Bay in the late 1990's. Cliff was an intrepid sailor, and I was fortunate to learn from him. We had many exhilarating times together, water coming in over the side as the boat heeled, wind and spray against our faces.
Cliff, I am sorry we got out of touch since then, but am glad to learn that you made a good life for yourself in Cape Breton. I will miss you.
Hellen Newland Koerber
2 years ago
Oh Dear Dear Cliff,
Such a fine man and friend. We had fun adventures on the South Shore, but that was so long ago; time passes so fast and seems so near.
May all blessings speed you on your journey.
Love, Hellen
Suzanne Townsend
2 years ago
I will remember a bright solo jewel at the bottom of a very deep sea, his youthful delight in all things watery and swimmable, boatable, floatable. Returning now to that deep blue that never left his heart, that bright blue that never left his eyes.
Ashley Playfair-Howes
2 years ago
It was only about a month ago that Cliff and I were corresponding, catching up generally and swapping chronic disease war stories. I urged him to spend time down in warmer climes during the winter and recommended a doctor in Sydney he had only the day before scheduled an appointment to see. I knew he was ill but of course he did not share how bad his conditions were.
Farewell, old friend. I trust that one day in some form or another, we shall again share the profound delight of watching moonbeams dancing on midnight waves, or laugh as sea spray leaps up around the prow on a hard beat sprinkling rainbow blessings from here to eternity.
Cliff Esler was born in Washington, DC during the Second World War, February 24th 1945. Being from a military family he moved many times during his youth. He attended College of the Holy Cross in Worchester MA.
Cliff was a father, husband to Suzanne Townsend, writer, woodworker/carpenter, technical writer, surfer, kasung and a lifelong sailor. He had a wonderful heart and was appreciated by his many friends and family.
Cliff moved to Canada in 1968 to avoid taking part in the Vietnam War. He first lived in Toronto, then in 1970-71 he moved to Cherry Hill on the South Shore of Nova Scotia. In 1974 he built a small tall octagonal house in Broad Cove so he could climb upstairs to see if the surf was up.
This was the first of 3 homes he would build for himself in NS. I believe the first major exposure he had to the dharma was attending the Conquering of the four Maras seminar at the Keltic Lodge in Ingonish, Cape Breton in 1980. It was there that Cliff began his heart connection with Trungpa Rinpoche and also Cape Breton.
Cliff worked building the main shrine room at Gampo Abbey in the mid 80s and returned again in 1990 to work on the construction of Sopa Choling. He also worked on constructing the Stupa of Enlightenment in 2020 at Gampo Abbey.
Cliff's last working years were as an editor for Metals Economic Group in Halifax. Nine years ago Cliff moved to Cape Breton eventually purchasing land and building Thorn Rose Cottage in Grand Etang.
Cliff also helped out with projects like the Nova Scotia Sea School, Car Share, and developing websites. He was the webmaster for Samadhi Ling outside of Baddeck. His last project was transcribing the tapes from the 4 maras and interviewing people who attended.
He was a great community member here in Cape Breton, always helping out people when he could. He was a daily practitioner and always hungry for the dharma. Cliff's relationship with his dear friend Sybil brought much joy to his last year.
We will miss him terribly but encourage him on his journey.
The Cape Breton community, his son Ames with his partner Beth and a few other brave folks from Halifax practiced and gathered with his body at this home for 3 days. It was blowing a gale the whole time except for the end of his sukhavati when the winds just stopped for a brief while.
To Cliff's wishes he had a green burial on his own property.
Cliff is survived by sisters Susan, Marion and Ellen, children Ames and Emmeline, her daughter Tilley and his great granddaughter Estelle.