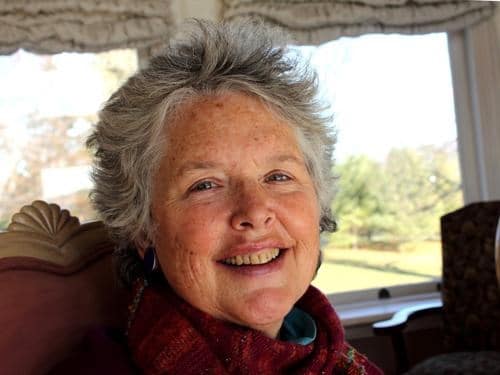 Susan Dreier, an artist and a long-time member of the organizational leadership of Vajradhatu and Shambhala, passed away peacefully in her apartment on Memorial Drive in Cambridge, MA, on April 4, 2023, several years after being diagnosed with Parkinson's disease. She was 75 years old.
Susan was born on October 18, 1947, in Washington, D.C. to John C. and Louisa R. Dreier. After attending The Potomac School in McLean, VA, and then graduating from The Madeira School in Greenway, VA, she attended Radcliffe College, earning an A.B. in 1969. She later studied architecture at the Rhode Island School of Design as well as at the University of New Mexico, from which she received the title of Master of Architecture in 1973. In 1985, she obtained a Master's degree in Private and Public Management from Yale.
During the 1970s, while living in Boulder, Colorado, and working in a small design business, Susan met Chögyam Trungpa. For the next 50 years Susan was actively involved in the mandala that arose around the Vidyadhara, and later Sakyong Mipham Rinpoche. More often than not, Susan was "in the room where it happened".  She became a member of Shambhala's Board of Directors in the 90's and 2000's, worked as a senior advisor in the Office of the President of Shambhala International and was a founding member of the Shambhala Trust, a group of independent donors sponsoring projects and programs in and outside of Shambhala.
Susan studied with Khenpo Tsultrim Gyamsto during the heyday of his teachings at Karmê Chöling and was a teacher and meditation instructor at the Boston Shambhala Center and various land center programs throughout her long service to the mandala. She spent many summers at Drala Mountain Center attending programs, teaching and enjoying Colorado.
Throughout her life, Susan kept lasting friendships, pursued myriad creative endeavors, cultivated community, and sought out the solace of nature. She was a talented and  accomplished artist and a skilled writer, teacher, designer, and storyteller. She was an amazing photographer but reluctant to show her photographs. In 1998, she published a monograph of her mother Isa Dreier's, paintings and drawings, a genuine labor of love.
Susan was loved and admired both for her keen mind and for her delightful sense of humor, which brought joy to those around her.  Her stories, plays, retreat poems, skits and silly songs are testament to her unique and wide-ranging talents. As she grew older, Susan also spent much of her time on Mount Desert Island in Maine, where she became involved in a range of community and conservation initiatives, as well as becoming a supporter of the College of the Atlantic.
Her many lifelong friends kept in touch with her up until the time of her passing during which time many wonderful memories were shared.
***
Please note: New tributes do not appear immediately. Your tribute will be posted soon.