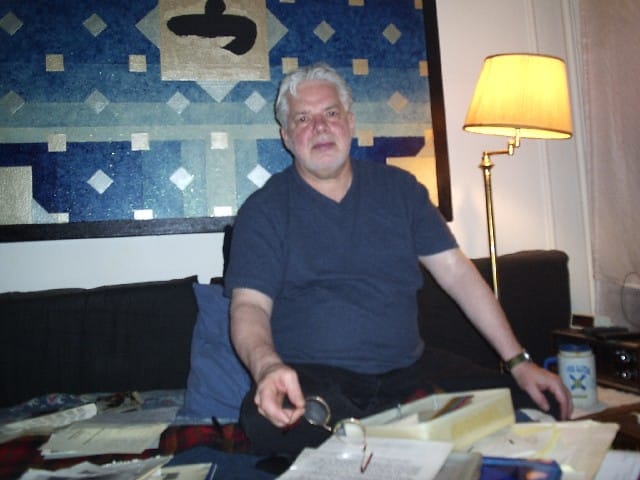 Jack Niland passed away on Monday, September 13 in New York City. There will be a Sukhavati Ceremony for Jack on Tuesday, September 21 at 6:30 pm Eastern in Ocean's Main Shrine Room. Judy Lief will be presiding.  All are welcome.
Among the earliest of CTR's students in North America, Jack received a wealth of first-hand dharma art instructions and helped create many of the visual elements of Trungpa Rinpoche's presentation of dharma in the West. He was deeply devoted to Trungpa Rinpoche, and was also one of the sangha's great raconteurs.
Images from Jack's sukhavati, courtesy of Rochelle Weithorn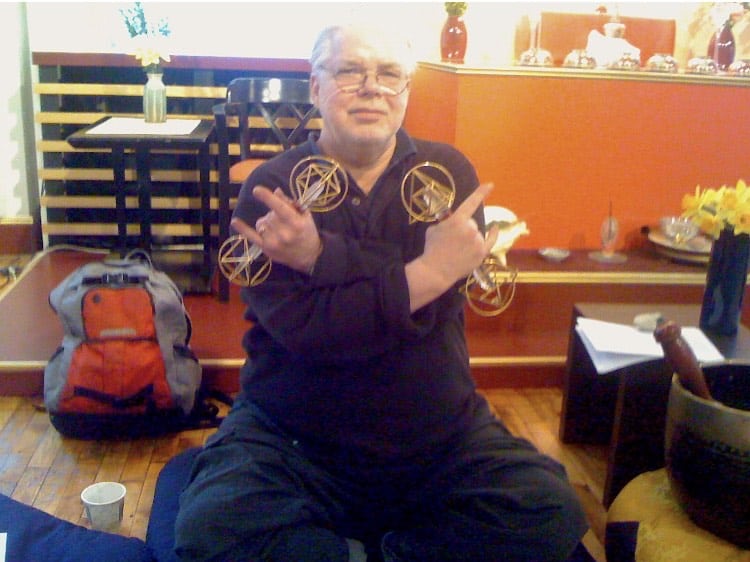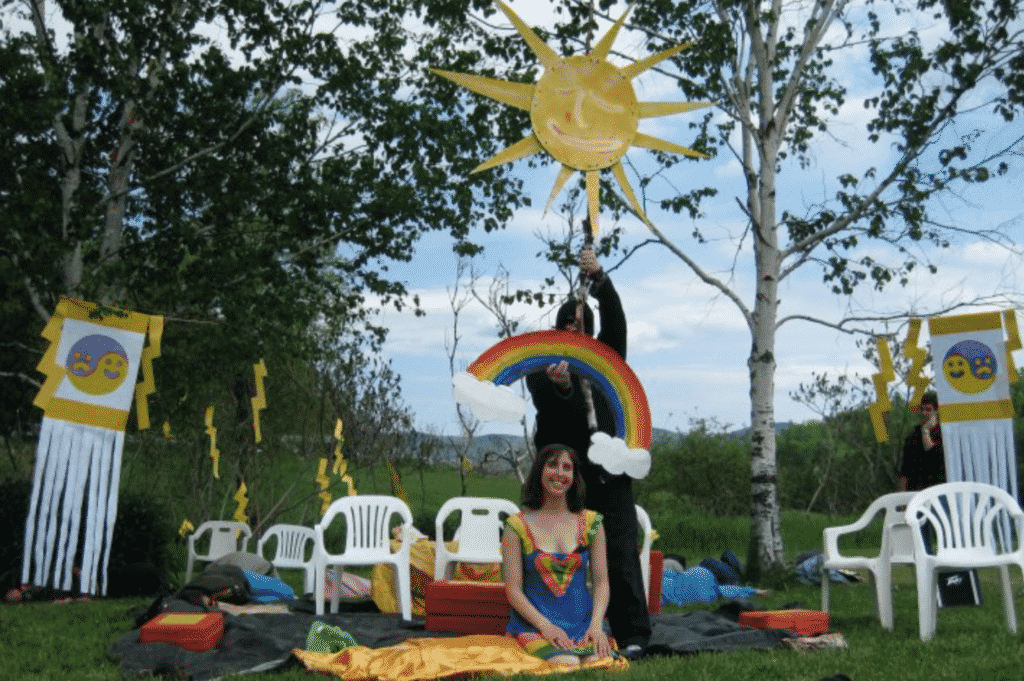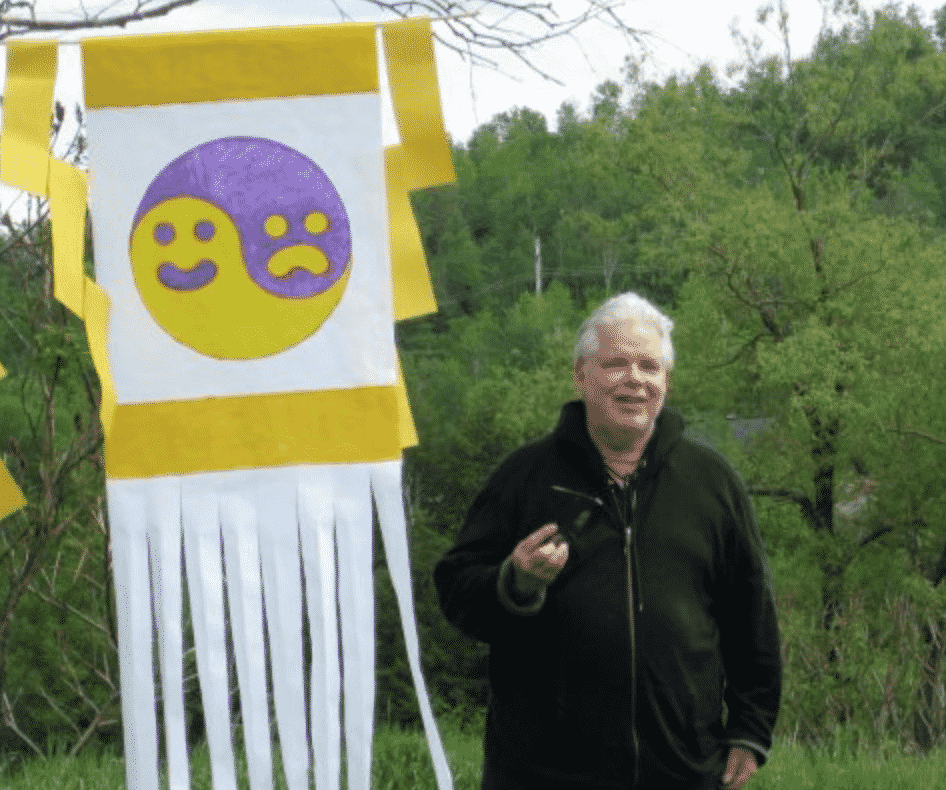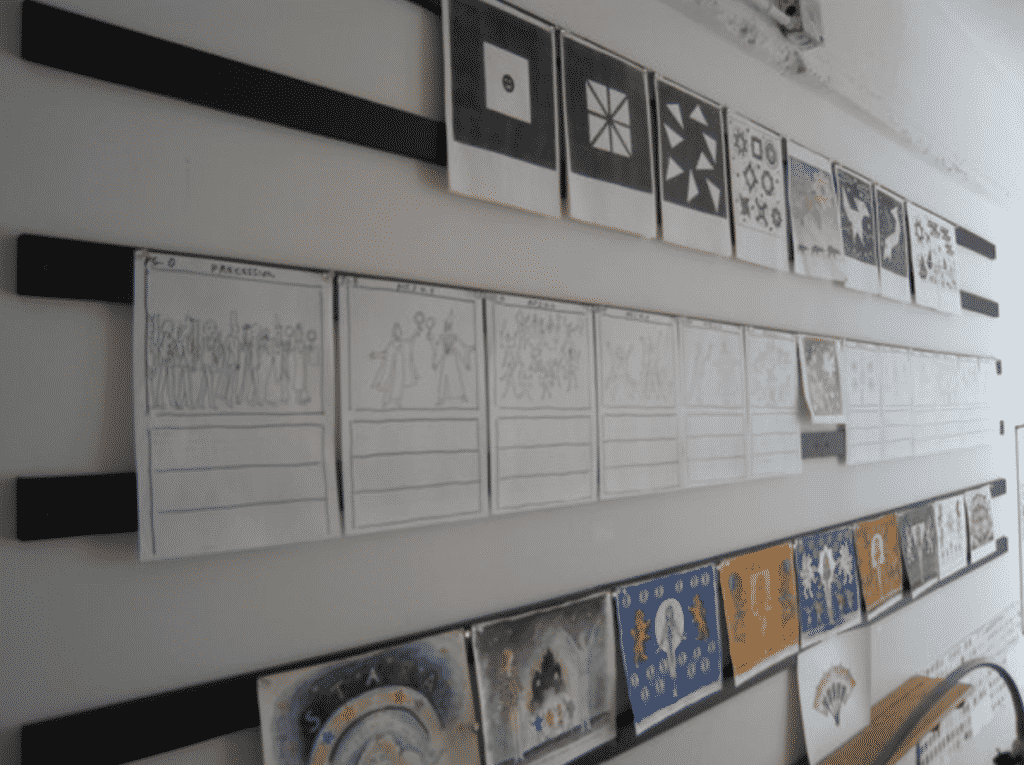 Here are some of Jack's stories
Please note: New tributes do not appear immediately. Your tribute will be posted soon.
Ashley Playfair-Howes
2 years ago
I first truly saw Jack when visiting his studio in Boulder in the mid-70's where the silk screen banners were made. He was not there, so I was able to soak in not only the extraordinary number of different designs and dimensions but also the almost stark ordinariness of the workshop space. I was not yet a formal student but this glimpse into the workshop bowels of the visually fruitional panoramas on display during talks and events jolted me into appreciating how CTR and his students were creating something together akin to a theatrical production. It wasn't already there, it wasn't a given, it was made, produced, created. Somehow this made it all seem more real to me, more human - and much more interesting.
After this brief glimpse, and even years later having become a student who was fortunate enough to spend some 'quality time' with Rinpoche as guru, I never lost the sense that of Rinpoche as a man living in the world just like all the rest of us, navigating through our life and our times, in his case producing a huge, multifaceted, living art form known as the Sangha and Vajradhatu and Shambhala and all the rest of it.
Years later at Prajna during the 1985 Seminary, his last full one, after I had put the five flags up in the wrong order by inadvertently placing the Sawang in a position superior to himself ('no, keep it there that way,' he said, 'for he will surpass me'), we started chatting about Nova Scotia and flags and the importance of visual symbolism. And then I recalled Jack's studio in Boulder and the sight of all those banners on the walls and row upon row in printing frames and had a little 'gotcha' moment; Rinpoche noticed and gave a playful 'pray tell' lift of his eyebrows.
"I get it! You start with the sambhogakaya! To create a kingdom, you don't start with the territory, the buildings, even the people per se, the physical realm, you start by conquering the sambhogakaya realm; that's why one of the first things you did to create Vajradhatu and Naropa and the Centers was to get Jack Niland to make all those banners!"
So much of our experience of the teachings happened within containers visually permeated by the symbolism of those banners. It is impossible to imagine the Vajradhatu-Shambhala world without them. Indeed, it is impossible that that world could have existed at all without them.
In this regard Jack, like his teacher, was indeed both a true lineage holder and also a man who like each of us has had to navigate through the ups and downs of the ordinary life journey. I often felt, hearing his stories occasionally from afar, that as a community we could have done a much better job of recognizing this and encouraging many lineage holders among us like him to develop further and teach more. How different things might have turned out had we done so! Instead, we were often too busy leading our own lives or competing with each other for status, access and spiritual progress within our own community bubble. But that's nothing new: people are like that throughout history in nearly all communities, spiritual or otherwise.
In any case, for a while at least, Jack played a leading role in helping to create a splendid world whose magnificence on the sambhogakaya level has influenced many of our lives forever, an integral part of our sense of sacred perception and feeling, reproducing the flawless line drawings made by the Vidyadhara by hand and then printed onto brightly coloured satins, planting seed syllables in our hearts and minds which will last through many bardos, as will Jack's indomitable sambhogakaya wisdom spirit.
Monday night at around midnight I got a sudden impulse to re-read Rainbow Painting by Tulku Urgyen Rinpoche. I looked in my Dharma bookshelf and couldn't find it. I then checked all of my bookshelves, twice, and still couldn't find it anywhere. I thought I must have loaned it to someone. It was getting pretty late so, reluctantly, I went to bed.
The next morning I glanced at my Dharma bookshelf from across the dining room and immediately saw it. It was the first book on the shelf. Eye level. Completely obvious.
Later that day I got a message from a friend that Jack had passed overnight.
10 years ago, Jack told me to buy that book.
I could say so much more about all he taught me and the tremendous effect his magic had on me, but this seems just right. Anyone who knew him knew that he was a master of coincidence.
I'll miss you, my friend.
Arlene (Helfrich) Teck
2 years ago
Jack's younger sister Patti was in my class in high school and, to this day, is one of my closest and dearest friends.
From 10th grade on, I grew up with all of them - Bob, Jack, Patti, Nancy. And their wonderful mother was like a second Mom to me.
In losing Jack, I lost a long-time friend from my inner circle.
They say that when an old man dies, it is as if a library burns down, and it was truly like that when I lost my own husband.
With Jack, it was as if a whole museum burned down.
Happy landings, my sweet friend!
I shared a brief few minutes with Jack that have emerged countless times as a landmark teaching for me.
We were attending the second Warrior Assembly at Karmê Chöling. The conch for the closing banquet had sounded, but I found myself restlessly walking around on the front lawn—tangled in fear and trepidation about by how outrageous the Shambhala world was feeling.
The only other person out front was Jack... having a smoke. He wandered up to me and asked me how I was doing. I remember being relieved to have his company and shared with him what was going on. I have a memory of how spacious, quiet and kind his presence felt. I remember him taking a few puffs on his cigarette, and then said that while he'd lived in many different worlds in his life, given the choice, he would always choose CTR's.
Thank you Jack. Sending big love.
I scanned the card into 3 PNG images.
I wanted to post a card that Jack Gave me that tells of an adventure he had with CTR, but I didn't know how to attach it to the text that I sent previously sent. Help me out here! Thanks!
Jack came to see me on the first anniversary of his sobriety. I had been instrumental in connecting him with Alcoholics Anonymous. He expressed his gratitude by gifting me all the plays that Trungpa Rinpoche ever wrote. Along with that came a card that tells a tale of another adventure that he had with CTR. Love you, Jack!
"WHEN GREAT TREES FALL:
When great trees fall,
rocks on distant hills shudder,
lions hunker down
in tall grasses,
and even elephants
lumber after safety.
When great trees fall
in forests,
small things recoil into silence,
their senses
eroded beyond fear.
When great souls die,
the air around us becomes
light, rare, sterile.
We breathe, briefly.
Our eyes, briefly,
see with
a hurtful clarity.
Our memory, suddenly sharpened,
examines,
gnaws on kind words
unsaid,
promised walks
never taken.
Great souls die and
our reality, bound to
them, takes leave of us.
Our souls,
dependent upon their
nurture,
now shrink, wizened.
Our minds, formed
and informed by their
radiance,
fall away.
We are not so much maddened
as reduced to the unutterable ignorance
of dark, cold
caves.
And when great souls die,
after a period peace blooms,
slowly and always
irregularly. Spaces fill
with a kind of
soothing electric vibration.
Our senses, restored, never
to be the same, whisper to us.
They existed. They existed.
We can be. Be and be
better. For they existed."
~ Maya Angelou
As old vajra brothers and sisters pass, it becomes harder and harder to piece together the kaleidoscopic recollections in a trustworthy way (did that happen or did I dream it?), particularly when the original events occurred during a time of bacchanalian excess. Like many people, I had a series of brushes with Jack, and as others have suggested here, any brush with Jack was bound to be significant. What made him so formidable and prodigious in his dissolute days continued with a gentle kind of gusto once he started to pull in the reins a bit: he was game for anything. That must be what the Vidyadhara saw in him instantly, enlisting Jack immediately into grand and intricate schemes and projects that no one else would have the reckless bravery to undertake. We have much to thank him for.
One vignette surfaces: he and Sara showed up one year at Magyal Pomra Encampment, as members of the Purnachandra, the naval division (naturally). To see them dressed in khaki and marching was a sight to behold. They didn't treat the forms as camp, as they easily could have (Jack had hung with Andy Warhol, after all) but they did display a certain panache that added plumage to our drab army. I recall doing tent inspection (where you're looking into the tidiness and orderliness of the interior). Jack and Sara dutifully stood at attention outside their tent with smiles on their faces and crisp salutes. I remember thinking, I'm inspecting the canvas home in a cow pasture of a fashion model and an avant-garde artist. What strange and blessed surprises the guru bestows. Again, Jack easily could have treated it all as a put on, but no, he was all in.
Game for anything.
HI Jackie honey,
The whole world is going to be a lot less fun without you.
See ya soon. Keep it up.
I love ya
JS
When I met Jack, I had just moved to New York City. I quoted him in my thesis for my degree from Naropa, and when I met him we became instant friends. The first project we worked on together was creating a banner to fly at the Occupy Wall Street March to city hall. After that, it was gathering at his little studio in Soho to talk dharma. Endless stories, of the most outrageous nature, about CTR, about him, and so on. He introduced me to the writings of Philip K Dick, John Steinbeck, and told me secret alien histories of WW2, the ancient kingdoms of Agartha, Shambhala, and Atlantis. He pried open my imagination, encouraging the conceptual mind, rather than trying to cut it. Because of him, I began to see the hollowness of forms and the solidity of space. Jack had the power of manifesting anything; whenever I was with him, it felt like anything was possible. When I would come over to hang out, he would always pull out all the stops in his art of hosting: roasted farmers-market chicken, fresh French fries, serving the most delectable spreads. He demonstrated with every gesture the boundless warriorship that we all aspire too, unlimited generosity, razor sharp humor, unmovable conviction, and a knowledge of the dharma so thorough it was as though Dakinis whispered in his ear. We would sit around listening to classical music, watching old movies, talking endlessly about everything, especially all the gossip. He had nothing but love for everyone, even all the folks that had wronged him. He had been ripped off, taken advantage of, and some of his closest friends had left him behind because of his excessive past. Because of Jack, I have immovable faith in a magical universe that goes beyond my wildest dreams, in all the dralas and wermas and gods and goddesses of all the religions in all the worlds throughout the galaxy. Jack was one of a kind. I miss him now, and will always. Until the next life, my friend, may we cross swords on the field of battle, and dance together on the fertile plains, roaring with laughter, radiating contagious joy throughout the world.
Jack was very generous in sharing what he heard and learned from Trungpa Rinpoche. Over the years, I learned a lot from Jack about Dharma Art, Trungpa Rinpoche's plays, and many ordinary and esoteric topics. Among his many talents, Jack was a great storyteller. Here's a story that Trungpa Rinpoche told in 1970, which Jack recounted to me. I loved the story, so I wrote down what I remembered and sent it to Jack for corrections. Here's the result: CASTLE OF EGO

Thanks Jack for all your teachings, stories, creations, and all-around joy!
In 1984 or '85, Jack and his close friend Dean Janoff and I sailed from Boston to Halifax aboard Oceana, a 72-foot ocean sailing vessel captained by David Darwent. I remember that Jack laughed a lot during that voyage, but that he seemed haunted somehow. He was broken-hearted and brilliant.
Dawn Boiani-Sandberg
2 years ago
I met Jack in New York one night with Una and Anandi, we just popped over and became instant friends. He'd drape fabric around me like a toga and dress me up like a neo-dakini. He and Dean Janoff would come to Karme Choling and I was working on a thangka of Ekajati with Karme Choling in the background and Trungpa's purkhang- here that is:
https://dawnboiani.wordpress.com/paintings/

We talked about art, goddesses, dzogchen, love, sacred geometry and- well everything. Over the years he was more family than friend, I'd come to New York and his little sacred studio, a healing respite in the city and that would be the only important place to visit. Many felt that way. Sometimes I'd talk to him even everyday, he always offered a compassionate ear, time, kindness, insight and could turn a world that looked often so dark into sheer magic. He saw us all as good, uncompromisingly good, and never was separate from a youthful innocence that we often have forgotten.
I never met Trungpa, but through Jack felt like I did. It was not him being an icon, his amazing star-filled past, his lovers and the dramatic stories that I will miss, it was his kindness. May I someday aspire to be more like him, he will be missed in this world terribly. I heard that someone, maybe Trungpa said that Dharma Art, a full lineage that he firmly held way ahead if his time, of play, color, magic, innocence, celebration would be how the Dharma and lineage survives into the next generations; may it be so. I love you Jack, I'm so privileged to have known you. I wrote this poem when he was a little sad (pardon the politics), and posted some of his daily cat drawings- each one a profound transmission, yet to be uncovered. Love to him, love to you all, always. Poem and Cat Drawings:
https://dawnboiani.wordpress.com/2021/09/14/for-jack-niland-so-long-and-thanks-for-all-the-kittens/

So long Jack, thanks for all the kittens.
I've known Jack most of my life. He wore Vetiver by Guerlain. He was missing half of a finger. He grew up with Sara in New Jersey. He had a sister. I went to the apartment in Chelsea, where he lived with Sara. It was small and yet packed with beautiful things. Jack used to give me stuff. Once, he gave me a plastic green teddy bear and a pair of blue rocket armbands covered in sequins that I was supposed to wear rollerskating, which was all the craze. I only kept them because they smelled like the Vetiver, which I loved. He had a great laugh that was somehow kind and wicked at the same time. When I was in college, I spent an entire summer with Jack in his tiny apartment in the West Villi. I would show up uninvited and we would talk for hours or watch tv for hours and not say a word. At that time, Jack was recovering from being a horrific alcoholic, so we just did simple stuff. He smoked Dunhill Reds. I'll never forget seeing his butchered hand on the rectangular pack of cigarettes. It was a great image. I would get commercial jobs and I remember once landing a mastercard gig on the basis that I could draw. I lied. I couldn't draw. They needed silhouettes of children dancing. I called Jack. I bought the markers and foam core he told me to get and rushed over to his place, which had no floor space, but we made it work. I watched as he drew these enormous children playing and then I cut them out. We put them on paint sticks, to hold them up. I gave him $50 bucks, half of what I was making for the day. We both had a lot of fun. He saved me that day and many others. I was so much younger than Jack and he never touched me. He never crossed the line with me. He never went too far with me. He always respected me. I knew he loved women because he talked about them all the time but he was decent and good with me, unlike so many other men in the sangha. The last time I saw Jack was in late 2015. We sat for hours in the lobby of the Marlton Hotel in Greenwich Village on 8th Street, drinking coffee and talking. The streets were quiet. It was Christmas Day. We were two Buddhists sitting around catching up while everyone else in the world was opening presents. I never saw Jack again after that.
I just finished watching the video of Jack's contribution to the 50th anniversary of Karme Choling. It is shocking to realize that Jack is no more.
https://vimeo.com/469139102
I first met Jack in the summer of 1977 when I enrolled for his banner making class at Naropa Institute. I recall asking him what sort of art he was working on and his reply (roughly)My latest project is a world class fashion model. He probably put it more elegantly.
So much of what spoke to us as new students of the Vidyadhara in those golden days of Vajradhatu was visual display of the wisdom of Trungpa Rinpoche as translated in the hand of Jack Niland.
As Jack repeated like a mantra, the Vidyadhara's teaching, "In order to change the culture, you have to change the art." Jack was the tool to accomplish this.
Some years ago I started contacting Jack when I came to New York to visit with my sister and I would relish the annual download of seeds planted by Rinpoche. Just last month I contacted him when I came to New York for my first post pandemic-lock-down visit. I called him and he told me he was in the hospital being treated for Diabetes. I said I would visit but he said, no don't come. He explained that the reason he went for medical help was in fact because his ears were clogged with wax - but after a week in the hospital they had still not removed the wax. He said, "I can hear you well on the phone but I won't be able to if you come here." So I had several long conversations with him – while I walked on the aquaduct near Irvington, or riding Metro North into the City, the last one when I was at the airport about to leave.
There was a lot of repetition year after year in his recollections and it was good to hear the stories again and again and to try to unlock the puzzle of their meaning, but there were always a few new insights that somehow were called up fresh for our meeting.
One of the gems this last visit was him telling me about Trungpa's love for the John Steinbeck translation of the Arthurian epic. He told me that Rinpoche had wanted this to be a text for the training of the Sawang. He said that he understood that this epic was a sort of Gesar epic for the west.
I have just recently finished the wonderful Epic of Gesar of Ling - Book 1, translated by Robin Kornman, Sangye Khandro and Lama Chonam. I have always wanted to get to the King Arthur story and I jumped at the suggestion that this book was favored by Rinpoche. Luckily found a hard cover on-line for $5!
On one trip he said, Oh you should check out the Nicholas Roerich Museum.
Or another time, take me around the corner from his apartment to see the Cake dressing store and all the amazing decorations. With child-like wonder pointing out the treasure lest you miss it.
Jack would always come up with these things. He had been favored with gifts of startling beauty and magic in his life and he saw it as his job to rummage in his collection and share these gems with all who presented themselves. I was one such lucky soul.
Here are a couple of shots that I grabbed of his visage while we were out talking and enjoying the cultural richness of New York City.
http://thangka-painter-gregsmith.com/JackB&Wed.jpg
http://thangka-painter-gregsmith.com/JackN.jpg
Somehow it strikes me that Jack probably continues to enjoy his journey.
I loved Jack (and Sara). By chance, I met them in Penn Station in 1970 (I think) and was instantly and completely taken by them. I went to a couple of Rinpoche parties (they were always sexy and fascinating; the parties, I mean, but Jack and Sara too) and I have a memory of being invited to a small ceremony with the Dali Lhama. But mostly I ran into them — our circuits seemed to be in sync — on the street, in the park, everywhere, surprisingly often. There was something wonderful about seeing them and since Sara was often working, wonderful to see him and just talk. He was funny. He was sharp. He radiated. He had a goodness about him, with a little wickedness in the mix. He liked women. We were friends and like friends it didn't matter if we didn't see each other for a couple of years, we'd pick up where we left off. This went on for about 15-20 years, periodically and warmly.
Sometime in the early 1970s, I had a brief "involvement" with the spectacular, enchanting, and mysterious Tao Wolfe and spent some time in the apartment on 24th Street where J&S and others lived or hung out, I don't recall. That picture of Jack and Tao is spot on, they were who they were in that image…
We rarely talked about what we did. I owned a recording studio in Soho where he came by once or twice, and I knew about the magnificent banners at Shambala, first through another artist friend, Sharon Powers.
Truth is, I don't remember a lot about those times or those years and, you know, I can't claim to be one of those people who was there at all the important moments of his life. I only know, as I knew then, that he had a beautiful spirit that I reveled in when it was around and that we had a kind of guy brotherhood that was a lot more about being brothers than hoods…
The last time we met was to do Kyudo, the art of Japanese archery, and I came to the dojo and practiced with him, I think. I think it's a lovely way to remember Jack. Kyudo is about finding the spiritual unity in things without aiming for them, it is the doing of a thing without overriding purpose, without keeping score, it is archery without purpose other than dwelling in the harmonious moment of arrow, bow, form, and target. And in that way I remember Jack. It didn't matter where were going, only that we would journey in a way that felt kind, and conscious, and ready to share and receive what arrived. No score, thank you very much.
Bye Jack, we'll do well to run into each other again and stand and observe and laugh in the temple of lovely colors and no expectations…
Yumma Mudra from Danza Duende Network
2 years ago
Tribute to Jack Niland with Love
This is how I remember my meeting with Jack Niland.
The whole story is a fairy tail and as such, it took place in quite difficult circumstances for both of us. But first we need to roll up in time, because the story starts in 1977. I was 16 years old and I was living in the streets of Paris. Not exactly sleeping in the streets because with my crazy and violent boyfriend, we were "buskers", singing, dancing and playing guitar in the metro as our life hood. We made each day just enough to pay for a cheap hotel room and for food. I used to be a professional dancer before that, when I was 13 years old in a Russian dance company, but at some point, I left home with that bad guy much older than me.
One day, in our aimless wandering by the streets of Paris, I bought a book among many different pocket editions in promotion for only1 franc on the table of a book shop. That choice changed my life forever: Cutting through spiritual materialism by Chogyam Trungpa.
As I entered the mandala of the Master, my mind was immediately fully linked to the Dharma as if I had found the very reason I was on earth. Because, I thought all of humanity was "out of our mind", my life made not much sense at the time. Dancing seemed to be the only space of sanity inside of me.
After reading this book, I have read it again and again and again. Then I entered into a full retreat program in a Buddhist monastery and completed my Ngön Drö in 1982.
But I did not meet Chogyam Trungpa. I did not have the idea of travelling to find him because Khyabje Dilgo Khyentse Rinpoche was often there, such a great blessing for me already.
Many years later, late 2003, I felt even more connected to Trungpa Rinpoche when I finally understood that he was my genuine root Master. I had engaged fully into Buddha, Dharma, Sangha, but it took me very long to realize the connection my heart felt dramatically towards Trungpa Rinpoche himself. At that time, my life as an artist had fallen a part: I had a brain tumor short after suffering a natural miscarriage, my partner jumped from a tower and died of suicide, and my new wooden house in Portugal burnt with all of my belongings in a huge forest fire. I was broke, homeless and free.
And then came another book: Dharma Art.
I had a shock when I saw the book. It was in Spanish because I was staying in Vitoria, a city of "País Vasco". During that period, I was wandering around in my endless fever of passion, trying to explain my vision of a Path by the means of Dance to everybody, even to people who did not trust much that crazy intensity of mine. The Dancing Path was my Dharma but it was creative and deep and challenging and it was something that I had discovered on my own, all alone, on stage.
I did not know how to explain it, how to teach it.
Trungpa Rinpoche wrote in Dharma Art:
When you begin to abandon all possibilities of any kind of reference point that would comfort you, tell you to do something, help you to see through everything, make you a better and greater person—when you lose all those reference points, including your ambition, the strangest thing takes place.… It's as if you were suspended in outer space without a space suit or rocket ship. You are just floating and circulating around the planets forever and ever.… That experience of suspension is the canvas or the blackboard where you paint your pictures, your symbolism. It is the basic ground. You can only begin from there. Trungpa refers to this state as a black hole of egolessness and no-discursive-thought.
It is surely no picnic getting there, but it is in this timeless, placeless state of non-thought that dharma art is born.
Suddenly, I had to meet Trungpa!
He was gone, dead, but I had to meet him. I decided to go to U.S.A. And very soon, the universe conspired to help me, just as the same universe had fully succeeded in destroying my previous life set. Ele Juarez, a TV producer I met in an airplane, offered to me the trip, Lucia Loureiro, one of my Portuguese students gave me contacts in Boulder of her friends Duncan, Anne Waldman and David Amram, and finally the Shambhala Mountain Center decided to open the first ever program about the life of Chogyam Trungpa Rinpoche exactly in the dates I was planning to travel. I applied online to that one and arrived in Denver on 21st of August 2004.
Boulder was balm to my soul. Marpa House felt like the Refuge on earth for me. I spent hours studying documents and seeing movies of the Naropa University Archives. When I left the library - after sitting there nonstop during seven hours - a danish man at the desk gave to me three manuals about Dharma Art. He told me:
- "Take these, nobody ever reads them."
And my heart grew stronger. I was on the right path. I dreamt of Chogyi talking to me with that thin voice of his.
I think that I got very close to a kind of genuine madness but that felt OK. The program, "Crazy Wisdom" was fantastic, mostly because we were only 14 people there, and half of those people used to be close students of Chogyam Trungpa during his time in U.S.A. I met Sam Bercholz and I made him dance during a ritual feast in the great Stupa. These unknown people, the old buddies of the old sangha felt like family to me, as if I was, finally, swimming in my own element. I met Barbara Dilley and Lee Worley had a real strong impact on my mind after the first session of Maitri Space Awareness with her in Naropa University. I met many extraordinary people in Colorado including Ray Ramirez from the Native American Rights Fund. Ray used to drive me to the mountains where we would mostly sit and not talk.
As I said, I was in fever. I was obsessed by Trungpa Rinpoche and by Dharma Art, crying every day because He was gone, He was not alive any more even though He was present. I started to have intuitions; geometric forms appeared in my mind. Actually, I suddenly understood how to teach and how to create the Danza Duende Network thanks to geometric visions. I heard voices saying:
No Date, No Death,
Tremendous Victory,
Shoot the Shadows.
Before I travelled to USA, I bought in May 2004 the return flight passing by New York where I decided to remain for 3 days for no specific reason. I had no relatives there, almost no money at all, no place to stay and no idea why I should go to New York. That return journey was scheduled in advance from 20th to the 23rd of September 2004. Later these dates made a lot of sense but when I reserved them it was in a state of not knowing.
Last days before leaving Marpa House, Walter Fordham was there. He was gathering testimonies about the life of Chogyam Trungpa for the creation of the Chronicle Project. I ask him to talk as much as possible about Trungpa Rinpoche. It was difficult for me to get the Dharma Art teachings because at the time, nobody was even mentioning them. Nobody really knew, what the hell was Dharma Art? Naropa University was evolving in a different direction and I felt that I needed an initiation, an abhisheka. So, Walter Fordham told me:
- Go to New York and meet Jack Niland.
- Well, I must pass by New York actually.
- I told Jack Niland about you, he holds the lineage of Dharma Art, he is the one. You must meet him, he has a great heart.
I called Jack from Boulder. He was really very nervous on the phone. He wanted so much to meet me that I got scared. He told me catch a cab and drive to the apartment of Kilian Ganly, a friend of his. I could spend three days there in a cute tiny room decorated with Mexican fabrics.
I arrived at the end of the day on 20th of September 2004 on my way back to Europe. I had very little belongings since my house burnt and I used to gather part of my hair on the top of my head with a little stick like a martial art lady. Kilian received me warmly and told me we would have dinner with his friend Georges in a restaurant. I was invited. Jack was not present but he would come and pick me up in the next morning. I had the feeling these men were treating me as a goddess, it was so weird and also very pleasant. But I had no idea what Jack told them about me. The day after, Jack arrived. He was in a good mood, quite emotional and his breathe was really noisy. Even though he suffered of much asthma, he was smoking cigarettes and obviously drinking alcohol. We walked all the way to his little studio.
The place was full of his amazing drawings of a contemporary Tara in her 21 manifestations, stylish as in a Manga cartoon, above a great shrine.
Jack told me:
- I made a promise to Tara: I will come back to social life and open the gate of Dharma Art, precisely on the day of the equinox, 23rd of September 2004. All these years I have been sad, very sad. So, I asked Tara for help, I asked her to send to me a messenger, a Dancer, a Gipsy Dancer. Please, take this with you since you are Tara. And your hair… look! Your hair dress is the same as my Tara on the painting!
And he grabbed a figurine of Esmeralda as in the Walt Disney movie of Notre Dame de Paris on his shrine. It was so strange; Jack gave her to me. I entered into the sensation that all of this was an illusion, a super illusion. In the same time, never life before had felt more real. My specialty as a soloist in the Russian Ballet was the Gipsy dance. Of course, if Walter Fordham told Jack that I was a Gipsy dancer… and that I came asking for Dharma Art, just around the solstice of September …
Jack was expecting me.
Jack Niland was a treasury of kindness and a genius of his Art. His passion for Chogyi (as he called him) and the Lady Sara Kapp, whom he loved forever, were overwhelmingly touching. He was very eloquent; he spoke nonstop all day long and the next day more. I showed to him my own drawings of the geometrical forms which appeared in my mind while I was in the Rocky Mountains Center. Jack stood up to reach in the closet an old paper with notes written by Chogyam Trungpa:
- Chogyi told me: who understands these, understands Dharma Art.
My geometric forms were very similar, only one dot was not at the right place. The dot between earth and sky needed to lower little bit. Jack went on:
- Once I asked Chogyi, what is the most important thing? Is it Vajradhatu, or is it Shambhala, is it Dharma Art, is it Dorje Kasung? He looks at me smiling and says: What do you think Jack? I said: Well, it must be Vajradatu because that is the pure foundation of Dharma teaching. And Chogyi told me: Come on Jack... what is it that I do all the time, all day long?
Dharma Art.
Dharma Art was the core of all.
It is the core of all."
Jack showed to me inedited theatre pieces written by Chogyi. I wanted copies so we decided to meet the day after, on 23rd of September, the morning just before my return flight to Portugal.
I prepared my luggage, thinking about Jack, I decided to assume my play as Tara. I would tell him to teach and to take care of his health. Maybe as Tara's messenger I was supposed to do that?
A few hours before my departure we went in a shop to make copies. Actually, I don't really remember what happened when I spoke to him, I entered in a kind of trance, so I forgot. I only remember that I wanted him to cure from his sadness and to teach Dharma Art.
Years after, Kilian Ganly became the best friend of all the Danza Duende Network. Many of my students would travel to New York and Kilian received all of them, Alessandra Centonze, Victoria Ivanova, Layale, Carolina Fonseca.
Once Carolina Fonseca had to perform in the Rubin Museum of Art in New York. I told her to meet Jack Niland because he is Holds the Dharma Art transmission. Carolina told me that he recounted to her during that meeting what I did on the 23rd of September just before I left NewYork and that I still don't remember:
- "She asked me for my cigarettes, she took all of them in the package and destroyed them with all of her fingers while looking into my eyes and she said: Quit smoking, and teach!"
But I do remember his face when I did that, Jack became very pale, almost greenish and I, myself, felt a great deal of fear! Maybe I acted too strong? Anyway, trance is like that.
A few weeks later, Kilian told me that Jack was in the hospital, that he almost died, but that he recovered. He quitted smoking and drinking, and that he was teaching Dharma Art. Jack Niland sent to me later by post mail a wonderful commentary of the Sadhana of Mahamudra by Chogyam Trungpa and a picture of himself young painting Vajra Yogini with a very beautiful poem.
I remember Jack telling me the first moment of this amazing love story, his meeting with Chogyam Trungpa in a farm in the middle of nowhere in Vermont. The Tail of the Tiger was being born, a few hippies were living around Chogyam Trungpa and his family building the center. On that day, Chogyi asked a girl to find someone good at drawing and at that precise moment, Jack arrived with Sara Kapp in a car. They were looking for the Dalai Lama. When Jack alone entered the room, Chogyi told him that he was waiting for him because he was going to paint the A. And after he would paint a door. So, the two of them remained talking together all day long and the day after and every day for many years. Jack designed the Victory Flags, the Logo, the Mandalas, the Mantras, the Tiger, the Lion, the Garuda, the Dragon. He literally gave birth the Mandala of his Vajra Master.
It seems that Chogyam Trungpa opened his tremendous and unbelievable task in U.S.A by designing the A and by decorating the Door. Jack Niland was the one who painted these with his heart full of wonder, of joy, of crazy devotion. All his life he was like that, Jack was in love, he was dizzy with the intoxication of love, as Vajra Yogini dances. That is what made him such a special presence inside of me, forever.
I met Chogyam Trungpa through the memories of brothers and sisters of the Sangha, the old disciples, all of them, they were literally dizzy with love. Chogyam Trungpa made them fall in love, forever. That is so obvious. It is not intellectual, it is not technical, it is energy, Bodhicitta in people's heart.
Jack Niland transmitted to me the radiance of this love shining like happiness through his eyes. It is one of the most important event in my life.
Now, when I think of him, memory fills my eyes with tears of beauty, my heart beats within delightful pain, a feeling that something mysterious, raw and true is alive inside of me. Jack gave it to everybody in the name of Chogyam Trungpa Rinpoche, the great Mahasiddha. And he gave to me the last pin badge of the Dharma Art transmission.
Later I sent to Jack my project of a logo for the Danza Duende Network. He said it was good but that he could make it better. And so, he did. Our magnificent logo was offered by Jack Niland. Nowadays, Lady Monica Zas in Spain fabricates handmade talisman with this logo.
I wrote this story in my weird English language just as I remind it in my own confused mind, with gratefulness. I wish that many people will tell us more about how Jack Niland has been special, precisely because he was authentic, crazy, innocent and genuinely devoted to his Master. I am impressed by him who remained low profile all along the years doing his part fully with a broken heart.
Jack Niland was the lineage Holder of the Dharma Art. May we honor this treasure for the benefit of future generations.
Sarva Mangalam.
Yumma Mudra on the 17th of September 2021.
Jack Niland, a dear friend and sangha member, passed away today in New York City. Jack (and Sara Kapp) were my closest friends when we all lived in Karme Choling in the early 1970's. Jack is the lineage holder and, in many ways, the creator of Dharma Art. He worked closely with Trungpa Rinpoche and was a pure "sponge," absorbing Rinpoche's teachings and creativity and expressing all he learned through banners and art that are still in use today in the Shambhala communities. He was a true pioneer and created a path for future pioneers to tread in style.