Ned Nisbet died on January 16, 2022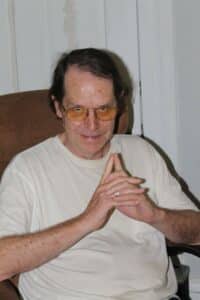 The liturgy will not be on screen, you will need your copy of The Tibetan Book of the Dead.
---
From Ned's early days running Vajradhatu Recordings to his lifelong daily practice of Chakrasamvara and nature walks on his South Carolina family home, Ned always maintained true devotion to his teacher, Chogyam Trungpa Rinpoche, and a witty sense of political humor.
For years he took on the thankless job of maintenance of the Boulder Dorje Dzong building, home of our lineage, while in his free time delving deeply into the blues guitar.
His life was an enormous accumulation of merit and he lived it with kindness to others and no regrets.
We are certain he is well on his way to complete enlightenment for the benefit of all beings that have been fortunate enough to encounter him.
He will be very much missed in our community.
Please note: New tributes do not appear immediately. Your tribute will be posted soon.
Rosa Lyn Householder
2 years ago
I did sound with Ned, helped a bit with the recordings archives, also sometimes helped with maintenance. We were good friends. Others had posted already about his kind and gentle nature, so I didn't. Then last week I suddenly remembered an earlier time--80-81 maybe? He came up to the house on Sugarloaf Rd where I lived to help me (more like show me) how to put in a new water pump, must have been on my '58 Peugeot. He was so patient and knowledgeable and such a good teacher, it's a shame I didn't learn more from him sooner about cars. Or anything else he knew. That kind of teacher is very rare.
Ned surprised me once. Gifting me a necklace made by a Katawba Nation artist. I would like to think the little clay turtle hanging on it was made from clay dug in the bottoms of the land that he grew up wandering around, the land he loved and loved to share. We joked that it was too small to carry elephants but maybe Yertle could begin his climb. Peace on your journey - you'll be missed here.
Joanna J Bolek
2 years ago
Thinking of Ned leaves me smiling...such an original being with a Cheshire cat vibe/ a previously unknown quality of Chakrasamvara! I'll miss your presence on earth. Much love.
When I spent time with Ned I felt he had a certain "un-maintained" quality. When I felt my meditation getting too contrived I would sometimes say to myself, "Your losing that Ned Nesbit quality."
Britt McMaster
2 years ago
Had the pleasure to get to know Ned over some 20 years.
While many of our conversations revolved around the politics of the day the fact that our base views were not congruent never detracted from good banter and mutual respect.
His love of music was infectious; never again able to see the pure soft white snow without thinking about Frank Zappa. And Ned. Chuckle every time, thanks Ned!
Missing his sharp wit, love of nature, and quick smile.
We are all better for having known him.
There are no words to describe the loss I feel. If you knew Ned, you know.
Caroline K. Nisbet
2 years ago
I was lucky enough to grow up with Ned as my uncle, and later my friend. He was a quirky guy, and I admired him for it. Both as a child and later as an adult, he was a role model for me in how to be your authentic self without apology. He accepted my authentic self without question or judgement.
Not only did he have a deep love and respect of nature and all its beings, he especially loved the animals that entered his life and became companions. I will always remember him with a steel guitar in his lap, talking about film, music, the Simpsons, South Park, and his community and family.
He was a kind, gentle soul.
Steve Ellenburg
2 years ago
I remember Ned when we worked in the catacombs (basement) of Dorje Dzong together. He always seemed so even -somewhat shy and quiet, humble. But with a glint in his eye. Subtle southern sense of humour.
Goodbye me friend. Down the road.
I am Ned's brother-in-law. Ned was kind, and he was blessed with a unique style of quirkiness. He was a gentle soul with wide knowledge of information. Our conversations would range from politics to sports to movies to current events and always included the latest adventures of Misty the cat. Family was important to Ned, and he was comfortable living the quiet life in Van Wyck. Every year he would join our family for holiday meals, and they will never be the same without him. He lived a simple life, but he will be missed by many.
Ned has been my dharma brother since we met in 1973 at the University of South Carolina in the Asian religion class where many of the later to become South Carolina Buddhists met each other. We shared a house in Boulder where he taught me all the intricacies of football so we could watch John Elway self-destruct the Denver Broncos. We walked his beloved family farm in SC together. His patient presence that never hurried and inner secret smile are the aura of his beauty I shall always remember.
Ned and I attended the same dathun in the fall of 1978. I remember sitting with him chatting outside on the bench. He always had a Coke, a Southern thing I think. Good conversation. We also worked together at Vajradhatu Publications. He was so dedicated to keeping the recordings alive. He was such a relaxed, kind person, a man of great heart. He will be missed. Come back soon, Ned. We need you.
Ned was brother and my bro. He had a small porch and could only let one or two sit with him at time. That was his way. If you were lucky, he'd let you sit long enough to feel the warmth and share the light of his candle. His desires are at peace now. I miss his warmth. My world is darker. To paraphrase Patti Smith, "be kind to each other, MFs".