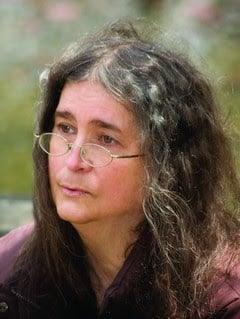 Dr. Ruth Holmes Everett Whitehead, ONS, died on August 29th, 2023 in Halifax. She was born on October 10th, 1947, in Charleston, South Carolina, USA, to Ruth Holmes Humphreys Everett and Hobart Ray Everett, Sr.
Ruth's funeral will take place in the Main Shrine Room of the Halifax Shambhala Centre, 1084 Tower Road, Halifax, at 10:30 am (Atlantic) on Friday, September 1st.
Pot luck reception….. Ruth has asked that we all enjoy pastries, fruit, coffee and tea. The Centre will provide beverages. Please bring treats to share. Thank you.
Passcode: whitehead
___
Ruth Whitebead attended Agnes Scott College, Decatur, Georgia, for three years, completing a major in Spanish, and working for civil rights and an end to the Vietnam war. She emigrated to Canada in 1968 with her first husband, Dr. Joe Nickell of west Liberty, Kentucky, then returned to Charleston to do her fourth year of university, graduating with a BA in English and Philosophy from the College of Charleston. She moved to Nova Scotia in 1972 with her second husband, Dr. Graham G. R. Whitehead.
Before her second marriage, she was employed as Curatorial Assistant in Culture, and later as Registrar at the Charleston Museum, Charleston, SC. After returning to Nova Scotia, she worked in the History Section of the Nova Scotia Museum from 1972 to her retirement in 2003, at which time she was made Curator Emeritus. She continued there as a Research Associate until 2019.
Ruth authored or co-authored eighteen books of non-fiction, created exhibits and documentaries, and contributed to numerous journals and magazines. She wrote fiction for fun. In 1989, she took Buddhist vows in the Karma Kagyu/Nyingma lineages. In 1995, she was awarded the degree of Doctor of Laws, honoris causa, by St. Francis Xavier University, Antigonish, NS. In 2014, Dr. Whitehead was inducted into the Order of Nova Scotia.
Survived by her daugher, Sarah Robin Holmes Whitehead; two brothers:  Commander (US Navy, retired) Hobart Ray Everett Jr., and Reverend Wade Humphreys Everett; three nephews:  Todd Ashley Everett, Timothy Andrew Everett, and David Benjamin Everett; and a niece, Rebecca Nicole Everett Stebbins; plus many grand-nieces and nephews and cousins, and honourary family.
Please note: New tributes do not appear immediately. Your tribute will be posted soon.
There are not enough words to pay full tribute to my friend, colleague and dharma sister, Ruth. It seemed that Ruth was everything to everyone. Pick any topic and Ruth would listen with delight. Then she would add some knowledge that enriched the subject - or sometimes, she turned it upside-down with information from long-gone archives that few had ever read. She had a college degree in Spanish, and a BA in English and Philosophy: how did in the world did that add up to an honorary Doctorate of Laws, and being author/co-author of 18 books, many on Mi'kmaq stories and history? It simply did not add up - but Ruth evoked magic and left us a rich legacy that will last well into the future.
She also showed a superhuman strength in the last leg of her literary journey. Despite crippling illnesses that would have ended the writing aspirations of most authors, Ruth took on two other projects in her last years. In her last book on Nova Scotia and the Great Influenza Pandemic 1918 - 1920, Ruth teamed with a historian and a medical doctor to turn hundreds of dusty medical records into living legends of people and communities. She used conversations with surviving relatives to turn the dry medical facts into heartfelt living memories. She wrote (on page xvi) "...I was continually amazed at the energy this investigation generated." While this comment referred to the people she interviewed, I think it also reflected her own spirit that brought the book to fruition from a sickbed that she seldom could leave.
Her other last work links together Mi'kmaq stories and the Geology of Nova Scotia. This is an unfinished chapter - but holds the promise of being another work of magic that draws together the most unlikely of people, and enriches oral legends, histories and science alike. Ruth, your magic will live on for generations to come. In the meanwhile, enjoy your well-earned rest from physical suffering - and as I have promised, we will make our planned journeys to Greenland and Tibet the next time around.
Ruthie was much loved in her childhood home Mount Pleasant, South Carolina.
She was super smart, gentle and friendly to all.
She was a top graduate of our General William Moultrie High School. And one of the brightest students who ever attended.
Ruth was an extraordinary scholar, researcher, interviewer of primary sources, chronicler, social activist and much more. I knew her especially for the invaluable work she did in preserving the cultural heritage of the Mi'kmaw.
As she wrote about her moving book "Stories from the Six Worlds" (Nimbus):
"Mi'kmaw stories have many levels: entertainment, instruction, warnings. They might subtly encode maps of the land's important resources, or of the wheeling skies at night. Telling stories, Elders wove humour and stark tragedy, terror and beauty, to teach their listeners how to survive. More importantly, they underlined, over and over again, how their listeners, as humans, must conduct themselves. Their tales resound with the universal themes included in any worldview—Order and Chaos, Courage and Fear, Change, Revenge and Mercy, Death, Rebirth, and Power"
Ruths contributions, rooted in her rare combination of courage and caring, were unique and will continue to educate and inspire for generations to come.