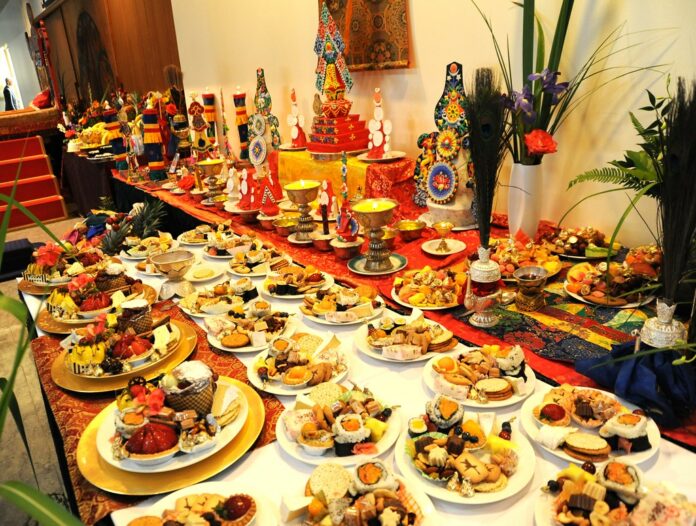 BUDDHA'S EYE COCKTAIL
Here is a cocktail I found in the cookbook "Julia Child & Company," that caught my eye. It might remind you of  mouthwash but the results will be much cheerier no doubt. Child recommends serving it in small upstanding  stemmed glasses. She describes it as a "strong clean drink." Sounds like a lovely way to start a celebration. 
5 parts gin
2 parts sweetened lime juice
2 parts green crème de menthe
Stir all ingredients together in a pitcher with ice cubes and, as soon as well chilled, pour into glasses.
BAKED MUSHROOMS
This is a Tibetan recipe. It was found in a Tibetan cookbook called "Food in Tibetan Life," by Rinjing Dorje. It's  long out-of-print. Many years ago, in San Francisco, a friend brought me to their home. In typical Tibetan  hospitality style they insist upon feeding you. I remember they made a lovely noodle and vegetable dish. His wife,  Yeshe Dolma, was known to have memorized the patterns for weaving many Tibetan rug designs. It's a lovely book  with lots of history. This recipe is really simple and a great surprise because it tastes so good. Try it.
In Tibetan it's called SHAM TRAK
1 pound large mushrooms, stems removed and wiped clean
½ stick or 4 ounces butter
salt to taste
Set the oven temperature 350° – 400° F.
Cover a sheet pan with parchment paper. Place the mushrooms stem side down for 2-3 minutes. Then take them out  and put a bit of butter inside each mushroom. Sprinkle with a little salt. Bake another 3-4 minutes. Serve as an  appetizer, side dish, or snack.
It seems that every culture has as part of its definition a particular food or group of foods. Culture and food go  together. These days I see Shambhala as more of a culture than a religion or philosophy, though it could be all of  those things. To thoroughly create a culture some typical foods recognizable to that culture might be made and  shared. We can have foods from our family traditional cultures of the world and a fusion culture. My favorite  cuisine is Chinese, but we don't want to simply borrow and copy without adaptation. What foods are particular  Shambhala culture markers for you? 
GREAT BIG SHAMBHALA PIE
"make one – serve many"
Years ago, when learning to make Tibetan style steamed momos, I thought I'd invented the super-sized baked momo  made in a pie pan. I announced this discovery to my Tibetan friends who informed me that it wasn't my invention;  they had it. I've never seen it made nor a recipe for this anywhere. Any similarity to meatloaf is purely coincidental.  Feel free to experiment. If you have been making momos and like the filling you use just make that version. The only  difference here is that it is large and baked rather than individual dumplings and steamed. There are lots of different  kinds of momos but I haven't found one yet that is just baked. Use the turmeric and saffron if you want it to look  yellow. If you have some extra dough, use it to make some decorations. Maybe just the letter 'T' for tiger. Don't  forget to serve with your favorite hot sauce.  
MEAT FILLING
1 pound ground beef, lamb, chicken, turkey,  or impossible burger
1 2-inch piece ginger, grated
2 garlic cloves, finely minced
2 scallions, white and green parts, finely minced 1 large handful spinach, tough stems cut off,  chopped, optional
1-2 tablespoons light soy sauce or tamari 1 tablespoon sake or other rice wine, optional salt and pepper
2 hard-boiled eggs, halved – optional
DRIZZLING SAUCE
soy sauce or tamari
rice vinegar
toasted sesame oil
toasted sesame seeds, garnish
1 scallion or chives, green parts only, finely  chopped
VEGETABLE FILLING
1 2-inch piece ginger, finely chopped
2 garlic cloves, finely minced
2 scallion, white and green parts, finely minced 8 mushrooms, shiitake or your favorite, no stems,  finely minced
½ green cabbage, slivered to make 2 cups 1-2 carrots, peeled and grated, about ¾ cup 3 tablespoons chopped cilantro, optional 1/2 package firm tofu, drained and blanched 2-3 tablespoons light soy sauce or tamari 1 tablespoon sake or other rice wine, optional 1-2 tablespoons grapeseed or canola oil salt and pepper
CRUST
3 cups all-purpose flour, or ½ wheat flour and ½  white flour, or spelt flour, or add barley flour 1 cup warm water OR
½ teaspoon powdered turmeric, optional pinch saffron dissolved in 1 cup or more  warm water, optional
1 egg yolk mixed with 1 tablespoon water, optional 1 tablespoon oil, optional
OR use puff pastry
Set oven temperature to 375°F 
To make the crust: Put the flour/s into a bowl. (To make the crust golden yellow, add the turmeric and dissolved  saffron.) Add water gradually while mixing. Add enough for the dough to adhere. Add the water in small quantities.  Take out and knead until smooth on a flour dusted surface. If it's too sticky just add a bit more flour. Cover with a  tea towel and let rest about 30 minutes, or more, while making the filling. Three cups of flour makes more than  enough dough and you might have some leftover. You can use that for decorating or roll into balls and steam to make steamed bread. Nothing wasted. (If you are combining flours, each combination will make a slightly different  crust. All Spelt, for instance, will be a bit heavier.) You can also use puff pastry. Just roll it out the same way.
Roll out the dough to 10-12 inches, to be large enough to cover a pie pan, springform pan, or cake pan, with at least  a 1-2-inch overlap. Or, place onto a sheet pan that is covered with aluminum foil and lightly oiled. If using a pan,  push gently into the corners. The flour, after resting, is very elastic.
The meat filling:
Combine all the ingredients for the meat. [I've never tried this with impossible burger.] Add a couple of tablespoons  of water, sake, or other rice wine. Mix with your hands. Optionally, add chile powder, turmeric, some ground  cumin, even a bit of garam masala. Start simply, but if you are a seasoned chef, you know what to do. If you choose  to make it with ground chicken, add about 6-8 chopped raw shrimp, and about 2 tablespoons chopped cilantro. The  chicken tends to be more moist, so make smaller pies. Easy on the salt as the soy sauce is salty. Optionally, when  filling, place the hard-boiled egg halves on top.
The vegetable filling:
Combine the shredded cabbage and shredded carrots with 1 teaspoon of salt and let it sit in a colander or strainer a  few minutes, then squeeze out the water until they are almost dry. If you are using tofu, I always recommend lightly  poaching it before using. It refreshes it and seems to taste much better. Drain and cool it, by rinsing with cold water,  then crumble the tofu up with your hands and place into a bowl. Add the ginger, garlic, scallion, mushrooms,  cilantro, soy sauce. Add the rinsed, drained, and squeezed out cabbage and carrots. Combine well with your hands.
Put whichever filling you are using onto the rolled-out crust. Fill with the mixture. Pull up the overlapping dough to  join in the center and twist and pinch together. The dough is very elastic. Leave a hole in the middle or poke a few  holes in the dough with the tip of a knife. Brush the egg yolk mixture, or oil, if using, over the crust. Place in the  oven middle and bake about 30 -35 minutes, or until lightly browned and cooked through.
When cooked, remove from the oven and let cool briefly, about 5-8 minutes, before cutting wedges.
Drizzling Sauce 
Combine equal quantities of soy and rice vinegar, then a drizzle of the toasted sesame oil, or a hot oil. Serve with  your favorite hot sauce.
Note: I have noticed when baking the meat pies, some liquid leaches out. It's not a problem. After taking the pie out  of the oven, let it rest for 5-8 minutes and the liquid gets reabsorbed. The bottom doesn't get soggy.
SPICY SMASHED CUCUMBERS
It's great fun to smash these cucumbers with ease. They just fall apart into uneven pieces. Most people will eat these  right away; I find they last a while refrigerated. Probably best in the summer but no reason to do without in winter.  Crispy, crunchy, spicy! I found this recipe on the Chinese cooking site Woks of Life. So, no, not an original.
2-3 seedless Persian cucumbers
1 teaspoon salt
2.5 teaspoons sugar
2 teaspoons toasted sesame oil
3 teaspoons soy sauce or tamari
1.5 tablespoons rice vinegar
2-4 cloves garlic, finely minced
1-2 teaspoons chili oil
toasted sesame seeds
cilantro, optional
Wash off the cucumbers and slice off the ends and discard. Cut each cucumber into three sections. Then, with the  side of a wide knife or cleaver, smash the pieces. [Sometimes I just use my fist.] Be careful because the pieces could  fly around, so a gentle bash, then scoop them up into a bowl. In another bowl, or make the sauce first, putting in all  the elements for the sauce: salt, sugar, sesame oil, soy sauce, rice vinegar, garlic, chili oil. Stir together then add the  cucumbers. Toss to cover. Sprinkle with some toasted sesame seeds. Add some torn or chopped cilantro, if you like. Serve chilled.
MACEDOINE OF FRUIT
It's nice to have something refreshing to finish a meal. I think this idea is in many cultures, though different fruits  and flavorings are used. I've always found it's best if it rests, refrigerated, for a day, or at least 2 hours.  You can use whatever fruits you like. Wash all fruits well. If using bananas, put them in just before serving  otherwise they would get mushy. Here I am suggesting using about 50% citrus. If you're feeling it – make little  Shambhala flags on toothpicks to decorate the bowl. 
Apples, cored, seeded and cubed
Pears, cored, seeded and cubed
Blueberries
Raspberries
Strawberries, cored and sliced
Orange Supremes
Mandarin segments
Grapes, whole or halved
Melon, cubed
Bananas, sliced
other available fruits
Honey
Lime juice
2-3 tablespoons Rum, white wine, or a liqueur,  optional
Garnish Options: pomegranate seeds, pine nuts,  chopped nuts, mint, shredded coconut, whipped  cream
To make Supremes from oranges, cut off the top and bottom of the orange. Then slide your knife in a zig-zag along  the sides from top to bottom, around the curve, removing each piece of peel along with the white pith as you go.  You don't want the white pith. Once the orange is bare, cut between each segment leaving the membrane behind.  Let the pieces fall into a bowl. Once you have removed all the Supremes, squeeze what is left and let the juices fall  into the bowl.